A platform that encourages creative minds to be more
By Sashini Rodrigo
View(s):
A labour of love that asks the question #WhyNotBeMore — Mabs is a mobile application that enables people to earn by pursuing their passion, and connects them to clients who are looking for that type of work.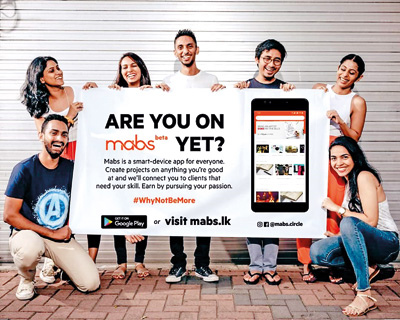 Developed by Jehani Muthukuda, the Android app is available now in its beta stage, and aims to make connecting skilled users to clients easier than ever before.
Taking up minimal space with just 3MB, the user-friendly app creates a professional and accessible space for people to market their individual skills or hobbies in the form of 'projects'. Potential clients can log in, browse through the variety of projects listed and avail these services through a secure payment gateway. Mabs is currently strictly Sri Lanka-based and requires an active Sri Lankan mobile number to join, as it offers users the option of in-person projects as well as online projects.
Inspiration for the app came to Jehani  from an unexpected place: her grandmother.
"I went home one day and my grandma was complaining that she had to rely on us to get anything done, and she wished she could just call and get somebody to buy her groceries!" Jehani laughs while recounting the story, and adds that it got her thinking about developing a platform that could easily connect skilled individuals to people who need those skills.
"When I was 18, I could have done with a part time job. I would have been happy to pick up groceries for someone!" Jehani tells us that she really wanted young people to be able to make the most out of whatever skill they had. Anything can be marketed on Mabs – from specialist jobs like translators and graphic designers, to creative projects by artists, or even tasks like dog walking.
After brainstorming on her own for a while, Jehani shared her idea with two of her neighbours, graphic designer Ryan Moses and the detail-oriented Aaron Cumine, who got on board to make it a reality. With a team of just three people, and the enthusiasm and support of all the people who heard about the concept, MABS was developed over the course of two years.
"An idea is an idea, but executing it is a whole different ballgame," Jehani says. The challenges in creating an app of this scale are abundant from the very start, and Jehani left her 8 to 5 job to work on MABS full time.
She laughs about it being a "gruesome process", where she spent every waking minute at home teaching herself how to develop apps through online tutorials and YouTube videos, and then actually writing code for two straight years. A chemical engineer by profession, Jehani already had some experience developing software programmes to improve the existing processes for her previous workplace.
Jehani tells us there's nothing quite like it in the local market today, in app form and with no restriction on skills the way Mabs was designed. With existing freelancer websites, "it was more about showing a person's CV rather than what that person can do," Jehani observes.
Jehani designed the user interface to be as straightforward as most shopping apps, with the projects on offer clearly listed along with their price. "We figured that's the kind of interaction we wanted even with a skill. For example, a photographer for an event for
Rs. 8000. Book it! It's as easy as that," she explains.
The easier the process is for a consumer, the harder it is for the developer to make it so – which is something Jehani discovered along the way. "If it looks effortless, it means a lot of work has gone into it." However, it was something the team was adamant not to compromise on as every detail counts, and has resulted in an app that Jehani describes as "very pretty, and at the same time very easy to use."
At its current beta stage, the team are working on getting people with skills to sign up on Mabs and upload their projects. This is to ensure that there is a diverse range of projects for customers to choose from once the full version is launched. As the app takes off, Jehani plans to develop an iOS version of the app, and eventually a desktop website.
Putting the word out about the app and getting people to trust an app that they've never heard of before has been a challenge in itself, which the MABS team is working through currently.
With a constant social media presence and weekly giveaways, the team hopes to generate enough people signing up to continue developing MABS and making it even better.
The MABS.lk app is free of charge, and can be downloaded now through the Google Play Store.
For more information, go to www.mabs.lk and follow their Facebook page Mabs and their Instagram page @mabs.circle for updates.