The requisite to apprehend the know-how of diplomacy
From the orthodox 'diplomacy' to the new age of diplomacy;
View(s):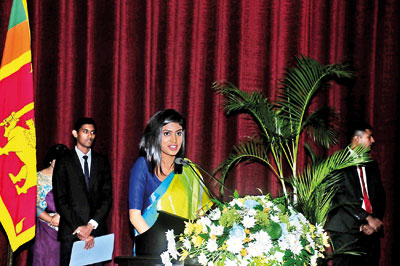 In a world of a miscellany of living organisms, humans are renowned for their cognitive and mental capacity to form systems of inter-personal relationships that stretch way beyond the nucleus of the immediate family. There are ample of research that go to form the opinion that today the human intelligence stems not to simply solve ecological problems but rather to promote the survival of humans in large and social groups.
Henceforth the importance of understanding the thoughts and emotions of others, traits such as empathy, patience, theory of mind and primacy attributed to the use of symbols, tools and language have proven to be necessary for the flexible cooperation of humans in large numbers.
With the orthodox belief that diplomacy solely aims to initiate cooperation during peace and war, it is also correct to be of the stance, that to assert your opinion or idea, to know how, when and where to say it without compromise to a relationship you share and without jeopardizing your affairs, requiring tact are also found to be synonymous to diplomacy.
The novel age of diplomacy perceives technological and ecological disruption as posing a threat to the mere existence of the human kind calling for action of humans alone or humans organized in the form of states and nations to have become inadequate to the address issues in the society prevalent today. This scenario today is manifestly why the know-how of diplomacy needs to be in high demand which the Bandaranaike International Diplomatic Training Institute (BIDTI) has pioneered in and aspired to engage in within Sri Lanka to harness skills, impart knowledge and inculcate values and good conduct to all individuals aspiring to be a representative of the state.
As a second year law student at Kotelawala Defence University, who set foot into the BIDTI, I was not very enlightened of the discipline of diplomacy. But my passion and desire to educate myself on global affairs, international relations and geo-political situations around the globe has made me stay on the constant watch out for affairs of the globe since my childhood. My dream to transform a mere passion into a reality was immensely advocated by BIDTI with the commencement of the course of "Diplomacy and world affairs."
At the BIDTI, I was exposed to a fully-fledged lecture series that entailed not only matters of interest to diplomacy and world affairs but also attributes that are proven to be necessary to the conduct of a diplomatic personnel. BIDTI's initiative to groom persons to make them eligible diplomats to represent the nation in a global platform has proven to be commendable in not only imparting knowledge but also in making sure that the students have harnessed proper etiquette and conduct.
At the BIDTI, from being educated of interests of world affairs and hot topics in global networks to engage in thought-provoking, eye-opening, candid conversations with distinguished professionals in the field has become a true learning experience let alone a sheer privilege.
Along with lectures on history of diplomacy, working of renowned world organizations, regional conflicts, comprehension of the regime of international law , discourses on economic diplomacy , international trade and current topics that set the world on blaze the BIDTI aims at making individuals  have a firm grasp of the happenings around the globe by way of its eminent panel of resource persons ranging from academics, Ambassadors, High Commissioners and also visiting scholars from both the public and the private sector.
The BIDTI exposed me, a mere university student to a diversified student body where I came across officials of the armed forces, civil servants, media personnel, private sector employees and students all in one hall inquisitive to grasp the best of every possible lecture we had.
Every lecture I remember was an interactive one where students would ask every little question that intrigued them.
The BIDTI as an institute has beyond a doubt catered to the needs of individuals who are interested in developing their knowledge in diplomacy and world affairs along with the quality education provided via a very well structured syllabus, discourses by professionals in the field blending in academics with a practitioner's perspective which gives ample insight to an avid learner.
E.A. Kushendri Edirisinghe
Recipient of the Vernon Mendis Memorial Award and Distinction holder of the Diploma in Diplomacy & World Affairs (Batch XVIII)