Susex College Network make step to produce professional press-school teachers
View(s):

Sussex College Network made a huge stride to produce professional pre-school teachers in the country by initiating an English Language Improvement Workshop for the pre-school teachers in Ampara district coincide with the Sussex College Ampara recently.

One-day workshop was conducted for 55 pre-school teachers to enhance the quality and standard of their teaching methods which will be an investment for the pre-school teachers  of the area.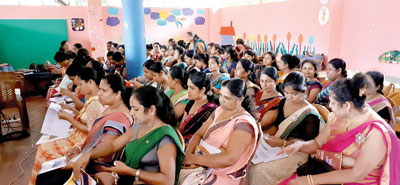 Sussex College Network, one of Sri Lanka's largest  international school chain, which has international value with Lankan culture, has vastly funded for this venture targeting to build up a set of professional pre-school teachers to provide knowledgeable students for Grade I in private and government sector school in the country.
"Our main objective is to produce professional pre-school teachers in the country, which is a needful aspect of Sri Lanka, right now. As Sussex College Network, we are operating 20 colleges across the country, and hopefully we want to continue the programme in the future in every college," said the founder Chairman/CEO of the Sussex College Network Sunil Jayatissa.
Early Childhood Development coordinator attached to Zonal Education Office, Ampara, provided with the academic assistance. S.P.Adihetti Coordinator Regional English Support Centre (RESC). Ampara and S.L.N Cyril In-service Advisor (ISA-English) Ampara contributed assistance as the resource persons.
The main objective of the programme was to enhance competitor teachers in the pre-school system, which provide students to grade 01 for private sector school and government school.
All the participant pre-school teachers were thrilled and demanded further more workshops across the country in the future.
"This programme is considered as another community service provided by our network, said Sussex College Network Founder/Chairman and CEO Sunil Jayatissa.