AIC Campus offers the only European MBA in Entrepreneurship in Sri Lanka
View(s):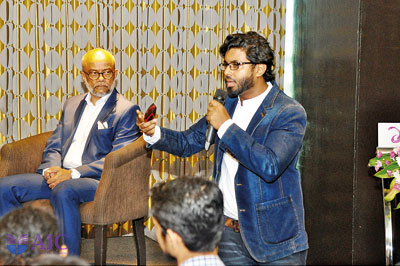 Fast track MBA with Distance learning option & no class attendance needed.
If you are looking for a challenging career in Business and want to obtain a quality European Postgraduate Business qualification your time has come.
AIC Campus in collaboration with IPAC School of Management in France for the first time in Sri Lanka offers the Master of Business Administration (MBA) in Sri Lanka at the state-of-the-art AIC Campus by a panel of eminent lecturers who have academic and industry experience in their respective field of study.
The MBA Program offered at AIC Campus has unique and multiple 5 specialization options including Business & Entrepreneurship.
About IPAC Business School
IPAC School of Management is a well-established and French Government approved leading specialized business school having five campuses throughout France.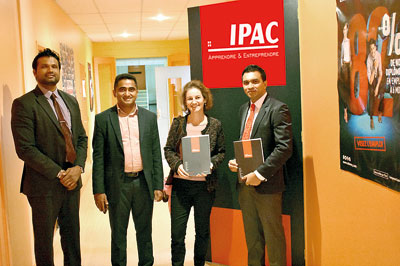 Well known for their quality and Career oriented programmes in undergraduate and post graduate studies in France as well as Europe. The IPAC School of Management grants degrees in Marketing, Communication, Management, Business Administration, International Business, Tourism, and Entrepreneurship. IPAC also considered as one of the leading Business schools in the European Union awarding globally recognized business qualifications. IPAC is one of the first institutions to participate in the ERASMUS (European Region Action Scheme for the Mobility of University Students).
About AIC Campus
AIC Campus is a reputed Higher Education Institute that provides high quality and standard Undergraduate and Postgraduate Programs across various specializations.
AIC is a leading transnational higher education providers in the island that has leaped forward with unique products that offer great opportunities for Sri Lankan students achieve their higher education and career dreams locally and internationally.
Incepted with a vision to be the leader in affordable and quality higher education to produce outstanding graduates, AIC Campus has established a reputation as a one stop destination for all higher educational needs of students.
AIC Campus has partnered with a consortium of international universities from France, Australia, Republic of Belarus and USA to offer high quality educational pathways to SriLankan students.
Why MBA In Entrepreneurship?
MBA programme in entrepreneurship are designed for students who want to lead and manage business enterprises, such as those who want to start their own businesses, as well as those who are involved in family businesses or have backgrounds in entrepreneurial endeavours
The objective of the MBA programme offered at AIC Campus is to educate and prepare future Business Leaders, Entrepreneurs with knowledge, Analytical ability, Management perspective and skills needed to provide leadership to organizations which are today competing in a world with diversity in the workforce, rapid technological change and a fiercely competitive global marketplace.
Mba Entrepreneurship & Mangement Curriculum
Strategic Management
International Market Environment
Economic Intelligence
 International Marketing
 International Purchase
 Human Resources Management
 Corporate Culture and Inter cultural Management
 Corporate Management
 Financial Diagnosis and Project Evaluation
 Project Management Process
 Management Control
Why MBA at AIC Campus?
Top 14 Reasons to choose.
1.   One and only European MBA programme in Sri Lanka
2.   Students will get the MBA directly from IPAC Business School
3.   Real life practical oriented programme
4.   Only European MBA with 5 Specialisation options in Sri Lanka
5.   UGC Recognised degree programme
6.   Most affordable course fee with flexible payment plans, access to education loans and interest free payments.
7.   Recognised by the French Ministry of Higher Education
8.   Recognition globally & locally
9.   Only programme to obtain Europass
10. Overseas employment benefits in 27 EU countries.
11. Higher earning potential
12. Faculty of industry Experts
13. Build a powerful business network
14. Flexible class schedules with block mode basis.
This 18 months MBA programme aims at candidates who have a Bachelor's degree or equivalent professional qualifications such as the CIM, CIMA, ICA, ACCA, SLIM, ABE, IBSL, BCS, PQHRM or BIT / with 5 years Executive, Managerial work experience.
With AIC Campus the students have the unique opportunity to complete the UGC recognized university degree in Sri Lanka and also gain employability overseas upon completion with the support of the validation called the "Europass" a European Union initiative to increase transparency of qualification and mobility of citizens in Europe. It aims to make a person's skills and qualifications clearly understood throughout Europe.
The Master of business administration programme approved by the French Ministry of Higher Education and also recognised by the University Grants Commission (UGC) in Sri Lanka. The theoretical knowledge is provided by a highly qualified and industry experienced team of lecturers. By the time students graduate form the programme they will be far ahead of their peers in terms of knowledge and employability. Also the cost is 70% lower from studying for foreign countries such as Australia, UK, USA, Canada or France.
Admissions for 2019 intakes have opened now, therefore suitably qualified students are encouraged to directly contact AIC Campus for admissions and inquiries.
AIC Campus Colombo –
076 5 779 779
No. 154, Havelock Road, Colombo – 05.