Ranjan tapes: Officials not talking to journalists for fear of recording
View(s):

The Ranjan Ramanayake tapes saga continues to be the hot topic on people's lips, no matter what other issues exist in the country. The scandal is such that even those who have no connection to it cannot escape its overarching influence.
Journalists themselves are starting to find this out the hard way when they try to get stories. Not only their close contacts, but even Government officials and others who journalists need to speak to regarding stories are refusing to talk for fear that their conversations are being recorded. The question "Are you recording this?" comes up almost immediately when one starts a conversation on the phone. There is clearly a palpable sense of fear since the tapes leaked a couple of weeks ago.
The scandal has also created a dialogue in society over how laws need to be amended to take legal action against those who record private phone conversations without consent.
Meanwhile, there is wild speculation on who might be implicated next on the leaked tapes. Mr Ramanayake himself fanned the flames in Parliament this week when, after being taken to attend the sessions from prison, he made a fiery, near 30 minute speech where he claimed to have recordings of a host of personalities, including Prime Minister Mahinda Rajapaksa himself. The MP, however, has yet to hand over any of the incriminating tapes that he promised would be submitted to the House.
In answer to a question posed by State Minister Nimal Lansa, Speaker Karu Jayasuriya confirmed to MPs on Friday that Mr Ramanayake did not submit any recordings to the Hansard Department to be tabled in the House. "I don't know if my voice is also on the recordings. But then I'm not one who usually talks a lot. Even if it's there, I don't think it's an issue," Speaker Jayasuriya replied casually to Mr Lansa's claim about speculation that there were recordings between Mr Ramanayake and the Speaker.
---
Batticaloa politician blazes against bikini billboard
A  Billboard put up by the Tourism Bureau of Eastern Provincial Council near the Kallady Bridge, Batticaloa has irked a former provincial councillor from the region.
The billboard, among other pictures has the image of two male and female foreigners. The female is clad in a bikini.
The ex-Provincial councillor Shibly Farook has written to the President complaining about the billboard saying "…the image displayed in this billboard has some cultural implications. The particular image shows a foreign couple in swim suits enjoying the coastal environment. Many Sri Lankans raise concerns about cultural suitability of this image"
"Sri Lanka consists of rich cultural and religious traditions followed by people of all major ethnicities of Sri Lanka. This particular image does not represent the cultural background of inhabitants. Rather, it tarnishes the cultural image of Sri Lanka," the letter added.The letter noted that 'the cultural identity of Sri Lanka should be reflected in our tourism development initiatives."
Wonder what the natives of Beruwela-Bentota have to say about the complaint.
---
Vice Admiral as HC to Pakistan
Retired Vice Admiral Mohan Wijewickrema will be Sri Lanka's new High Commissioner in Pakistan.
He served as the Governor of the Eastern province earlier.
---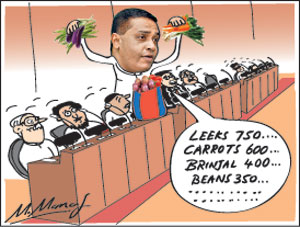 MP turns House tables with vegetables
The high vegetable price issue was a subject of discussion in Parliament as well this week.
UNP Parliamentarain Thushara Indunil Amarasena walked in with a bag of vegetables.
The MP pulling out each of the vegetables from the bag went on to read out a price list: "A kilo of brinjal is Rs 400, a kilo of green beans Rs 350, a kilo of carrots Rs 600, a kilo of green chilies Rs 550, a kilo of leeks Rs 750 and a kilo of tomato Rs. 470. The most expensive out of them all is red onion which is sold at Rs 600 a kilo."
He said that the vegetable prices are so high that people break into vegetable shops as people earlier broke into jewellery shops.
But, the MP said his concern was about the 'security' to take back the vegetables home as he was carrying some precious items.
---
Salley warned after clashing with lady state counsel
Former Western Province Governor Azath Salley was questioned over three days this week by the Presidential Commission looking into the Easter Sunday attacks.
On the opening day, Mr Salley's evidence was led by Senior State Counsel (SSC) Suharshi Herath.
Mr Salley did not take kindly to the SSC's line of questioning. At one point, he became visibly irritated with her and pointed to her directly in a dismissive manner and said "Now, she will say something about this too."
SSC Herath protested to the commission over the manner in which the witness was addressing her. At this point, Commission Chairman, Court of Appeal Judge Janak de Silva, sternly warned Mr Salley to be mindful of his behaviour.
Mr Salley was questioned over two more days, and he was on his best behaviour.
---
Wealth of praise for Sri Lanka
Commonwealth Secretary-General Patricia Scotland acknowledged Sri Lanka's significant contribution to the Commonwealth organisation and recalled Sri Lanka's championing of the Commonwealth Blue Charter and its successful holding of the Law Ministers' Meeting in Colombo last November.
The Secretary-General made these remarks when Sri Lanka's departing High Commissioner called on her to pay a farewell call at the Commonwealth Secretariat at Marlborough House last week.
The Secretary-General extended her appreciation for High Commissioner Manisha Gunasekera's proactive engagement with the Commonwealth during her time as Sri Lanka's envoy in the UK.
High Commissioner Gunasekera expressed her deep appreciation for the support and cooperation extended by the Secretary-General and the secretariat to strengthen Sri Lanka's engagement in the Commonwealth.
Manisha Gunasekera is due to leave London on February 1st.
---
 Jaffna MC members fear military role in civil affairs
Newly appointed Northern Province Governor P.S.M. Charles has appointed a retired military officer as a coordinator between the Governor's office and the Jaffna Municipal Council.
The appointment of a retired military officer has raised many eyebrows among the Jaffna Mayor and Municipal Council members as the district has many retired public servants who could be appointed to the post.
Some MC members are of the view that the appointment reflects an attempt by the Central Government to muscle its way into council administration. There is also a fear that the appointment could indicate that the Central Government is trying to use the military to oversee the civil affairs in the north like in
earlier times.