BT Poll: Mixed reviews on Govt. performance
View(s):
Most respondents to a Business Times (BT) poll this week, assessing the new government's performance so far, gave a mixed response while on the topic of the cost of living the majority view was that the administration had failed to bring down prices.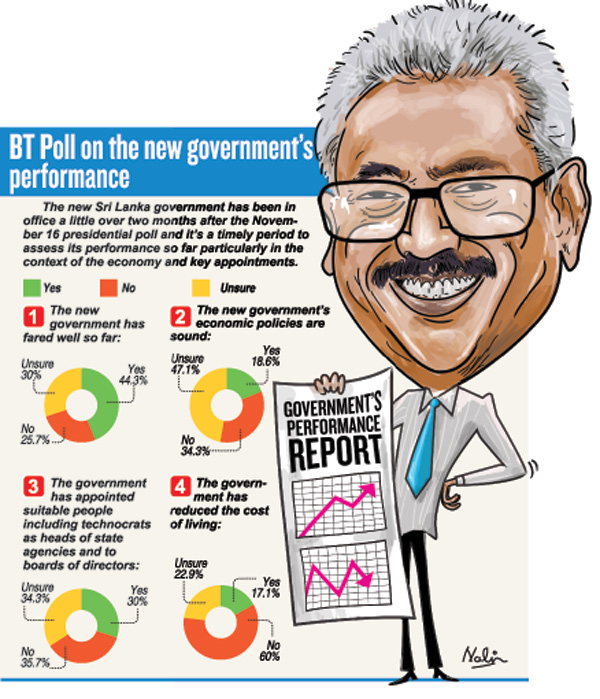 The survey which posed four questions and requested a Yes (Y), No (N) or Unsure (U) answer, sought responses on the performance, economic policies, appointments to high posts and the cost of living.
It was clear, according to many respondents, that the decision-making of the government was aimed at securing a 2/3rds majority at the forthcoming parliamentary election.
On the question of the new government faring well so far, 44.28 per cent of the respondents said 'Yes', 30 per cent were 'Unsure' while 25.7 per cent said 'No".
On the new government's economic policies being sound, 47 per cent replied with 'U', 34.3 per cent said 'N' while the balance 18.5 per cent said 'Y'.
On whether suitable people including technocrats have been appointed as heads of state agencies and to boards of directors, 35.7 per cent said 'N', 34.3 per cent said 'U' while 30 per cent said 'Y'. On the final question on the cost of living, 60 per cent said 'N' – it hasn't reduced, 22.8 per cent were 'U' and 17 per cent said 'Y' – it has reduced.
Respondents said despite the promise of not appointing friends and relatives and appointing a high level committee to make recommendations to high posts, family bandyism has crept into these appointments. "In fact nepotism seems to be the rule," said one respondent.
Another respondent said it was crystal clear that the main thrust of the new government is to secure a 2/3rd majority at the next election.
Among other comments were:
 The Government has performed as well as could be expected. But the steep cut in VAT and the potential shock to state finances is bad. So is the hiring spree of badly educated and unemployable graduates.
  All SMEs which were promptly paid during the last regime are in serious trouble as state agencies are defaulting on payments saying the allocation has not been received for the next four months as yet.
Down the line everybody is getting affected. This may be due to loss of revenue due to reducing taxes to unrealistic levels.
 None of the rational pre-election pledges has been fulfilled.  The economy is heading for disaster, as they liberally hand out extravagant goodies with a view to obtaining a 2/3rds majority at the general election and obtain loans they can ill-afford to settle. Californian, "non-national" buddies and family members have been appointed to highly technical positions while the cost of living is soaring.
A new broom sweeps clean, but an old brush knows the corners'. And a general election is round the corner! So, this "new broom" appears to be knowing the "corners" well enough.
n    Too early to comment on the performance. This is the age old game between the 'capitalist' type of governance of UNP versus so-called 'people friendly' approach of socialist SLFP/SLPP. Only time will tell, whether these people-friendly methods will fill Government coffers and lead Sri Lanka to sustainable prosperity.
Let us see whether the tax concessions and other economic goodies that have been unleashed will kick start economic prosperity for all. Unlikely that this will happen particularly in helping Sri Lanka meet debt re-payment obligations. In fact, I am almost sure we are poised to get into more debt than ever.
Yes, appointments are a good start to get fresh thinking in. But there are technocrats and technocrats…and no area of expertise is without its sycophants and scoundrels. What will matter however is how well these paragons of virtue acquire or harness the knowledge and expertise necessary to run their particular establishments to the highest professional standards sans corruption.
The President 'ordered' that the wage for plantation workers be increased to Rs. 1000. On the face of it, this is excellent. In fact I do think they deserve even more than Rs.1000 if you consider what we pay semi-skilled labour at our homes. However, a blanket pronouncement such as this, without consulting stakeholders in the industry just reinforces my belief that this is purely a vote catching exercise.