Remembering Sir Ponnambalam Arunachalam
View(s):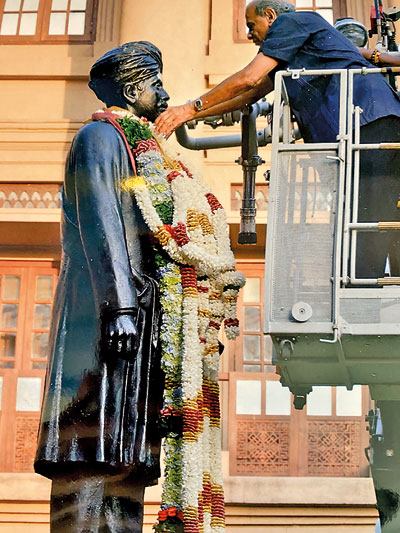 The 96th death anniversary of Sir Ponnambalam Arunachalam was commemorated on January 9 at the Presidential Secretariat premises (Old Parliament).
Chief guest Sanjay Rajaratnem, Acting Solicitor General and D.M. Swaminathan MP, the Guest of Honour garlanded the statue.
Family members Mrs. Sarla Nagendra, Nirmalan Nagendra, Prashan Nagendra, Mrs. Iswari Mahadeva and Hari Namasivayam along with office bearers of the Hindu Congress, Colombo North Hindu Paripalana Sangam and other distinguished personalities also garlanded the statue.
The welcome address was delivered by Mrs. A. Kailasapillai, Trustee, while a citation was read by Dr. J.M. Swaminathan, Vice- Chairman of Trustees.
A short time after Sir Ponnambalam's death the grateful people honoured his memory by erecting his statue in the grounds of the old Parliament house the present Presidential Secretariat premises.
It was unveiled by the then Governor, Sir Herbert Stanley on April 3, 1930.It was the first statue to adorn this premises and stood in solitary splendour till the statue of his brother Sir Ponnambalam Ramanathan was erected in 1953.