Take a bow Chandrika
By Allaam Ousman
Sri Lanka's Mary Kom to make swan song at Boxing Nationals
View(s):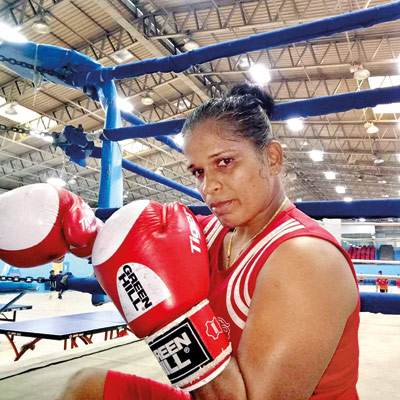 The National Boxing Championship organized by the Boxing Association of Sri Lanka will take place from January 21 to 24 at Royal MAS Arena. There will be a significant presence of foreign officials at the event in a bid to ensure transparency and fair play in decision making. More significantly it will bring the curtain down on the chequered career of a 38-year-old rugged southpaw from Army L.G. Chandrika who will go down in the annals of Sri Lanka's sporting history as a pioneer of women's boxing.
The lass from a small village in Galle, fought her way out of poverty and fearlessly took on the best in the world in her quest for glory. In a coincidence, Chandrika crossed paths no less than three times with Indian boxing legend Mary Kom.
Two decades after she first donned a pair of gloves at the beginning of the Millennium, Chandrika dubbed Sri Lanka's Mary Kom still has the passion, drive and energy for one final hurrah as she makes her swansong at the Nationals. It may not be her last competition because like most boxers she refuses to throw in the towel, being drawn to the ring like a magnet. "But I may not get a chance to box in the Nationals again," admitted Chandrika who is making retirement plans.
"I may give up boxing after a few more competitions this year. I want to develop a good Army women's boxing team before I retire. I want to become a coach and a produce a good boxer. We are building a new team and they have begun training. It was Army which started women's boxing. My wish is to lay a good foundation for women's boxing in the Army before retiring," said Chandrika who joined as a soldier and rose to become a non-commissioned officer in the 3rd Sri Lanka Army Women's Corps unit.
The eighth child in a family of 10, including six boys, Lalwala Guruge Chandrika who studied at Meepawala Amarasooriya National College enlisted in the Army in 1998 and played Kabaddi before being handpicked by Army coach Capt. R.K. Indrasena to join a group of 10 women who created boxing history. A pocket dynamite, she unleashed fire in the ring to virtually dominate the Light Fly weight division in Sri Lanka for a decade after making her debut at the first Asian Women's Boxing Championship in Thailand in 2001.
Chandrika has the singular distinction of being the first Sri Lanka woman boxer to win a gold medal at international level in the dual meet against Philippines in 2005. "It was an unforgettable day May 5 2005 because Sri Lanka also won the dual and the next day I was promoted to the rank of Lance Corporal," she recalled.
She has two other unforgettable memories in her international career. Knocking out a six-footer from Canada with 30 seconds remaining in the second round and bouncing back from a stunning blow from Mary Kom in the second round to go the distance and earn a bronze medal at the 4th Asian Women's Boxing Tournament in India in 2003. Winning a bronze medal at the Ahamman Commen International Women's Boxing Tournament in Turkey in 2007 and being Best Boxer at the Sri Lanka vs India dual in 2011 were some of the high points in her career. This is in addition to winning bronze medal at the 3rd Asian Women's Boxing Tournament in India (2003) and at an International Women's Boxing Tournament in Taiwan (2004).
She was the face of the Sri Lanka boxing before the arrival of Anusha Kodituwakku to whom she lost in Olympic Selection Trials in 2014.
"I thought I won the fight against Kodituwakku. I was disappointed after that defeat and gave up boxing," said Chandrika who was lured back into the ring by present Army coach Sampath Jayathilleke in 2017.
Fighting in a higher weight class (57kg) she was runner-up at the Nationals on her comeback and was adjudged Best Boxer at the Layton Cup and Defence Services meet in 2018.
"I love boxing. I started boxing again since I had age on my side. I think I proved myself and achieved a lot after coming back," said Chandrika who singled out Police's Nelka Shiromala as her toughest rival during her career.
"She always fought toe to toe and punch to punch with me," she said. Incidentally Nelka, an international referee, and Niroshini Bodhinayake, one of the pioneers of women boxing, will be officiating at this Nationals.
"I will do my best," said Chandrika who will be up against South Asian Games silver medallist Krishmi Dharmatilleke.