Recipe for disaster
By Champika Fernando
Kusal Perera's exclusion illustrates Sri Lanka's cricket crisis
View(s):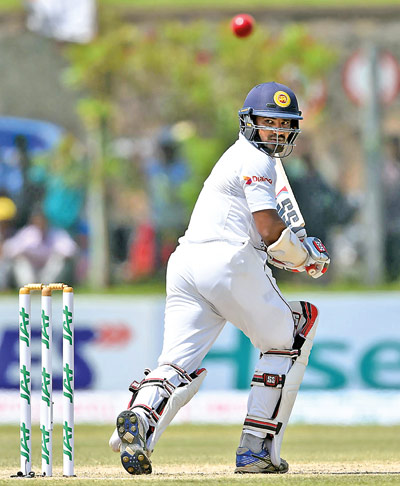 The surprise exclusion of Kusal Janith Perera from the Zimbabwe tour duly illustrates Sri Lanka's cricket crisis. The lack of continuity and longevity which the team's new head coach Mickey Arthur wants to sustain has been lacking for many years.
While a mediocre domestic structure isn't helping a resurgence – with cricketers coming through the system taking much longer than expected to adjust to the standards demanded by international cricket – flimsy selections have fast-tracked Sri Lanka's continuing trek towards disaster.
Sri Lanka has not addressed these issues seriously. Domestic cricket is getting weaker with an increased number of first-class teams. Selectors have often destroyed player confidence by chopping and changing them at a drop of a hat. In 2017, we had over 50 players representing Sri Lanka in one of the three formats. It was the highest among cricketing nations during that year, illustrating the underlying issues with Sri Lanka cricket. Selectors have also changed twice since then, as the trend continues.
There has been so much meddling that Upul Tharanga, a man with 15 ODI hundreds which is the highest among current players, who was to be Sri Lanka's number one opener on T.M. Dilshan's retirement, is out of the national reckoning. After he was named ODI captain replacing Angelo Mathews in mid-2017, he took time off from Test cricket to concentrate on white-ball cricket. A few series later, he was axed from the captaincy and also from the team. Tharanga is now confined to history.
Dinesh Chandimal and Lahiru Thirimanne, identified as future stars, are yet to fulfil the promise they showed early in their careers. They have paid a heavy price for inconsistency in selections. Kusal Perera is often placed under unnecessary pressure to perform more consistently than the regulars in the side do, in order to secure his place. Perera, who made his debut against India at home, hitting two half-centuries, has played only 18 Tests so far in his career. This is fewer than five matches per year.
In 2019, Perera produced an all-time great innings — a match-winning 153 not out in Durban against South Africa to lead Sri Lanka to an improbable win. Twelve months later, the same selectors who applauded those heroics, believed the southpaw wasn't good enough to face a Zimbabwean attack.
Perera's knock came when the team was chasing 304 to win, defusing a bowling attack that included Dale Steyn, Vernon Philander, Kagiso Rabada and Duanne Oliver. He single-handedly led Sri Lanka's victory charge, showing what he was capable of. The treatment meted out to him for his 'failure' in just five innings, is beyond comprehension.
The decision of the selectors is outrageous, no matter how hard they attempt to justify it. This unfairness has undermined the players and public faith in selection and selectors. In a nutshell, as renowned commentator Harsha Bhogle said, this is the issue with Sri Lanka — the lack of continuity and longevity.
In Chairman of Selectors Ashantha de Mel's own admission, "Kusal is a brilliant player". But evidently not good enough to find a place in the playing XI against low-ranked Zimbabwe. In fact, Perera hit his maiden Test century (110 against Zimbabwe) when the national team toured the African nation back in 2016.
"But his style of batting is more suited for faster pitches because he cuts and pulls well," De Mel told reporters before team's departure to Harare. "The problem is, if he's to play, he'll have to field because (Niroshan) Dickwella is our main wicketkeeper in Tests." Perera had played just five innings since his once-in-a-lifetime knock and was benched during the recent Pakistan series.
The question that's being asked in the face of such travesty is why they can't persist with a proven match-winner to build his confidence when he is going through a lean patch? Can he get his form back by training at nets in conditions contrastingly different to what's on offer in a real-time environment? What good does it do him to play in a domestic tournament with 26 teams? Or do the selectors want him to play only white-ball cricket? The last one seems more plausible.
De Mel also said Perera plays well on the fast and bouncy wicket, indicating he's weak in slow pitches. If this was the case, why aren't the coaching staff helping him improve his skills on playing slow-turning pitches?
The Sunday Times can confirm that Perera declined a US$ 75,000 offer to play in the recently concluded Pakistan Super League – a T20 domestic tournament with international stars – to concentrate on Test cricket. Had selectors better communicated their plan with Perera (that he will not be a part of the Test format), he would have played at the PSL and got his form back. And it would have earned him an extra buck, rather than being in Pakistan during the Test series.
"At the moment, he also cannot replace either Angelo Mathews or Dinesh Chandimal since they have proved themselves in the Test arena," de Mel continued. "Another factor is that the coach and captain seek stability in the batting line-up. We can only play six specialist batsmen plus the wicket-keeper."
The selectors opted for Thirimanne at Perera's expense. Thirimanne averages 22 in Tests and it was even worse last year, managing 251 runs in 12 innings at 20.91 compared to what Perera achieved during the same period (277 in 9 innings at 39.57). Kusal Mendis, on the other hand, played 15 innings scoring 313 runs at 22.35. Sometimes, averages do not depict a clear picture but the two Kusals are match-winners.