Nalandians felicitate their cricket Guru Nelson Mendis
By Athula Jayasekera
"A Good Teacher knows how to bring out best in students" -Charles Kurait
View(s):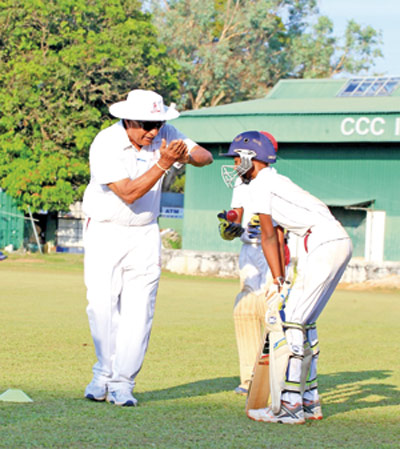 Old Nalandians are felicitating one of their Gurus, who was instrumental in bringing out the best in them. This guru not only taught them subject matter but inspired them to hit the world stage in whatever the field they were involved in. Nalandians felicitate Mr. Nelson Mendis – renowned cricketing guru on his 82nd birthday on 20th January 2020, for completing 6 decades of cricket coaching at 6.30pm at Malalasekera Hall at Nalanda College. 6 Decades is a long period of a man's life. When a man is genuine to a cause and has committed his entire life for same, it looks like all the universal forces are supporting him to go on a long journey. It is a rare opportunity; a man can have in a life time.
Mr Nelson Mendis – A teacher, Coach, Master-in-Charge, Prefect of Games, Platoon Officer and Master-in-charge of Discipline and Prefects at Nalanda was a Volunteer officer holding the rank of Captain attached to the National Cadet Corps. He was later employed at Singer Sri Lanka. He is Currently the Director Coaching at CCC school of cricket. Nelson had his education at Dharmasoka college where he captained the cricket team of Dharmasoka and was the Sergeant of the Senior Cadet Platoon. His Coaching career was started at his Alma Mater in 1960. He later mastered Tennis during his training at Diyatalawa. He continued his cricket, playing for Department of Education in State Services Tournaments, Captained Nalanda Teachers Side against Ananda in their traditional encounter played a week before the big match and represented Singer Sri Lanka in Mercantile Cricket Association tournaments. He also had the distinction of representing Bloomfied, Old Sokians and Sri Lanka Army. Nelson is married to Visakha and his only child Akila is attached to Sri Lanka Navy. Akila is also like his father, a thorough gentleman.
Mr. Nelson Mendis was inspiring and always demonstrate a positive attitude. He was a specialist in dealing with varied mind sets of young people. His services to the great game covers over 6 decades. Nelson was able to instill discipline and confidence in players from their young age. Nelson engages in Batting, Bowling, Fielding and Wicket Keeping Drills during Practices even now with his budding cricketers of CCC school of Cricket. Nelson used to challenge players to achieve their potential. He has expanded the Comfort Zones of many players. Nelson passed on many values to the budding Cricketers, Cadets, Prefects and Students in general during his services to Nalanda as a Teacher, Master In-Charge Cricket, Coach, Platoon Officer, In charge of Prefects and Mater in charge of Discipline. Training his Cricketers, Cadets and Prefects on Self-Discipline is what he considered as the most important thing. Nelson was a strict disciplinarian. He was at practices well on time. If any player was late, it was going to be a tough day for the late comer. Roshan Mahanama in his biography 'Retired Hurt" describes how he was punished for being late for starting practices as the Captain of the Junior Team. He had his rules on cricketer's behaviour, there is a way you carry the bat to the middle, how you should carry your gloves, how to take the guard, how to walk to the middle and back. Umpires decision should be respected at any cost and it is the final decision, and no player should react or question an umpire's decision. If anyone reacted and demonstrated negatively to an umpire's decision, he had to walk all the way back to the umpire and apologize.
Nelson was also concerned about the Dress of those who came under his direct purview. He always wanted his students to cut their hair short, well combed and wear well-polished shoes. He was encouraging his students to be immaculately dressed, just like he does, all the time. His choice of colours were light colours during day time mostly white, and dark colours for evening functions. I have never seen him wearing even a dark coloured trouser during day time.
I had an unforgettable incident during schooldays, when I wished Mr Mendis 'Good Morning' on a particular school day morning, without wishing me good morning in return I was punished for not properly buttoning my shirt. Punishment was severe as I was a prefect wearing the college badge. Thank You Sir! for that lesson, ever since I was given that punishment my finger goes automatically to the button, even if I wear a T-Shirt. Paying attention to detail was another trait of him.
Mr. Nelson Mendis joined the tutorial staff of Nalanda as an Assistant Teacher in 1965. He was soon made in charge of Nalanda Cricket and Platoon Officer commanding Nalanda Cadets. Many leading cricketers including Anura De Silva, Lalith Kaluperuma, Palitha Seneviratne Bandula Warnapura (First Test Captain), Leslie Narangoda, Jayantha Seneviratne, Nandadeva Perera, Sunil Jayasinghe and Dhammika Samarawickrama were among those who received guidance during his short stay at Nalanda. Nelson received the support of Cricketing Guru Late Gerry Goonaratne – the Nalanda Coach for 32 years. During this short period, he was able to find many aspiring young cricketers such as Anura Ranasinghe, Lal Peiris and Madura Wijewickrama among many others. Nelson opted to go to the Teachers' Training School to be trained as a teacher in 1969. He was then required to serve in the Army during the insurgency in 1971.
His second coming to Nalanda was in 1975. Since then he has been producing many great cricketers who were later selected to the National Team. He had once again the guidance and support of Cricketing Guru – Nalanda Coach for 32 years, late Mr. Gerry Goonaratne. This was a perfect alliance as the "Gerry and Nelson combination" produced so many outstanding cricketers during 70's and 80's. Cricketers in the Caliber of Anura Ranasinghe – (one of the best allrounders Sri Lanka has ever produced), Ravindra Fernando, Yohan Gunasekera, S.P Fernando, Susantha Karunaratne, Aruna Ranasinghe, Hemantha Devapriya, Upul Gamage, Shammi Silva, Bandula De Silva, Nihal Pitigala, Keerthi Ranasinghe, Sanath Kaluperuma, Roshan Gunaratne, Devaka and Roshan Mahanama, Asanka Gurusunghe, Gamini Wickramasinghe, Kushan Weerasinghe, Sanduna Kapugeekiyana, Nihal Pathirage, Kusal de Silva, Kumar Dharmasena, Chaminda Handunnettige, Ramesh De Siva, Nishan Silva, Dhaminda  Wijesekera, Chamara Dunusinghe and many more. The era of 1970s and 80s could be rated as the golden era of Nalanda Cricket. Of course, there had been many great players in the previous era as well, cricketers such as Stanley Jayasinghe
Although Mr. Nelson Mendis was a tough person, he was caring and empathetic. Students who were less privileged and were unable to engage in this expensive game was drawn into it by him, with a lot of personal assistance. He was an excellent talent searcher. His casual walks during intervals on schooldays when little children engage in a game of softball cricket enabled him to find many raw talented youngsters. One such find was Anura Ranasinghe (the best cricketer I have seen so far). This speaks volumes of his ability to spot talent.
Mr. Nelson Mendis has done yeoman service to Nalanda and he still loves to be associated with Nalanda. The training, guidance and inspiration Nalandians received from such a great personality has helped many of them to be outstanding personalities in their own fields. We still stand at attention when we hear him calling our names – out of sheer respect we have for him.
I wish Mr. Nelson Mendis good health and many more years of moulding budding cricketers to international fame.