Appreciations
View(s):

You will live on in the hearts of everyone you touched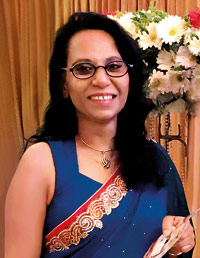 Dr. Lalani Kapuruge Kuruppuarachchi
If I was to pinpoint one reason for who I am and who I want to be, there is no competition, no guessing nor anyone close but one person – Dr. Lalani Kapuruge Kuruppuarachchi.
Dr. Kapuruge was an interventional cardiologist in my home country, Sri Lanka, but that doesn't begin to tell the story of the person she was. It would be easy to say that her revolutionary research or numerous international awards were what inspired me the most about her. Yet what struck me hardest from the many, many strings to her bow was her perseverance, her resolute character and her overwhelming desire to achieve. And it is the word achieve that I use almost incorrectly if you call her ascension as a leading cardiologist from such humble beginnings a mere achievement.
Having grown up in the rural town of Badulla in Sri Lanka with inadequate educational facilities and little emphasis placed by parents on educating females, selection into medical school was by no means an easy feat. Adding to this, the highly competitive environment resulting from a lack of tuition free universities made this dream seemingly unattainable. Yet, as anyone who knew this incredible woman understood, no was never an option. Giving back to those who once gave to you was something that resonated strongly with her, something she always reiterated. It was the idea of someday giving back what her community had given her  that fuelled this overwhelming engine of perseverance.
Her attributes in revolutionising the field of cardiology in Sri Lanka continue to inspire me. Until the turn of the century, thrombolytic therapy was the sole form of acute intervention for myocardial infarction. During her post graduate training in Australia in 1997, Dr. Kapuruge was exposed to more feasible methods of acute intervention such as primary angioplasty. Understanding the benefits in terms of survival rates of this method compared to thrombolysis, she attempted to introduce this to Sri Lanka. However, this was met with opposition as a male-dominant community of health professionals was not ready for change initiated by a junior female cardiologist. Unfortunately, she was alone in her battle in raising awareness, having to face newspaper and television reporters who did not believe in her proposed novel method. However, true to her tenacious character, she fought. Nowadays, arguably as a result of her efforts, primary angioplasty is a widely utilised form of intervention for myocardial infarction.
In 1999, whilst bearing her second child, she stayed true to her word of serving the community she grew up in and moved back to Badulla. It was upon being back in the community that she realized the sheer magnitude of the gap in healthcare between urban and rural Sri Lanka. Novel methods such as thrombolytic therapy were unheard of in Badulla, with patients presenting with myocardial infarctions only being treated with basic measures of aspirin and heparin. This, among with many other inadequate healthcare measures at the time, was mostly attributed to a poor understanding of health in such areas as well as the lack of equipment and trained health professionals. To combat this, Dr. Kapuruge used her meagre salary at the time to set up an ICU of 12 beds. She trained the nurses and doctors in the performance and management of thrombolytic therapy as the facilities required for primary angioplasty did not exist in Badulla. Furthermore, she organised an ambulance service to transfer non-critical patients to Colombo who otherwise would not get appropriate treatment in Badulla primarily due to overcrowding. By the time she left Badulla a year later, the waiting list to get an appointment for a simple echo cardiogram had reduced from four years to four months.
But she wasn't done there.
20 years ago in Sri Lanka, coronary angioplasty was performed through the femoral artery. This was somewhat problematic as it could result in complications such as severe bleeding and damage to the artery whilst also leading to a longer hospital stay. In 2002, Dr. Kapuruge introduced a more feasible procedure to Sri Lanka – trans-radial artery coronary angioplasty. She initially had to perform the procedure without appropriate equipment as pharmaceutical representative companies refused to provide her with the proper equipment. Today, there is not a single cardiologist in Sri Lanka who does not use this procedure.
Sadly, as is the case for many of those who re-define the way we live, her name is mostly unknown. People are unaware of who introduced these life-saving procedures to the country. People are unaware of the battles this woman fought to do it. The people who know of her however will tell of a woman who knew no bounds or limitations, a person who created doors to walk through walls and viewed barriers as something that are there to be removed. Ultimately, a person who cared so deeply for her country.
A role model, by definition, is someone whose behaviour others seek to emulate. Dr. Kapuruge was the quintessential example of this. Her divine compassion and utter selflessness brought me boundless inspiration and influenced me immeasurably in the way I think and behave – ultimately influencing the career path that I am currently on. She made me realize how incredibly privileged I am and instilled within me the importance of helping those who are more disadvantaged. I have learnt that the satisfaction gained from serving for the greater good is more rewarding than any gained from serving yourself.
Dr. Kapuruge is the reason why I am the person I am today. Her ability to make such an influential contribution to society while simultaneously raising two children allows me to put my problems into perspective. The words "thank you" don't seem to do justice to appreciate the lessons I have been taught, the places I have been and the person I have become. It would be remiss for me to not say that I owe everything I am and everything I will be to this wonderful person and I am tremendously proud to call her my mother. However, I suppose the brightest stars do burn the quickest. Although she is unfairly no longer with us, in my heart she will always be with me as "we all die. The goal isn't to live forever, the goal is to create something that will." Amma, you will always live on in the hearts of everyone you touched. It was a privilege being your daughter.
Chamasha Kapuruge
---
A three decade-long friendship that meant so much
Rupica Abeysekera
It's still hard to think that it's one year since Rupica bid us goodbye.  I still remember meeting the pretty, unpretentious, young wife of my colleague Dr. Terrence Abeysekara in 1990. Terrence and Rupica were my closest friends during the past three decades with whom I could share my frustrations; personal and professional. Even beyond my professional life they continued to be close friends.
Rupica was the oldest of the Gunasekera family and probably the pampered eldest daughter. Yet I have never come across a lady so unaffected by wealth, beauty and position. When I think of Rupica, what first comes to my mind is her beautiful spontaneous smile -a smile from the heart which lit up her face. She was fortunate to be loved by her close family and the bond between Rupica and Terrence was so charming to those who witnessed it. Even as a young couple I have never seen them very demonstrative but she was the strength behind Terrence's success
In the good old days they would drop in around 9 p.m. to my place and Terrence and I would chat about the economy, our World Bank frustrations and difficulties faced with the government counterparts. Rupica and my mother would smilingly watch us occasionally joining in the conversation while my father would butt in with advice or his own anecdotes. It would go on till midnight at times but never did she show any irritation. More than anyone else Rupica knew all about our little world of the World Bank and she would laugh her heart out about those hilarious incidents we would relate to our close family. I always wondered how Rupica would have tolerated our long discussions on warehouse financing, legal reforms and Gami diriya. That showed how generous and magnanimous she was at heart and how she had made Terrence's professional world hers as well.
Entertaining our World Bank colleagues, dinners and almsgivings at our place would not have been complete without them. When I needed a guarantor for a bank loan or to rush my mother to the hospital, it's to Rupica I turned.
When I had my eye operation they went from one hospital to another looking for me before Terrence decided to call me on my mobile. When I called to check their availability to visit them Terrence would come and pick me up and Rupica would have refreshments ready for us. We would talk for hours and they would drop me home. My parents had no anxiety if I were to attend any social event with them knowing I was well looked after.
We also enjoyed so many evenings socially. The last memorable day was our trip to Hikka Tranz. At that time my father wasn't that steady but Terrence and Uditha promised to look after him. I still have those pictures with Rupica beautifully smiling at the camera at the beach. In those she looks so full of life and it never occurred to anyone of us that in a few years she'd be gone.
I still visualize Rupica with her broad smile coming in with Terrence carrying some fruits from their garden or walking in her garden admiring the beautiful flowers and plants. Though we were almost the same age, I always thought of her as much younger than myself as she was unaffected  by the machinations of the professional world.  She was gentle as the breeze and  bright as the moonlight. It's hard to talk about a three-decade friendship as memories come flooding to my mind.
She was fortunate to have had such a loving and caring husband like Terrence and lovely children like Sukitha, Uditha and Pathumi during her relatively short life. She left lasting memories in everyone whose life she happened to touch. I never thought I would be writing an appreciation about Rupica. It's with an aching heart I penned these few words just to say 'Thank you Rupica' for being such a great friend.
We will meet some day, somewhere in our long journey of Sansara. Till then goodbye and may you attain the sublime bliss of Nirvana.
Sriyani Hulugalle
---
Remembering that familiar voice on air and happy memories 
Bevil Palihawadana
I first met Bevil in 2002 when I was General Manager of the Singhalese Sports Club (SSC). The club had engaged him to organise and compere the annual dinner dance along with Rajiv Sebastian and I took an immediate liking to this slightly built, soft-spoken cheerful personality. I had seen him many times on ITN hosting the Fan Club programme but never had the opportunity to talk to him.
Bevil hosted the morning show on the SLBC English service every Thursday and when I was at the SSC he used to connect me live to the programme to explain about the services and developments the club offered.
When I joined the SLBC as a Deputy Director General in 2005 much to Bevil's delight, he was holding a responsible post in the Official Languages Department but used to come to SLBC regularly for relief programmes and drop in for a chat to my office. Bevil suggested that both of us host a live weekly programme called Sinhala Pops on the English service every Sunday afternoon inviting a guest artiste of the 70s. We had this chat show for many months starting with Indrani Perera and then continuing with Annesly, Anil, Mariazelle, Melroy, Keerthi, Priya etc. This programme became so popular that a reputed private company offered to sponsor it and I recall going with Bevil in his van to meet the CEO of that company.
After I rejoined ETF at the end of 2005, Bevil kept in touch in me over the phone. At the crack of dawn, he would call me from the SLBC studio and ask me which Sinhala song I would like to listen to that morning, since he was permitted to air one Sinhala song during his morning show and knew of my liking for C.T. Fernando and Milton Mallawaarachchi's songs.  I used to listen to these songs while travelling to office and my driver used to tell me "anna sir Bevil mahattaya sirge nama kiyala sinduwak demma".
Unfortunately, after leaving ETF we were not so much in touch. I was so shocked to hear that Bevil had passed away. His knowledge on music, cricket, current affairs, languages and politics was really great and I will indeed miss this much loved and respected media personality and colleague.
May he Rest in Peace.
 Mangala Herat Gunaratne
---