A hard act to follow
By Yomal Senerath-Yapa
A scholar, actor, gentle satirist, reformer and much more, Jayalath Manoratne's demise leaves a huge void in the Sinhala theatre scene
View(s):
The Peradeniya University's amphitheatre, which used to turn pink when the old Tabebuia rosea tree was in blossom, is now shrouded in deep mourning. The 'wala'- as generations of students called that romantic haunt- will never be the same with the demise of Jayalath Manoratne, who long ago took up the mantle of Prof. Ediriweera Sarachchandra, his guru and godfather of modern Sinhala theatre.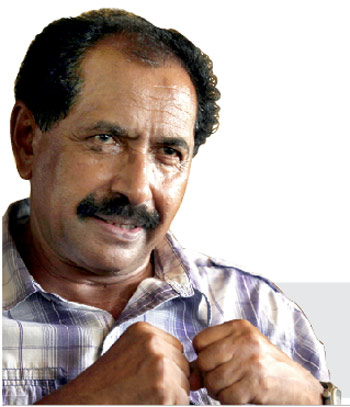 'Mano' was indeed a true Renaissance man. He was an actor (in drama, film and TV), playwright, director, singer, dancer, poet, novelist, short story writer, lecturer and experimenter.
Born in Dehipe, Nuwara Eliya, Kala Suri Kala Keerthi Keselgaspe Manatunga Jayalath Manoratne was the sixth and last of a brood born to a lorry driver and a housewife. After primary school in Dehipe he was to enter Poramadulla Central College where he acted in his first drama, Assa-Gudung.
Chosen to represent his province in an inter school competition, he is remembered by at least one member of the audience for sheer pluck. "Part of his pasted moustache came off mid-performance but, undaunted, he tore off the whole set of whiskers and went on acting."
It was a hint of things to come — of someone who would go on to win the Best Actor's award five times at the State Drama Festival.
As veteran journalist Thilakarathna Kuruvita Bandara says, Mano's arcadia proved to be Peradeniya, where he read Sinhala, and came under the aureole of Sarachchandra- first acting minor roles in the classics Sinhabahu and Maname till given the limelight- as Brahmin Uddala- in the play Prematho Jayati Soko.
Mano was an omnivorous actor who took whatever came his way and filled the role using his sensitivity. In Sudu Kaluwara he was a dreadful failure of a man from the village gentry who saw his wife and dignity being stolen by a rising capitalist; in Bherunda Paksiya he was the canny, sharp fox of an advisor to a Kandyan chieftain; in Sooriya Arana he was a monk of deep faith and calm inner steel; in Sabanda Eliyas, he morphed into the village rogue cum comedian; In Miss Jennis (yet to be released) he played a transwoman.
But it was in his own plays that he shone with a rare brilliance.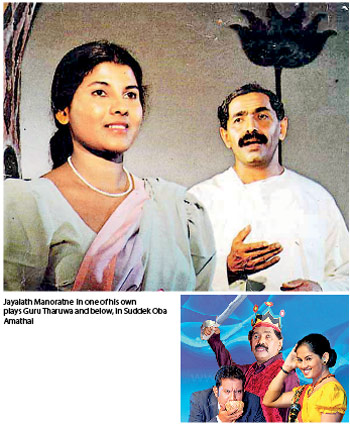 With their rich scripts embedded with history and literature and the folk arts, plays like Thala Mala Pipila and Guru Tharuwa showed a nuanced, subtle appreciation of the historical processes, politics and deep philosophy. It is sad that he would foray into lighter acting so much- taking up valuable time that could have been devoted to pushing the boundaries of serious theatre.
If you need a glimpse of how Mano saw himself and his duty- look into his own plays. In each he is a reformer- or rather someone (often a teacher or an artist) who like a gentle Messiah points to the right path- patiently standing for mores and values we are losing as we pursue materialism.
There was often a philistine, crude and money-loving faction- provoking mirth- in the plays while the other party- often headed by Mano- stood for culture and humanity. But there was no preaching- you took everything in amidst laughter and poignance and the sheer dramatic power and rich detailing.
His plays were lyrical, and his works of art sprang from a deep tradition- first of all the upcountry folk culture he was heir to- and then the scholarship he would assiduously polish at Peradeniya- while collaboration with figures like Charles Silva Gunasinghe gurunnanse, Siri Gunasinghe, Malini Ranasinghe, Aileen Sarachchandra and Ashley Halpe lent him lustre.
To delve into his plays is to be amazed by a rich, dazzling ore of folk culture, history, and literature. In Thala Mala Pipila, for instance, there is a wealth of kavi and dance traditions. It is the story of a son betraying his traditional artist father's craft- by commercializing the dance school which propogates the sacred Kandyan dance.
The whole play reads like an allegory of the infamous Kandyan Treaty with characters given Molligoda and other aristocratic names- the betrayal of traditions stenciled on to that historic betrayal of the country. This rich layering and symbolism is classic Mano who earned his PhD the traditional way- through scholarly toil (though he received an honorary doctorate as well).
Satire was an art he perfected. Even if he was not a hilarious comedian (he was too gentle and avuncular to be that) he could write stuff that was full of a pungent humour that was just the tip of the iceberg- with depth below for you to explore.
As Kuruvita Bandara points out- we have lost "many people by losing Mano", for he was the one artiste the Sinhala theatre possessed who could "direct his own script while dancing and singing to it on the stage".
A void that would indeed be hard-filled.
Adieu from the stage set
The virtuoso left us at the age of 71 due to brain cancer, and many are the mourners- apart from the immediate family of Tamara Jayanthi, beloved wife, and children Indeewari and Bhanuka.

Prof. J. B. Disanayaka remembers an old friend from the Sarachchandra days at Peradeniya who had an utterly clever streak for satire- and a raconteur who used to make bus rides such a delight. The hundreds who visited the house in Boralesgamuwa to pay their final respects the past week, he says, are the true tribute paid for an artist of the people- who never let his deep scholarship and sensitivity stand in the way of the common touch.

Namel Weeramuni- film director, dramatist, playwright and lawyer,  recalls Mano's vibrant voice "that no one could match or surpass… But what I respect most were his serious and meaningful scripts with deep humanism addressing societal, historical, and philosophical issues."

Buddhadasa Galappatty- veteran poet, journalist and cinematographer, has this to add:

"Mano was a versatile actor who fared brilliantly in both the theatrical traditions of stylized drama and realistic drama. He performed superbly in the stylized works of Prof. Sarachchandra while acting equally impressively with dramatists in the realistic form such as Henry Jayasena, Gunasena Galappatty, Dayananda Gunawardana and Sugathapala de Silva. Later he showed his talent in the realistic drama of Lucian Bulathsinhala, Ranjith Dharmakeerthi, Sunanda Mahendra, K.B.Herath, Vijitha Gunaratne, Prasanna Vithanage, Kapila Kumara Kalinga and others… He was a unique artist."