ISSO expands operations to the Maldives
View(s):

ISSO, Sri Lanka's favourite prawn-specialised restaurant went global by opening its first international outlet in the Maldives recently. The restaurant which set up shop in the Capital of Maldives, is the only Seafood restaurant currently operating in Malé.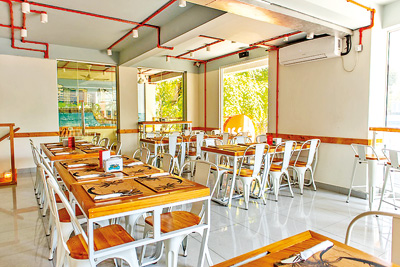 Established nearly four years ago in Colombo, ISSO soon became a favourite among both local and International seafood lovers, which prompted the business to expand and grow within a very short period of time.
Speaking about their new opening in the Maldives, CEO and Co-Founder of ISSO Restaurants, Apinash Sivagumaaran said, 'We are thrilled to be opening doors of an ISSO outlet in a completely new market today. We have constantly received many requests from our Maldivian customers who visit restaurants in Sri Lanka, to open an outlet in the Maldives.'
He added 'This is our first outlet outside of Sri Lanka.We believe it is a great achievement to have got this far within a time span of under four years, considering the competitiveness of the industry we are in. We don't think we could have come this far if our team didn't strive to consistently push out great quality dishes and always prioritised on the quality of our ingredients. We have received a good response from the Maldivian market so far and are gearing to open more outlets in Maldives in the future.
This outlet has been a dream in the making and we are happy to be finally serving our customers in the Maldives now.'
Since its inception in March 2016, ISSO has been dedicated to maintaining their consistency and standard. The restaurant has been committed to using only the freshest and highest quality ingredients in their dishes to guarantee good flavour and delicious taste.   ISSO's Senior Management, Exe. Chef and the Operations Team play a hands-on role in managing the Malé outlet to ensure a consistent ISSO experience is delivered to their customers. They imports the same quality of prawns from Sri Lanka to ensure consistency in quality across the outlets in both destinations.