TM Mahes Jayadevan receives distinguished Toastmaster Award
View(s):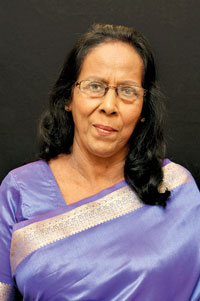 Toastmaster (TM) Maheswary Jeyadevan, a charter member of Braybrooke Toastmasters (BTM) Club recently received the distinguished Toastmaster (DTM) Award, the pinnacle of achievement for any Toastmaster in their journey.
The DTM award requires a great deal of commitment and hard work over several years and ensures that a Toastmaster goes through the entirety of the Toastmasters Educational Programme and contributes to the Toastmasters Community in the form of leadership roles at the area, division, or district levels.
Mahes, who has earned the stylisation of "Maheswary Jayadevan, DTM" or "DTM Mahes Jayadevan" is one of a few remaining charter members of Braybrooke Toastmasters Club, which chartered on 27th March 2007. DTM Mahes has held Club Executive Committee positions as follows: President – 2014/2015; Vice President – Education – 2013/2014, 2017/2018, 2019/2020; Vice President – Membership – 2011/2012; Vice President – Public Relations – 2010/2011; Secretary – 2008/2009; Treasurer – 2009/2010, 2012/2013.
Additionally, DTM Mahes was appointed as the Area Director for Area 2, Division C during Toastmasters Tenure 2018/2019.
Mahes is the second Distinguished Toastmaster to emerge from Braybrooke Toastmasters Club, and the first female member to do so.
We, the members of Braybrooke Toastmasters Club, wish DTM Mahes for receiving higher accolades in her Toastmasters journey.