Nurturing young minds for 30 years and beyond
View(s):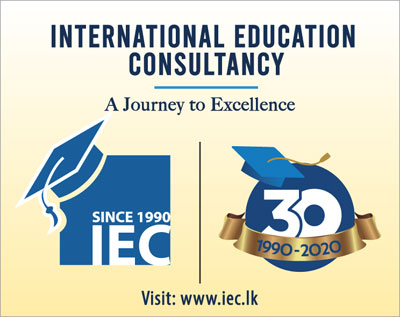 International Education Consultancy marks 30 years of successful services for overseas education
International Education Consultancy (IEC), the leading Australian representation in Sri Lanka marked its 30th anniversary recently.
Over the years, IEC has bolstered the education sector by providing an unblemished support in promoting local students to overseas countries such as Australia, New Zealand and Canada for successful education prospects.
Established under the Sole Proprietorship of S S Rajah, IEC's proven visa success rate for 30 years reflects the effective commercial operations in providing personalised services, assuring students to experience a smooth transition in pursuing their higher studies and fulfil their aspirations.
Commenting on the milestone, IEC Managing Director, Manjula Perera remarked "Completing 30 years of successful operation in a market where global giants are competing has marked a significant milestone in our chapter. This was possible due to the vibrant team's hard work, dedication and their untiring efforts in providing the very best of service.
At IEC, our highly trained team specializes in identifying the needs of parents and students to provide personalized services thereby facilitating their educational and career progress in a way that is both sustainable and measurable. By following this philosophy, we have not only empowered thousands of students to reach their fullest potential but also brought glory to Sri Lanka through our students reaching global heights in their respective careers. Our aim at IEC is to facilitate students to progress with competitive credentials and skills that translate in to a great career.
Towards this, we will continue to evolve and groom our staff to offer exclusive guidance & services to students those who seek new and prosperous education opportunities overseas,".
Since its inception in January 1990, IEC has become one of the most trusted and reliable education consultancy bodies that provide guidance and support for local students who seek education opportunities overseas. IEC specializes in facilitating the successful admission of local students to over 65 universities and educational institutes in Australia, New Zealand and Canada. Over the years, IEC has abetted university admissions for more than 3500 students in Sri Lanka.
IEC offers extensive service packages for students that include FREE Personal Consultations to help select the suitable study programme based on the desired career objectives & affordability. IEC also assist students to navigate the offers and scholarship application process with success, taking care of the complete end-to-end process (including correspondence from the point of obtaining the offer letter, up to granting of visa and departure).
Furthermore, IEC also guides students to meet student visa requirements (GTE/SSVF) as per the respective Immigrations. Additional assistance is also offered in uploading e-Visa applications and coordinating e-Medical and biometrics.
IEC also offers value added services by arranging accommodation, airport pick up at the study destination to make the transition easy and hassle free. Going a step further, IEC helps with Visit visas for parents to accompany students or even Dependent visas for spouses.
IEC supports PhD and Masters by Research students in a very special way by helping them by providing step-by-step instructions which includes even helping them identify suitable supervisors based on their research proposals. In the past, The Australian High Commission granted IEC the authorisation to process and Issue Pre- Visa Approval (PVA) due to the high reliability of its services.
IEC continues to secure the title of 'New Zealand Recognised Agent' awarded by ENZRA- Education New Zealand for their unparalleled services towards successful placements of students to NZ.