SLEME overall champions at Army Inter-Unit Cycling Championship
View(s):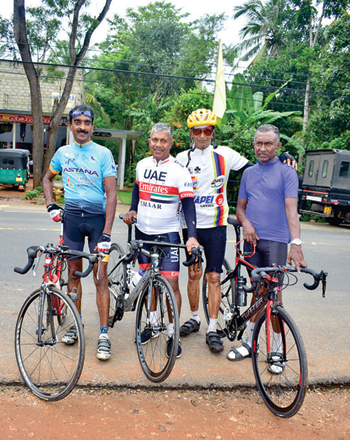 The regiment of Sri Lanka Electrical and Mechanical Engineers (SLEME) won the overall championship with 115 points to clinch the National Championship Challenge Trophy at the annual Sri Lanka Army Inter-Unit Cycling Championships. The championship was held on a 35-kilometre circuit in Saliyapura, Anuradhapura where the runners-up were the Gajaba Regiment and Sri Lanka Artillery 3rd Ordinance.
A total of 12 units from the Army were represented by over 100 cyclists, who competed in six different categories. The event, held on December 20 from 7.00am to 6.00pm, was organised by SLEME in Saliyapura, headed by National Commissaire of the Cycling Federation of Sri Lanka, Ushan Kodagoda, with the Veterans' team.
Senior officers from various units, including Brigadier Sanath Randeniya, Brigadier Saman Liyanage, Brigadier Sumith Premalal and Lt. Colonel Jayatissa cooperated with the Sri Lanka Army cycling cavalcade to make the event a big success.
The special guests at the awards ceremony were, Major General Sirinage, SLEME Commanding Officer and President of Sri Lanka Army Cycling Club, Brigadier Indu Samarakoon, and Centre Commandant – SLEME, Lt. Colonel Randi Jayasinghe. In addition, WO I C.P. Meemanage, the South Asian Games gold medallist and Staff Sgt. Ishan assisted with their expert knowledge to help out the organisers in conducting the event smoothly.
Results:
Open – Road Race – 140km (4 laps)
1. Cfn H.A.D. Madonsa
2. Cfn W.D.P.S. Weerasinghe
3. Cfn M.N.P. Thisera
4. L/Cpl R.T.C. Dayananda
5. Pte Pinto Sadaruwan
6. Pte Kumarasinghe
7. L/Cpl Wickrame
8. L/Cpl W.K.S. Sampath
9. PLT D.R.P. Perera
10. L/Cpl M.A.P. Pushapakumara
Standard – 185km
1. Pte R.A.S. Shihara
2. Cfn S. Priyadarshana
3. Pte Y.M.A. de Silva
4. Pte W.P.L. Madushanka
5. Cfn P.K.S.M. Perera
6. Cfn K.P.G.V. Perera
7. Pte W.S. Jayakantha
8. Pte D.M.D.K. Dissanayaka
9. H.M.H.R. Chandrawansa
10. K.K.K. Sankalpa
Standard – Women 35km
1. Pte B.A.S. Dilhani
2. PPE H.M.D.S. Herath
3. Pte N.D. Wijesinghe
4. Pte K.G. Jayanthika
5. PET W.J.U.S. Weerasinghe
Road Race (Men) Differently-abled 35km
1. Cpl G.L. Wasantha
2. L/Cpl W.P.M.K. Ranasinghe
3. Cpl P.M.P.K. Dissanayake
Veterans Race (Over 60 to 70) 35km (Ex Serviceman)
1. Saliya Weerakody (65)
2. W.F. Jayalath (65)
3. Jagath Premalal (61)
4. K.D.S. Perera (58)
Veterans Over-70
1. P. Anthony Symons (76)