SLC terminates contract of Hathurusingha
Suspended head cricket coach found guilty on six counts by one-man committee
View(s):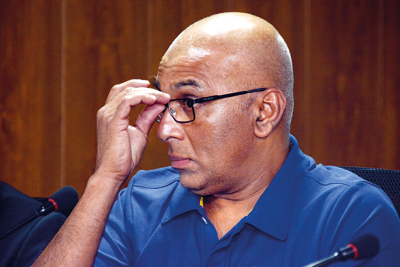 Sri Lanka Cricket (SLC) this week decided to terminate the contract of suspended Head Cricket Coach Chandika Hathurusingha after a one-man committee found him guilty for all six charges of failing to discharge his obligations under the contract, creating disharmony within the team and for gross insubordination.
The report which was tabled at Thursday's Executive Committee meeting comes just days after enraged Hathurusingha sent a letter of demand to the tune of US$ 5 million for wrongful termination of his contract and causing damage to his reputation. The letter of termination will now be served to Hathurusingha who remained suspended since August last year.
SLC has charged him on six counts including failing to prepare the Sri Lanka team physically and mentally for tours; failing to build confidence of players in need to [sic] support; for creating disharmony and failure to build team spirit; failure to adhere to the ICC's Code of Conduct; insubordination; and acting in a manner which is totally unbecoming of a National Head Coach. The report was prepared by Justice Lalith Jayasuriya against the alleged breach of contractual obligations by Hathurusingha.
"By the said report, Mr. Hathurusingha was found guilty for all the six charges levelled against him for failing to discharge his obligations under the contract, creating disharmony within the team and for gross insubordination," a SLC ExCo submission reads.
Answering the charges, Hathurusingha has rejected all of them and accused his employer of engaging in fishing expeditions to get rid of him halfway through the contract. Hathurusingha who had a secure contract until the last World Cup with his former employee Bangladesh Cricket Board was lured to join SLC in January 2018. But given the huge investment, his work was under scrutiny from all quarters, including the Ministry of Sports.
Under the iron-clad he had, he was entitled to a monthly salary of US$ 20,000, a monthly cost of living allowance of US$ 10,000, a tax free annual payment of US$ 120,000 at US$ 60,000 per half year within the first week of January and July as a repositioning, strategic planning and consultancy fee. He was also entitled to an annual allowance of US$ 20,000 for reimbursing the air tickets of the coach, spouse and close family members, thus drawing an accumulated monthly salary of US$ 41,666 which is approximately Rs. 7.55 million a month at the current exchange rate of Rs. 181.33 per dollar.
Pressured by the former Minister of Sports Harin Fernando to sever board's ties with 'an underperforming' coach, SLC management decided to remove him but all their efforts to part ways on mutual consent did not bear fruit with Hathurusingha insisting on his contractual obligation. The board offered him six months remuneration in exchange of an early exit but to no avail as Hathurusingha, backed by a strong contract wasn't willing to back out.
Trapped between a rock and a hard place, the board looked for an exit from its standoff with the Head Coach and this was when the board decided to charge sheet him.
Hathurusingha was long under scrutiny over the team's inconsistent performance in international cricket. It wasn't that Sri Lanka had done better without him. Rather his arrival did not herald the expected turnaround of fortunes for the islanders.
Hathurusingha also lost his control of the team in January last year, when the board, administered by a politically appointed Competent Authority, removed him as selector-on-tour. It was the first sign of discontentment over his appointment.
Before this, Hathurusingha had enjoyed a level of control over team affairs hitherto unseen for a Sri Lanka national coach. Under his watch, Sri Lanka has won 24 matches out of 67 international matches across all formats. They lost 38. From a purely return-on-investment perspective, he has not delivered enough to justify a huge pay packet. Also he has lost the support of the dressing room, particularly after he played a major role in dumping Angelo Mathews from captaincy of the team after the last Asia Cup.