Investigate the root causes to weed out doping, says rugby star Marso
By Allaam Ousman
Punishing players or athletes does not address the issue
View(s):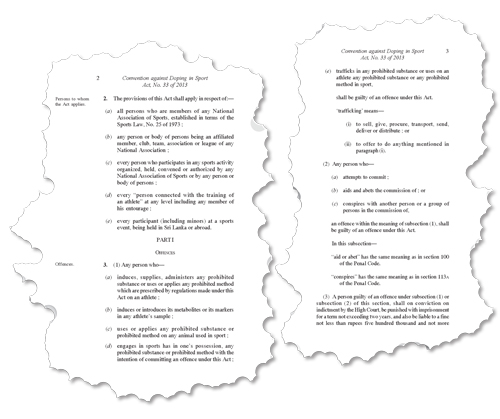 Former Sri Lanka rugby great and top cop, Hafeez Marso has urged authorities concerned to crack down on the doping menace creeping into sports not just by punishing players alone but enforcing the law against those responsible behind the scenes after a thorough investigation.
"Actually I would say in some of the cases the athletes or the players are innocent. It's an organized network that preys on them. They (athletes) don't realize the repercussions in the long run.It's not like playing and enhancing your performance. There can be health issues and I only wish that the experts in the medical field would enlighten the athletes and the sports lovers, the danger of running such risks," warned Marso, a former Sri Lanka double international in basketball and rugby football.
The rugby fraternity in the country was jolted after Sri Lanka full back Thilina Wijesinghe was reported to have tested positive in what the Sri Lanka Anti-Doping Agency (SLADA) is reported to have officially confirmed as "out of competition testing". The Kandy SC star has been provisionally suspended by Sri Lanka Rugby (SLR) pending inquiries by the Disciplinary Committee of SLADA.
"In the absence an official communiqué, the stakeholders and rugby enthusiasts are kept in the dark because there are two different stories doing the rounds in the social media alleging that two parties have administered or given the banned substance to the player concerned. Although these comments are meant to be hearsay, the allegations are serious. We cannot just ignore them. There has to be a thorough investigation, more so, because one of the allegations is against the governing body. All these unqualified comments can send a wrong message to the public and sports fans. The general public has the right to know the outcome of the inquiry," said Marso.
Clear the air
"This is why I say that the authorities need to clear the air. I must also say that short cuts will only jeopardize the promising career of a sportsman by ostensible admission of his guilt when the real offenders are at large. Having said that, it does not mean that all players themselves are clean because in some cases, past records show that they had the knowledge being administered or self- administered with banned substances. The case in question may bring about more disclosures if it is probed deeply since there seems to some grey – areas to that effect. What is so far witnessed may be only a tip of the iceberg," he warned.
"Why isn't random testing done on players so far when the league competition is nearing the end of first round with only two weeks remaining. As the Secretary of Police Rugby, I remember a few years back that some clubs were subjected to doping tests three times in that particular season. I am not sure whether those tests were done on equal footing. Well, in the cases detected so far, it is only the players who have become victims of circumstances or a mere pawn to an organized network orchestrated by real offenders and those who are directly or indirectly involved by way of inducement. Rugby has largely been under the radar when it comes to drug use or abuse but the million-dollar question is what could be done to tackle this menace before it spreads its vicious tentacles to sports in general and rugby in particular," lamented Marso who earned fame during his playing days as an ace goal kicker.
"I will give you a simple example. You have this drug menace in Sri Lanka. From where does that come? It has to come by air or sea. Those are the main entry points that you got focus if you are to curb this menace. But here what's happening is, like the drug menace in Sri Lanka, we go behind the users not the supplier, courier, seller or smuggler, or whatever. Ever since doping issue came to Sri Lanka 10 or 15 years ago, so far the big time culprits have not been taken to task. It's only the player or the athlete. Sometimes he may not know that he is administered with such prohibited substance deceitfully by the inducers involved with the club playing different roles. I must categorically say why only the players are tried by the WADA (World Anti-Doping Agency) Code. Why is it not applied to those who are directly or indirectly involved in doping when SLADA has been given wide powers by the Act 'Convention against Doping in Sport Act, No.33 of 2013'. What stops them from dealing with the real perpetrators and going beyond the WADA Code," reiterated Marso.
Indictment
He pointed out that indictment could be served on those involved directly or indirectly including the players which is bailable only by High Court, reading out relevant passages from the Act.
"Section 2 – The provisions of this Act shall apply in respect of: — 
(a)  all persons who are members of any National Association of Sports, established in terms of the Sports Law, No. 25 of 1973;
(b)  any person or body of persons being an affiliated member, club, team, association or league of any National Association;
(c)  every person who participates in any sports activity organized, held, convened or authorized by any National Association of Sports or by any person or body of persons;
(d) every "person connected with the training of an athlete" at any level including any member of his entourage;
(e)  every participant (including minors) at a sports event, being held in Sri Lanka or abroad.
Section 3- (1) Any person who— 
(a)  induces, supplies, administers any prohibited substance or uses or applies any prohibited method which are prescribed by regulations made under this Act on an athlete;
(b)  induces or introduces its metabolites or its markers in any athlete's sample;
(c)  uses or applies any prohibited substance or prohibited method on any animal used in sport; (
d)   engages in sports has in one's possession, any prohibited substance or prohibited method with the intention of committing an offence under this Act;
(e)  trafficks in any prohibited substance or uses on an athlete any prohibited substance or any prohibited method in sport,
shall be guilty of an offence under this Act.
'trafficking' means - 
(i)   to sell, give, procure, transport, send, deliver or distribute; or
(ii)  to offer to do anything mentioned in paragraph (i).
(2)  Any person who—
(a)  attempts to commit;
(b)  aids and abets the commission of; or
(c)  conspires with another person or a group of persons in the commission of,
an offence within the meaning of subsection (1), shall be guilty of an offence under this Act.
In this subsection—
"aid or abet" has the same meaning as in section 100 of the Penal Code.
"conspires" has the same meaning as in section 113A of the Penal Code.
(3) A person guilty of an offence under subsection (1) or subsection (2) of this section, shall on conviction on indictment by the High Court, be punished with imprisonment for a term not exceeding two years, and also be liable to a fine not less than rupees five hundred thousand and not more one million rupees," concluded Marso.
Way of cheating
"All of us know that there has to be a thorough investigation to try the offenders in a Court of Law. This is where the problem lies. I don't know whether SLADA has a panel of expert investigators to conduct investigations. We don't know what transpired at the inquiry of Wijesinghe's case. What did the offender state? Whether his statement was recorded in detail, how he came across this (drug), who administered it, etc. Indictment will not be possible to bring the real perpetrators to justice unless we follow this investigation process. If there are gaps, it would be prudent for the authorities to revisit and make amendments," explained Marso, who sees that doping is a way of cheating to win at any cost.
"I have also observed that the people who take this prohibited substance come from a different background, sometimes unaware of health hazards. It's a kind of entrapment because they don't know the repercussions. SLR has no powers to inquire or investigate. It can only conduct awareness programmes and facilitate the process; and for that matter, the Drafting Committee chaired by me made it a point to include nine provisions relating to anti-doping under Articles 46 and 47 of SLR Constitution to give effect to the WADA Code and World Rugby (WR) Regulation in order to create awareness, educating the players, administrators and technical personnel, and also about the legal mechanisms and regulatory tools. Doping is a recurring problem in the whole system in some sports," added Marso who also headed the committee to translate the WR Anti-Doping Code into Sinhala language for distribution to all clubs and schools when he was vice-president of the Western Province Rugby Football Union.
Articulating the international obligation, Marso asserted that: "The Government of Sri Lanka have ratifiedthe UN Convention on Anti-Doping resolutionof the UNESCO. Except for a few nations, all have signed and ratified the convention and enacted domestic legal mechanisms. Every country has its international obligations to adhere and implement them. Just having the piece of paper will not do and take us anywhere. WADA on their part will monitor how nations get about with their business on anti-doping issues. We are only in the first step. We have not gone to the extent of enforcing the domestic law. See what happened to Russia. They are a signatory but alleged to have encouraged the athletes to use prohibited substances and now serving a suspension. So you can't take this lightly. Fortunately, or unfortunately we are not in the top tier in world sports except cricket to be in the witch-hunt," said Marso.
Enforcement and Implementation
SLADA Director General Dr. Seevali Jayawickrama concurred there is legislation in the Act to prosecute any person guilty of doping offences in a court of law but upto now no one has been indicted.
"According to evidence seen by our disciplinary committee, they can take this as a criminal case to Colombo High Court. But they (athletes or players) never they come up and say this is the person who gave it," he said.
"That rule is not in WADA. We have gone beyond WADA to protect our athletes as well as to have clean sports," said Dr. Jayawickrama.
"We hope to have a course so that we have Enforcement and Implementation. In future we might carry out investigations on how these prohibited substances are being given. The only problem we have as far as supplements are concerned is they are not registered under the Food and Drugs Act. Even regulatory boards have not been registered because it doesn't come as a pharmaceutical or nutriceutical," he said.
"Supplements itself we cannot say it contains prohibited substances. Some gym instructors don't know gravity of this. We are thinking from that angle as well. Not only competitive sports but recreational sports also. People who go to the gym want to get their muscles toned properly. They sometime gets influenced by these people and take these substances," he said.
"That's why we say you have to test the sample if you want to have it as a supplement. To check for prohibitive substance according to nutritionist or sports physician correctly, diagnose and give it. In certain clubs and some other places, players weighing 50kg and 100kg are taking the same amount of scoops. It's according to their weight they should take nourisment. Always with the bodyweight. Here they just give it. They feel that if you take more and more, you can perform well. That's not the case," warned Dr. Jayawickrama.