Aubrey Kuruppu – The babe in the family
Appreciation and third month remembrance of Aubrey Kuruppu
View(s):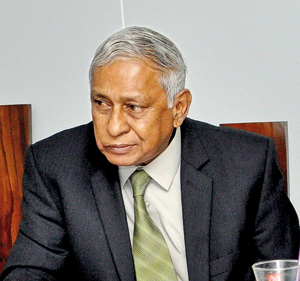 Aubrey was the youngest in a family of seven. His three sisters, Lynne, Mona, Zuleika, followed by a brother Dereck who died of meningitis at 18 months, then it was Russell, Christine and Aubrey. Sadly all have pre-deceased him except for myself. It is very hard to accept the fact that he died before me, six years his senior.
Aubrey was more or less spoilt in his younger days by all. As he was so interested in cricket he was gifted with a cricket set at the age of five. Encouraged by his brother Russell they would play with many boys in the neighbourhood. Once he was out, he would pack up his cricket set and come home followed by his furious brother. Being advised by his elders he never did it again.
At the age of eight, his class teacher told us she had to change his seat as his eyes were always on the cricket pitch and not on his studies.
On another occasion, he was determined to go to watch a match by himself as there was no one to take him. My poor father was waiting for him at the bus stop to find him being brought home by a kind gentleman.
He has spent two holidays with us in UK. Once it was for the World Cup. He was very happy to visit the Paul Getty stadium, the Lord's cricket ground, the Oval, and Trent Bridge. We had since offered him tickets to come to UK, but he had declined our offers. He said no more flying after 9/11, the bombings in America!
Since he entered the university he preferred life in Kandy, the cool climate with no mosquitos was his excuse. However, he comes home to Colombo for weekends and to give his commentaries.
He had his meals at my neice's, living in the same compound, and when I am there on a short holiday, he would pop into my annexe for meals. Sometimes Buddhika who lived in Bunty's house would cook for him. So he was always supplied with food. The saddest event in his life was his inability to attend his mother's funeral. He was in Delhi at a cricket match and had to take three flights to come to Sri Lanka. We too felt bad to close the coffin which was kept open for three days because of him. So he had to be taken with one of his close friends to the cemetery to see the grave.
All accounts of his demise were much appreciated. It proved how much they cared for him, even in death. Former cricketers, Mike Tissera, Anura Tennekone, Nuski Mohammed, Pastor John Kitto, were a few names known to me of those who attended.
All his achievements were unknown to us as we had no interest in cricket. Had his elder brother lived he would perhaps have understood more about it.
Grateful thanks to former university students who were of great assistance in Kandy, Palitha on whose shoulder he finally rested. Diliepa whose telephone number he managed to give prior to his death. The ambulance staff and the hospital doctors who have tried hard to resuscitate him. His niece Dharshini and her young son who went up to Kandy to make all the arrangements. When I reached Sri Lanka the next day I saw him laid out in his home. Unfortunately, my husband and daughter Anoushka were unable to come as he is disabled, my daughter being a doctor was able to look after him, with the assistance of his carers to enable me to come. At the age of 80 and having come two months prior, I decided to come as I would never see him again.
Christine Seneviratne – Sister
His Journey's Just Begun…
Don't think of him as gone away
his journey's just begun,
life holds so many facets
this earth is only one.
Just think of him as resting
from the sorrows and the tears
in a place of warmth and comfort
where there are no days and years.
Think how he must be wishing
that we could know today
how nothing but our sadness
can really pass away.
And think of him as living
in the hearts of those he touched…
for nothing loved is ever lost
and he was loved so much.
Ellen Brenneman
To live in the hearts of others is never to die.