Appreciations
View(s):

To me he will just be Dad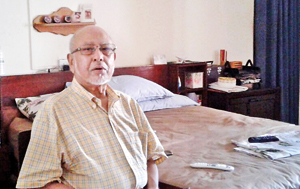 DR HATIM HYDERALLY
My Dad…a true gentleman who handled himself with grace and dignity.
Some moments from my time with Dad: Outside in the front lawn throwing and catching a baseball.  Yes… Dad was more than brilliant as an Anaesthesiologist… he could also throw a baseball… well, kind of….
My first-time skiing was on a ski trip that Dad organized at his friend's place from Mount Sinai Hospital.  It is there that I got my first taste of skiing and instantly fell in love with the sport.  I still remember that trip even now at age 52.  After that ski trip, I continued skiing and got into racing and became an instructor first in Lake Tahoe at Kirkwood and later in Vermont at Stratton Mountain.
Of course, there were the many moments of trudging upstairs to have Dad check and oftentimes correct my homework.  Dad had this knack of turning a blind eye to my protestations of 'Dad, they teach math differently in the US compared to the UK'.
Dad was often quiet.  We often remarked that Anaesthesia was the perfect profession for him -a profession that did not require much discourse with your patient. And if they talked too much, I am quite certain they were the recipient of an early dosage…
Dad was often reserved.  But there was that time that I was quite the bad boy with my high school friends from Horace Mann and got back home to Englewood Cliffs a bit late and a bit inebriated from a party in New York.  The next morning, I felt horrible and knew I was quite in the doghouse with mom and dad. Dad shocked me when he came downstairs to my room, told me to get my clothes on and that we were going out for a bite to eat as mom was quite upset with me.  He took me to this diner where he directed me on ordering greasy foods to help with my stomach.  We then went for a movie.  Even now it touches me to think of that moment when Dad showed me a side of himself that I did not often see.
I remember when I went to Dad's retirement party.
Dad was as consistent as anyone I have ever met.  Got up every morning, put on his tie and jacket and went to work.  He stayed 45 years at Mount Sinai Hospital. The longest of any doctor they have had.  When he retired at age 80, they threw him a retirement party.  It was very telling to hear of all of his accomplishments from other doctors who approached me.  What is even more telling is that Dad had never shared his accomplishments with me, such as changing the methodology of the administration of Anaesthesia in the US.  He was not much for boasting or bragging.
Finally, I will share one last side of Dad. I was in high school, and this student approached me and asked, 'Is your dad Dr. Hyderally?' She said her uncle was putting together a surgical team and interviewing doctors from around the world.  Her uncle had met with my dad and was completely taken by him.  But here was the shocker… for me at least.  She said my dad had her uncle laughing.  It was the first time they heard her uncle laughing in ages.  Of course, I immediately thought maybe there is another Dr. Hyderally.
But of course, yes… there is always another side.  But to me, he will be just Dad. I will miss him.
Ty Hyderally
---
Our darling daughter who was the pride of our hearts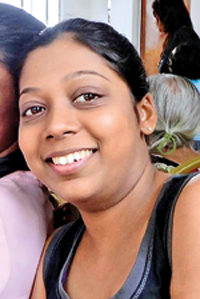 Dinusha Fernando
Perhaps you were too good for this life
So God called you back to heaven
That your life needed no further testament
Than the goodness, you'd already given
Our youngest daughter Dinusha was a gift from God on January 13, 1987 to both of us and to her elder sister Hirusha and brother Hirushke. She passed away on January 15, 2016 just one night after her 29th birthday.
Her life journey is a story of amazing faith, endurance and love. She had incurable SLE to begin with and later on her kidneys failed and then her main heart valve was damaged. Following the heart surgery, Dinu had a stroke. As if everything Dinu was bearing wasn't enough, she contacted swine flu and then pneumonia. The last thing she needed was to find a lump in her breast, but that's exactly what happened.
The days were very dark for our little Dinu. Every movement she made caused agonizing pain. She couldn't lie, sit, or stand without pain. But she never uttered a cross word to any of us. She only let her love for her family show. It was as if she knew she would only be here a short time longer and she wanted her family to have no doubt that she loved them. Her love for God was always evident and shone through like a bright light on those dark days.
Just 22 months after Dinu was born, we as a family went through turmoil, however our faith in God was strengthened by the spiritual support of the Methodist church we attended regularly and the divine ministry of Dev Suwa Sevawa. She was a happy and loving baby who touched the hearts of everyone with joy and love. When Dinu walked into a room and smiled, it truly seemed as though the room lit up.
In 1991 she joined her sister at Ladies' College. She took a great interest in her studies as she grew up. She successfully completed her Advanced Level exams and joined a leading travel company.
She loved her work and her work mates but had to face the crushing blow of losing her job.
In August 2009, Dinusha was diagnosed with incurable SLE…Lupus disease. Although she was incredibly sick, she was also a very brave young girl with a strong will. She began praying and was able to find another job which would help support the family and help pay for her medical expenses. Dinusha caught Chamara's eye while working in this place.  They married on December 17, 2012.
Things were looking good for the young couple until May 9, 2014. Dinu returned from work that day complaining of pain in her abdomen and spine. Tragedy struck the family when we learned that both her kidneys had failed. In March 2015, we were told she needed to have a kidney transplant.
Dinu had developed a theme for life. It was, "The circumstances of your life don't and shouldn't describe or dictate the quality of your personality." Dinu didn't let these new and trying circumstances change any aspect of her character or her life. Though she herself was sick and in pain, she still took time to visit if a friend or relative was sick. Though she was in need, she was always there to help others when needed. She always had time to talk to her friends. Dinu's Bible theme verse was Col 4:2 "Continue earnestly in prayer, being vigilant in it with thanksgiving."
Through times of severe suffering, she still found ways to enjoy her life. Though she was a young girl of 28, she was able to show the way for both the young and the old.
Her beautiful life showed the example of how to live and glorify God…how to journey in faith amidst intense suffering. Though parents are supposed to be the teachers, we became the students. We learned a great deal from our daughter of how not to let the circumstances of our lives dictate the quality of our lives.
By January 9,2016, Dinu felt the Lord had sent her a message calling her home. When Rev Asiri Perera, President/Bishop of Methodist Church, visited Dinu that day, she told him clearly and with perfect sense that she wanted to go to God's house…she had been called home.
The following morning, Dinu's family was gathered around her bedside. We were all there: On the night of January 14, Dinu was surprised by being able to listen to her favourite artiste, Keerthi Pasquel singing to her by her bedside.
No one realised, except may be Dinu, that it was her last night on earth.
Dinu touched the lives and hearts of many souls across the world. Even through pain and suffering she united them in the word of the Lord. We believe she will be looking down eternally on all of her loved ones until the day comes when we too get a calling of our own. Then we will be reunited in the house of the Lord. Her bright loving smile will never dim in the memories of those lives she touched.
Premakumar Fernando & Roshani Fernando (Parents of Dinusha)
---
Going down memory lane as a dear friend departs
Alfred (Alfi) Seneviratne
Alfi Seneviratne's sudden death signifies once again the inscrutable nature of life. I remember Alfi delivering the farewell eulogy at D.I.G. Lalith Gunasekera's funeral recently.
How could one imagine that Alfi would soon follow suit.
It is sad to think that both Alfi and Lalith, my good friends are no more.
It reminds us of one of the Buddha's sublime analogies that death is similar to a dewdrop on the edge of a blade of grass- which could fall off any moment.
Nostalgia is a strong emotion. It revives at times happy memories of the past or otherwise. As I roll back a particularly captivating era of perhaps everyone, it is school life.Way back in either 1955 or 56 Alfi and I competed in the under 19 Pole Vault finals at the inter- house athletics meet of St. John's College, Nugegoda.
He then looked somewhat shy, a good looking teenager. Alfi did well contrary to my first impressions of him to secure a place in the event. Standing close to the vaulting pit as one of the two judges, was a youthful Cyril Herath who went on to become the second I.G. P. produced by St. John's.
Both Alfi and I were nurtured at St. John's which despite its Christian origin was a secular institution that never discriminated against any religion, race or ethnicity.
St. John's which has an unimpressive frontal façade has over its 105-year-old history, produced many outstanding citizens.
After the school era Alfi and I parted ways.I did however learn that he had joined the Police as a Sub- Inspector. He was stationed in various parts of the country and we had little or no contact for several years.
It is however common knowledge that for a long time this country faced two social uprisings marked by violence and bloodshed. That was followed by the 30-year civil war. It is to the credit of especially Senior Police Officers like Alfred Seneviratne that they never backed out of situations which posed danger to their lives.
I also remember that Alfi was the Deputy High Commissioner for Sri Lanka in India in charge of security which was certainly a difficult and sensitive assignment at a time when Indo- Lanka relations were at a critical stage.
Alfi's final posting as S.S. P Colombo was a high point in his Police career.
It was during his last days of retirement that we resumed our friendship. Alfi however regularly attended old Johnians' dinners and re-unions which invigorated our aging lives and revived memories of our youthful years.
Alfred Seneviratne was an officer and a gentleman. He was humane, warm and loyal to his friends. Jayanthi joins me in extending our deepest sympathies to Shanthi, his children, his brothers and sisters especially to Eva and Rosie.
Jagath Savanadasa
---