Navy takes up mangrove plantation to preserve ecosystem
View(s):

The Navy has launched a major campaign to plant mangroves to preserve and promote a productive ecosystem.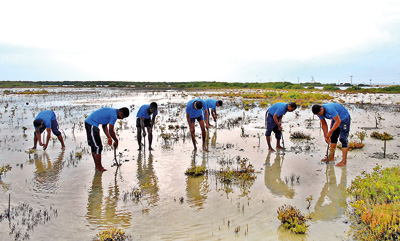 More than 1000 mangrove saplings were planted by the Northern Naval Command in the past two months, the Navy said.
The programme's recent extension saw the crews of SLNS Elara, SLNS Kanchadewa and SLNS Welusumana planting 300 mangrove saplings each, while the SLNS Gotaimbara crew planted 100 saplings on the Jaffna peninsula coast.
The occasion was attended by Deputy Chief of Staff and Northern Naval Commander Kapila Samaraweera and several other senior naval officers.
Apart from the conservation of the mangrove ecosystem, the Navy has also been conducting a wide range of conservation programmes. They include turtle conservation, bio-gas projects and coral conservation.
These programmes are being conducted under the direct supervision of Navy Commander Piyal de Silva.