Excavations in Wanathavilluwa spreading fear among residents
View(s):

Residents of Samagipura in Wanathavilluwa are calling on authorities to conduct a thorough search of "Lactowatta," the estate where explosives used by Islamist terrorists were found last year. This is after it emerged that unidentified persons have again carried out excavations at the estate in recent days.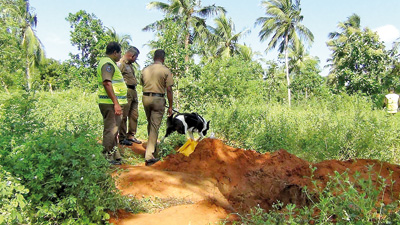 Detectives from the Criminal Investigation Department (CID) were able to recover a large haul of explosives and bomb making material at Lactowatta on January 16, last year. However, the Easter Sunday attacks occurred while the investigation into this discovery was still ongoing
Lactowatta gained even more prominence in the aftermath of the attack after it came to light that attack mastermind and National Thowheed Jamaath leader Zahran Hashim had visited Lactowatta on several occasions.
It has now been revealed that unidentified persons have dug up sections of the 70 acre estate on at least three occasions in the months following the attack.
Police too have acknowledged that unknown persons have excavated the site.
Even officials from the Government Analyst's Department were called into Lactowatta earlier after authorities found that unidentified persons had dug a hole several feet deep into a concrete slab of the house situated in Lactowatta. Another section of the estate had also been dug up elsewhere.
Residents say while police security was provided to Lactowatta for a few weeks after the discovery of the explosives haul, the officers were subsequently withdrawn. They charge that unidentified persons have used this to their advantage to secretly dig up parts of the estate.
The latest of these mysterious excavations had occurred last weekend, resulting in a climate of fear prevailing among residents of Samagipura where Lactowatta is situated.
It was evident that authorities were taking the latest incident seriously. Officers from the Wanathavilluwa police even combed the area using sniffer dogs. However, police have not been able to obtain any leads thus far.
Area residents have various theories over why these mysterious excavations are being conducted. Some claim that Zahran Hashim had hidden millions of rupees in cash at Lactowatta and whoever is digging up the estate is looking for the money he is supposed to have hidden. Others say that they maybe looking for more weapons and explosives that might still be hidden in the estate.
Whatever the case, area residents say they are currently living in fear. They say authorities need to urgently conduct a thorough search of the estate again and the Government needs to acquire the land.
Text and pix by Hiran Priyankara Jayasinghe