Convict SLTB driver at the wheel for fatal Passara ride
By Shaadya Ismail
View(s):
The driver of the SLTB bus that ran off the Passara-Madulsima road and plunged down a precipice killing nine passengers and wounding 40 last week had been convicted of drunken driving in 2018.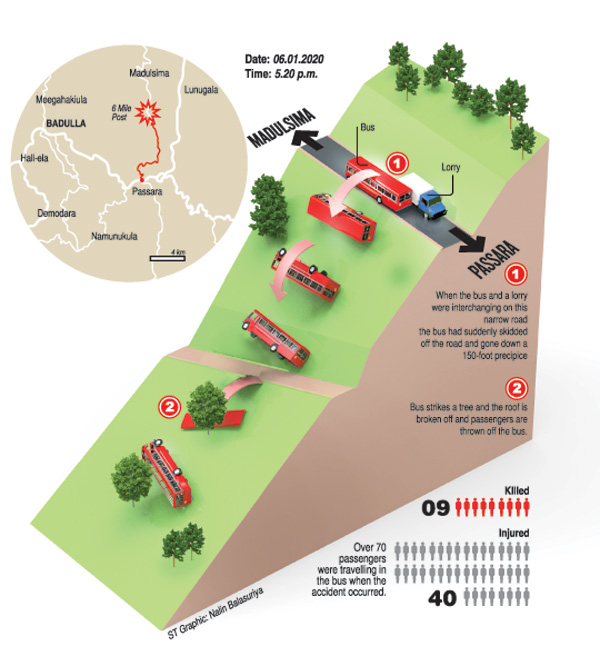 Madulsima Police said the driver had been found guilty in 2018 for dangerous driving and failing to prevent an accident in which three people were injured.
The convict SLTB driver is in custody until January 16.
The Badulla depot bus had begun its journey from Passara towards Ekiriya around 4:30pm that Monday. At the 6th mile post on the Madulsima-Passara road, the bus, according to witnesses, had tried to give way to a lorry coming from Madulsima on the opposite direction and had veered off the road.
The bus had fallen 37 metres onto a tea estate below the road and crashed on to a tree. Its roof was ripped off. The bus had rolled over another 30m to 40m on to a 40-degree ramp and had come to a stop.
The police said that the road is about 12 feet wide with space of about three to four feet on either side.
The doctor's report, post-mortem reports and statements from the injured have been received. Investigations will be complete once the Department of Motor Traffic (DMT) submits its findings.
According to police statistics, SLTB buses were responsible for 512 road traffic accidents as of January 1, 2019 to September 30, 2019. Of these, 22 were fatal accidents, 128 caused serious injuries and 215 had resulted in minor injuries.
Despite 1,542 road accidents caused by SLTB buses in 2018, authorities claim that every year the number buses which are not roadworthy increases.
The SLTB is to import 2,000 more buses this year.
"There is a dire need of buses. Despite the 5,900 buses currently available, most of them constantly go in for repairs for technical issues that arise again and again," the Chairman of the SLTB, Mr Kingsley Ranawaka, said.
Buses in the Central Province will be checked. "It's necessary to inspect whether vehicles are roadworthy," Mr Ranawaka said.
Commenting on the recent accident, he said that a report by the DMT is due on whether the accident was caused by a technical fault or whether it was the driver's fault.
"The road was spacious, where two vehicles could easily travel on, and the driver was also experienced. However it's all down to the findings and reports, which are expected to be handed over," he said.
"Every year, almost 3,000 lives are lost due to accidents and globally, success stories on controlling this epidemic is through scientific research followed by taking scientific precautions," Senior Professor Amal Kumarage of the University of Moratuwa's Department of Transport and Logistics, said.
He emphasized that defective road designs is a contributory factor to many accidents.
"There are no statistics, data analysis, investigation or safety audits on accidents which can help reduce the occurrence. Everything is very ad hoc," Prof. Kumarage said.
According to him, a team of experts must be appointed to investigate road accidents.
"This is an epidemic. We are all only interested in punishing the culprit and in the process of which the real aim of reducing accidents is overlooked."