Taking off on Tuk Off!
By Paramie Jayakody
The Mirror Magazine gets behind the scenes with the makers of the local card game Tuk Off!
View(s):
Tabletop games may not be as popular as they were once, but everyone has played a game of cards, chess, ludo or monopoly when they were growing up. Despite an increase in popularity for video games, board games continue to have their loyal base of followers who prefer the sleights of hand.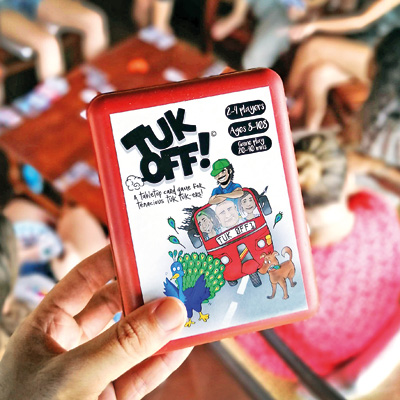 As such, it's always a pleasure to see locally-based products pop up, and recently we were treated to the sight of seeing a Sri Lankan board game, named Tuk Off! Tuk Off! is a Sri Lankan tuk-tuk themed tabletop card game, where you are a tuk-tuk driver trying to earn the most money whilst outmaneuvering your opponents to stay in the game.
The concept of the gameplay is unique, and the features of the game aim to capture the tongue-in-cheek humour surrounding the tuk-tuk culture. For those familiar with saboteur, it follows a slightly similar concept, where you layout your own road while trying to make sure other drivers don't earn as much as you. Sounds familiar? Yeah, we thought so too.
Kirsten Bridgewater, the woman behind the game, says the inspiration behind the game came from her everyday life travelling around the island. "Tuk-tuks are so iconic and fun to travel in, each one is unique. I am often humbled by the kindness of tuk-tuk drivers too, who so often go above and beyond to help strangers – so I suppose I wanted to create something that celebrates them," she says.
Kirsten remembers leaving her handbag in a tuk-tuk. Despite having thought that she lost all her personal possessions, the driver had returned her bag after realizing she had left it- in the pouring rain late at night. This incident left a lasting impression on her.
She got the idea for the game around a year ago, she said, and she developed the features along with her husband, who is also a fellow board game lover. However, the best part is that the game can be played  without a board. This makes it ideal to take along for small group gatherings.
So far, Kirsten has showcased her game at Colombo Design Market and Lanka Comic Con, and she says the response to the game so far has been fantastic.
"I have had such positive feedback from people who love the fact that it is unique and totally Sri Lankan." The response has been so great, in fact, despite releasing the game only two months ago, they have already started retailing in 10 shops across the island.
Speaking of her future plans, Kirsten shared that she would like to develop a more elaborate version with a board, and would also love to have the rules translated into Sinhalese so that it is accessible to more people."I have enjoyed so many aspects of developing the game. Creating the artwork and seeing it come to life has been fun, but so has meeting people at events and playing the game with them." she says.