BBQ Hub Resort, Ella: New concept in dining
By Sanath Weerasuriya
View(s):
Located over 3,150 feet above sea level, Ella is a true paradise highland village on a mountain pass towards the southern edge of the Uva Province overlooking the famous Ella Gap. It is not a sleepy hamlet any more, like it used to be. Buzzing with foreign travellers, adventurous people and families on vacation, Ella has emerged as the latest  'Hikka' in Sri Lanka. Ella, off traditionally designed colonial Bandarawela, has developed very fast into the tourism hub of Uva, with Hikka style small buzzing guest's houses and a number of diverse restaurants offering true global cuisine, pubs and hubs have come up in the area.
The latest addition to Ell's luxury accommodation and novel cuisine experience is  'BBQ Hub' (Barbeque Hub), the most modernly designed resort owned by 9 Arch Group in Bandarawela.
'The BBQ Hub by 9 Arch Group' is located in Grand View off Passara Road, just 300 metres from Ella Town Centre and about 800 metres away from the popular Ella Railway Station and about 6 -hour drive from Colombo. The BBQ Hub Resort's open Garden Restaurant offers live cooking barbecue on every guests table.
This is the first and the only BBQ themed resort in the island that offers live cooking experience- BBQ and Kebabs to all guests at the restaurant on their specially made tables.
'This is a unique restaurant and we have purposely designed tables for BBQ and Kebab facilities to enjoy as much as a guest want with side dishes. But a-la-carte menu with the variety of Sri Lankan, Indian, Western and English dishes also possible with Chef Sandun. It can use as a normal table for other meal times such as breakfast and lunch' said Mignon de Silva, the Managing Director of the property.
'Chef Sandun is an experienced culinary master with a flair for fusion cuisine and Sri Lankan dishes. Though we are specialised in barbeque preparations, he is capable of preparing any global dish from Mexican to Continental delicacies. Our open air show kitchen and bar offers  a variety of fresh juices and beverages. Alternatively, room service is too available according to guest's choice' explained Mignon about the culinary arrangements of the Resort.
BBQ Hub Resort is a ten room medium size modern architecturally designed luxury hotel built on a just 13 perch land, in the heart of popular Ella Central area.
This hillside hideaway is offering the perfect escape. Amidst this storybook setting guests will find BBQ Hub in Ella an ideal home away from home. The court yard of the Resort feature 14 Kumbuk, Ehela and Madan trees, unique amongst Ella hotels.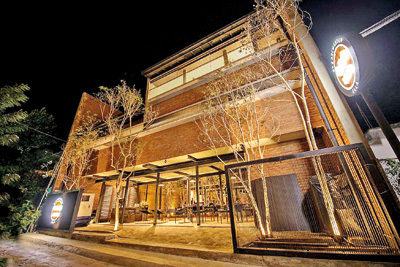 'We are geared to provide true professional services, so that leisure or adventure vacation could start out from the luxurious of the resort and to the outdoor activaties' she added.
Lipton's Seat, Punchi Siripade (Mini Adem's Peak), Nine Arch Bridge, Bogoda Bridge off Hali Ela, Buduruwagala ancient monuments in Tanamalwila, Dowa Rock temple, Adisham Monastery, Bambarakanda, Diyaluma, Dunhinda and Rawana waterfalls are some of the popular excursion on offer.
Lipton's Seat in Dambetenna Estate off Haputale, Pilkington Point at Poonagala and St. Catherine' Seat in Nayabedda are top view points to see the Southern plains from the central hills. Lipton Seat, with the elevation of about 5700 feet, is the only point in Sri Lanka from that can be viewed six Districts.
Ella Gap, Horton Plains (thro' Ohiya and Non-Perriyal Estate in Upper Belihul Oya), Yala Wild Life Sanctuary, Uda Walawe Park, Tea Plantation in Nuwara Eliya and other area, Camping at picturesque locations, Mountain Biking, Trekking and Walking, Tangamale and Kumana Bird Sanctuary, Lahugala Elephant Sanctuary, the Beaches of Arugam Bay are some of the long journey excursions. These places are mainly three to four hours drive from Ella and require an overnight stay.
Popular Maha Galbokka Rock, the Hambegamuwa Mountain Range, the Kotawehara Gala Mountain Range and the Bubula Kandha are some of the mountains can be seen towards the sea and the horizon from the Ella Gap on a clear day.
For more details call 0572220375, 0777305613 or log onto www.9arch.com
Pix by Shan Bandu Weerasinghe