Horizon campus opens intake for the law degree of University of London
View(s):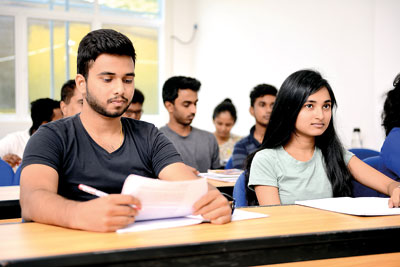 Horizon Campus  being  the only Ministry of Higher Education Approved Degree Awarding Institution to Deliver the University of London LL.B Degree in Sri Lanka, has opened intakes for  the Certificate of Higher Education in Common law (formerly known as Diploma in Law), which is an ideal route to achieving a "Gold Standard" for the 3 year Bachelor of Laws degree.
Speaking of having achieved the accolade of achieving over 80% – 87% first time pass rates for this programme over the last couple of years, Deputy Vice Chancellor Dr.Ruwan Perera explained "our campus  has set a challenging target of being in the top rankings in legal education and our high results are a great platform and strong encouragement to push on and achieve that goal further , and make a concrete difference  in producing top quality law graduates for our country ."
The programme covers the essential features of the legal system, including general familiarity with its institutions and procedures, the core principles of Public law, Contract law and Criminal law and trains students to identify and apply case law and statutes relevant to the identified legal issues and draw on these sources to address defined and/or routine problems in a legal context. The programme will also   provide students, the ability to collect and synthesize legal materials and use them in a focused and coherent manner and formulate and articulate an argument addressed to the identified issues supporting it with relevant legal principles.
The programme is ideally suited for students in International schools who are doing their A/L's  this May.
Speaking of the unique benefits that can be gained through studying for this programme at Horizon Campus , Dr.Ruwan Perera stated  "our students learn from well  recognized legal educators and highly respected professional practitioners. We also attract the involvement of prominent scholars and leaders in the judiciary and government. In this way our students get the best learning from those who are at the top of the legal profession in the country and will be able to graduate with very successful results ".
Committed to delivering an inspiring student experience, the campus also provides an influential role to hone their advocacy skills in an ultra-realistic setting through mooting.
The Law Library provides printed and electronic sources to meet the needs of its users and is constantly developed to reflect the latest teaching and research activities. These resources include reference, statutes, law reports, journals, textbooks, pamphlets, governmental reports, newspapers and online legal databases.
Armed with all these facilities and backed by a top notch lecture panel, Horizon Campus today stands as one having the best that a campus could deliver in terms of legal education and academic excellence in the country.
Intake is now open for registration and interested students could gather more information by contacting Jayomi on 0713 531531 or 0114 365 555 You could also visit the campus website on www.horizoncampus.edu.lk for further inquiries.