"Christmas Carols" organized by the Rotaract Club of SLIIT
View(s):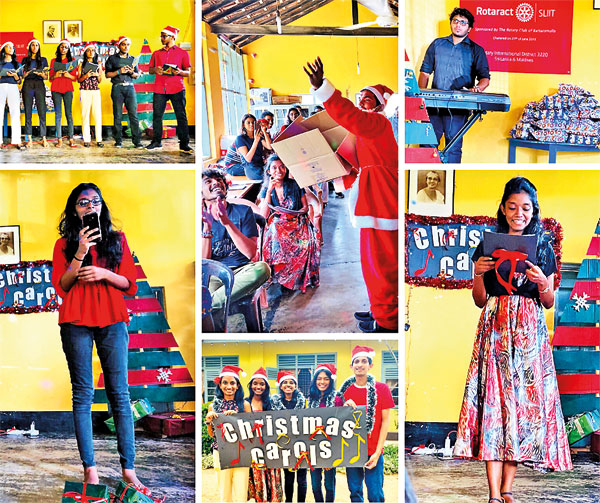 Did you know that pretty little flower buds too sing Christmas carols?
Kids are believed to be the hands by which we take hold of the Heaven. Such kids should be protected and nourished with knowledge, skills and values. Therefore, as the continuation of the award winning project "Light up their world"the Rotaract club of SLIIT, decided to celebrate Christmas with 23 pretty and smart children at a Child Development and Probation Center in Panadura. These children are in need of love, care, attention and kindness.
Making that the major concern, the Club organized "Christmas Carols" to give them a chance to celebrate and to teach them the true meaning of Christmas while educating the importance of respecting every religion and thereby to produce fruitful citizens to the country.
Walking down the memory lane, it was decided not only to offer them gifts but a new experience. Therefore, the project chair persons Rtr. Pulith Jayaratne and Rtr. Sashini Fernando arose with the idea of singing carols with them in addition to the presents.
A lengthy list of gifts was prepared with stationary items, personal care items and sweets. The days felt too long at the beginning with visiting Pettah, wrapping gifts, decorations and also practicing the songs. However, the bright smiles of the enthused kids washed away all the pain.As the utmost result of the hard work from dawn to dusk, Christmas came early to our angels on 23rd of December 2019 to showcase their hidden talents.
Honourable guest of the evening, the Assistant Rotaract District Secretary, guide club coordinator, Rtr. Kithmee De Silva along with nearly 40 of RACSLIIT Rotaractors were amazed with the solo and group performances of these children. It was indeed an evening which melted many hearts by the voices of the little angels. The event was concluded with the surprise Santa and with the distribution of numerousgifts.
This initiative made us realise the importance of love, care and attention needed for a child to grow. The lack of attention and negligence can certainly make a negative impact on their future. As this is the season of love, let us all take some time to think about the less fortunate, and to try and make their worlds a brighter place with the slightest act of love.
Ultimately, the reality was far beyond the expectations, the ceremony was a massive success as we could bring smile to our little flower buds. Merry Christmas to all of you!
Rtr. Hansi Edirisinghe