CID and judiciary under close govt. scrutiny
By Our Political Editor
View(s):
"Colombo-gate tapes" reveal backroom goings on
Govt. MPs want Duminda Silva pardoned
Parliamentary group discusses Ramanayake and his tapes
The United National Party's actor turned politician Ranjan Ramanayake shook Sri Lanka this week in what could be called the "Colombo-gate tapes" – some 127,000 recordings of telephone calls he made to CID top brass, members of the judiciary and even actresses over his sexual preferences.
About 100 of the choicest tapes are known to be in the public domain through the social media, a source familiar with the case said. More are due for posting in the days and weeks to come. The revelations have shown that the UNP parliamentarian, through the illegal task of recording telephone conversations, bared convincing evidence of brazen direct interference in investigations by the Criminal Investigations Department (CID) and over judgments by select members of the judiciary. Ramanayake or Sadda Vidda Rajapakse Palanga Pathira Ambakumarage Ranjan Leo Sylvester Alphonsu, the celluloid hero, projected himself as a larger than life figure with close connections to leaders of the previous coalition government.
Most of his conversations, revealed so far, have been with the former CID Director, Senior Superintendent of Police, Shani Abeysekera. Soon after the presidential election, he was transferred as Personal Assistant to the DIG in charge of the southern range located in Galle. He is contesting this "demotion" through a Fundamental Rights petition before the Supreme Court. On Wednesday, after the "Colombo-gate tapes" revelations exploded, he was interdicted. He now faces arrest.

In one tape, Ramanayake is heard talking to a judge who was among those who heard the murder case (at the High Court) against onetime parliamentarian Duminda Silva. Whilst one judge dissented, two other judges convicted him for murder and imposed death sentence. This was over the murder of Bharatha Lakshman Premachandra, a former UPFA MP and later Advisor to the President. Thereafter, a five-judge bench of the Supreme Court upheld the judgment. The judge in question appeals on the telephone to Ramanayake for help for promotion to a higher court. The judge is also critical of a senior colleague. Five persons including Premachandra were killed in a shooting incident, which took place in Mulleriyawa in October 2011, on the day of the Local Council elections. Silva sustained injuries and received treatment in Singapore. He and four others were found guilty. The Supreme Court in October 2018 dismissed the appeals filed by Silva and two others against their death penalties.
Even before the Duminda Silva matter surfaced in tape recordings, there were efforts under way to secure his release from prison. Last week, a group of government MPs signed a petition that he be granted a presidential pardon. It was handed over to Prime Minister Mahinda Rajapaksa so he may take it up with President Gotabaya Rajapaksa. The Sunday Times learnt that the matter came up for discussion at the highest levels. Some of those related to such a pardon including top members of the clergy were consulted for their views. They were not in favour. They opined that Duminda Silva's lawyers should seek legal recourse. This is particularly in the light of suggestions (in the tapes) of moves to manipulate the judiciary. The discussion also focused on public anger generated by former President Maithripala Sirisena granting a pardon to Jude Shramantha Jayamaha, the brutal killer of Yvonne Johnson in 2005 at the Royal Park apartments.
Government leaders also urged Chief Justice Jayantha Jayasuriya to initiate action against the judges whose names have transpired. He is the Chairman of the Judicial Service Commission (JSC). On Thursday, the Bar Association of Sri Lanka (BASL) joined the cry with an appeal to Chief Justice Jayasuriya. Acting on this, the JSC will call for explanations from the judges concerned before initiating further action.
In another conversation, former CID Director SSP Shani Abeysekera is heard appealing to Ramanayake not to speak to the judge in question over the Premachandra murder case. He says that the matter "has been taken care of" and pleads with Ramanayake "Budu Sir, katha keranna epa" or Budu Sir, do not talk.  To show his anxiety over the matter, he also says that he would even come over to his house and wash plates for six months but not to say anything to the judge in question. The appeal is repeated when Ramanayake declares he was meeting President Sirisena that evening (the day of the conversation) by bemoaning Vandinnam Sir or will worship you, Sir!
The "Colombo-gate tapes" have more than a few shades of the Watergate scandal which ousted US President Richard Nixon from office in 1974. It stemmed from the break-in of rival Democratic National Committee (DNC) headquarters at the Watergate Office Building in Washington, D.C., by five men and the Nixon administration's subsequent attempts to cover up its involvement in the crime. One, later known as the "smoking gun" tape, documented the initial stages of the Watergate coverup. On it, Nixon and H. R. Haldeman, then White House Chief of Staff, are heard formulating a plan to block investigations by having the CIA falsely claim to the FBI that national security was involved.
Pressure on CID
Here, over a period Ramanayake has been putting pressure on the CID to arrest persons he identified and remand them. He is also urging members of the judiciary to convict some persons including then opposition politicians. Conversations reveal that former CID Director Shani Abeysekera has not only been briefing him on matters related to investigations but ignoring rules and handing over to him packages of documents including statements. In one instance he tells Ramanayake that a key stalwart of the government had made vast amounts of money and names a local businessman who is keeping them safe. How such an officer, a Senior Superintendent of Police in charge of the CID, once the most coveted unit of the Police Department, could violate departmental norms, secrecy and accepted procedures is deeply disturbing. This is when CID officers expected to be impartial in their investigations. Therefore, the Sunday Times (political commentary) has regularly pointed out the deteriorating standards in the CID. Facsimile on this page shows a few of the instances.
How did the "Colombo-gate" scandal, which is the talking point among Sri Lankans countrywide, come about? On Saturday January 3, Nugegoda Additional Magistrate U.K.H. Pelpola issued a warrant to search the apartment of Ranjan Ramanayake at the MP's hostel in Madiwela. It was issued on an application made by the Officer-in-Charge of the Western Province Crime Division, Inspector Nimal Priyantha.
Some 25 Police officers were deployed. They conducted a room-to-room search. Video footage showed one of the files seized was one from the CID dealing with the alleged murder of rugger player Wasim Thajudeen. Conversations revealed that SSP Abeysekera periodically packaged CID documents and handed them over to the driver of Ramanayake's vehicle.  So did Chief Inspector Nishantha de Silva who fled to Switzerland and won asylum there. This was after he was sent by the MP to collect documents from pre-identified locations. On one occasion, a CID constable (name revealed in the conversation) is tasked to a location to hand over documents.
After the search ended, the Police arrested Ramanayake. All the productions that were seized from his house were packed, sealed and his thumb imprint placed. Ramanayake acknowledged that the CDs, files and documents belonged to him. SSP Absesekera also acknowledged his voice in the tapes but told the Sunday Times, " I am now interdicted. I cannot make a comment." His boss until a week earlier, Senior DIG Ravi Seneviratne, under whose tenure the department transformed largely into a political tool, also declined to comment. He told the Sunday Times, "I am now retired and do not wish to make any comment." Both were reminded that this was an opportunity to respond to very serious accusations against the CID. They were also told of the public anger the tapes have generated. This is where things have taken different turns.
Ramanayake, backed by some of his UNP colleagues, claimed that the material that is surfacing in the social media, and later in the national media, was from the sealed package and accused the Police. Police Headquarters, however, denied the claim. Ramanayake filed an application to the Nugegoda Magistrate's Court to seek a prohibition on further publication of contents of the "Colombo-gate tapes." Additional Magistrate U.K. Pelpola issued notice on the OIC of the Crimes Unit to appear on January 17. One is not sure what the Magistrate's Court order will be. However, it would be enormously difficult to ask hundreds if not thousands of social media outlets to keep mum. Those have already brought to the public domain some of the contents triggering countrywide reaction. Speaking to the media from outside the court's premises, Ramanayake said it was "not relevant whether his actions were ethical or otherwise." He claimed he was doing it in the "public interest to deliver justice." That could be said of even the legendary Robinhood of British folklore. He robbed the rich to give the poor. In the civilised world today, robbery is a crime. It is also an offence to record a conversation without the other person's consent in terms of the Telecommunications Ordinance.
However, the day after the search of Ramanayake's house, Venerable Sudaththa Thera, General Secretary of the Sihala Ravaya, chaired a news conference. He made public the contents of many significant conversations. In a brief tape-recorded interview with the Sunday Times he was asked from where the CDs containing the conversations were received.  "We learnt of it from the internet. It's not important how I got them. We should look into what it contains," he exhorted. He said, "We have reason to believe the recordings are true and we have identified the persons." He added, "We hear him (Ramanayake) talking repeatedly to former CID Director Shani Abeysekera. He is also in conversation with Chief Inspector Nishantha de Silva who fled the country and has got asylum in Switzerland. He speaks to members of the judiciary about cases before them."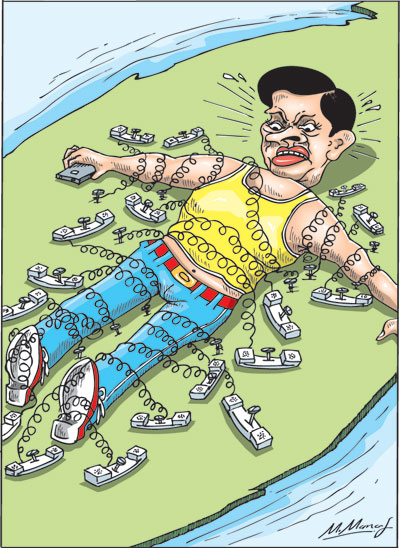 "The recordings show that during the so-called yahapalana (good governance) government, there was injustice. Ramanayake has influenced the CID to hunt then MPs of the joint opposition and those supportive of them. An actor is always an actor. They can't be politicians," said Ven. Sudaththa Thera. He warned that Ramanayake could "retaliate against President Gotabaya Rajapaksa, Prime Minister Mahinda Rajapaksa, UNP leader Ranil Wickremesinghe, the Police Chief or commanders of the armed forces. He is keeping the recordings with the motive of attacking someone."
On Thursday, Prime Minister Mahinda Rajapaksa, during a Temple Trees meeting of newspaper editors and heads of news divisions of electronic media, commented on the same issue. He said, "The exposure in the voice recordings is a revelation about the influence of the previous government on the judiciary. Under these circumstances, the people question us about verdicts given by the judiciary. The consequences on the judiciary are serious. It is our duty to restore the independence of the judiciary and public faith in it.
"When that is destroyed, a hopeless situation arises. All judgments will now be viewed with suspicion. During the previous government some cases have been filed against people on flimsy charges of granting permission to use a vehicle. According to what has been revealed, some in the judiciary, the Attorney General's Department and the Police have been involved in exerting influence on the judiciary. It is the Chief Justice who should investigate this and take action to ensure the independence of the judiciary. The Chief Justice has a clear responsibility. It is from the judicial side itself a decision should be taken. Some persons are of the opinion that a Commission should be appointed to investigate these issues. However, it is a matter for the Chief Justice".
Govt. Parliamentary group takes
up Ranjan tapes
The "Colombo-gate tapes" also figured at a meeting of the government parliamentary group at Temple Trees on Tuesday. It was chaired by Premier Rajapaksa. Speakers said that the public turned to the CID because it conducted independent investigations in the past and it had a reputation of being trustworthy. The people said similarly they turned to the judiciary for fair play and justice. The contents of the tapes had revealed that these beliefs were myths. Some called for a parliamentary select committee (PSC) to probe the matter. There were others who opined that an independent commission would have to undertake it. However, government leaders ruled out a PSC since they do not have a majority in Parliament. Moreover, they also noted that a Commission of Inquiry would involve time, besides the CID, now under a heavy cloud of doubt, having to position some of its staff to assist the Commission.
It would be unwise for the government to go for a Parliamentary Select Committee or a Commission of Inquiry. Such moves could isolate both the Police and the Judiciary and could amount to an act of no confidence. For the fault of a handful, the two institutions cannot be blamed. There are more people with high integrity and character. What would be required is a full but less time-consuming probe and to deal with those responsible. It is they, both those within and outside, who should be exposed so such things do not recur.
To give an idea of the enormity of the issues involved, here are edited transcripts of different conversations Ranjan Ramanayake had with former CID Director Shani Abeysekera and Chief Inspector, Nishantha Silva of the CID. The latter has now received asylum in Switzerland.
Ranjan Ramanayaka:  Has Gamini Senarath's (former Chief of Staff of President Rajapaksa) passport been taken.
Shani Abeysekara:  They have taken a travel ban.
Ranjan: I am told that he is hiding in (a Cabinet Minister from the south is named) house.
Shani: He is involved in all games.
Ranjan: He is a shameless person.
Shani: He is from our village, from our school.
Ranjan: He is the person who built a three storied house whilst being in the Opposition.
Shani: Yes, shameless people.
Ranjan: Is he greedy for money
Shani:  Yes, involved in 'games' (game karaya)
Ranjan: From those days it has been the same
Shani:  His parents were honourable people.
Ranjan: He took big contracts in the Southern Expressway construction.
Shani: Yes. (Names a businessman in the marine and security sector) spent for him.
Ranjan: We are the ones who fall in trouble.
Shani:  We are ready to get buried.
Ranjan: We will not allow that to happen.
Ranjan: Is he going to ask for anticipatory bail tomorrow.
Shani: Yes.
Ranjan: Lawyers are a dirty group – what they say is 'he is my client and I need to protect him'.
Shani: They say it is within the frame of law, but they do all dirty work.  I need not tell you what (names a lawyer who was a Minister in the last government) has done.
Ranjan: He came from (refers to a village in the South).
Shani: There was one person who helped him a lot. He was one (names a businessman) who owns fuel outlets.
Ranjan: I know him. He owns one near a Colombo shopping centre too.
Shani: He wanted to buy a land in the Kotte area – about one and half acre. He handed the documents to (lawyer politician is named). He told him he will look at that within two weeks. Later he said the deeds were not clear. He said it was first on deed of gift and wanted to give it up. One and a half years later the same land was available. On checking he (Shani) found that the owner is the lawyer cum former Minister. (He names him)
Ranjan: Is that so? This is the calibre of persons we have.  – When journalists want to interview him, he never gives appointments to come home. He tells them to come to the Ministry or his office.
Shani: He can't show the house. The kitchen faces one road and the front of the house another road.
Ranjan: It is supposed be a palace.
Shani: This is the house we know- What about those abroad.
Ranjan: (Names the security and marine businessman and says) he may have brought him a house in the United States.
Shani: Otherwise why should he back them so much.
Ranjan: He made a statement when he was the (names the portfolio) Minister that Gotabaya Rajapaksa cannot be arrested.
Shani: He destroyed the image of the Attorney General.
Ranjan: Responding to that I came out of Sri Kotha and said that he is fit to be given the Womens' Affairs Ministry. It is after that he got hold of one (name mentioned) and filed action against me for contempt of court.
Shani: So far nothing in that case.
Ranjan: We went to courts the other day though notice had not been issued. We said we saw it in the media and went to courts.  Our lawyer Sumanthiran said what I have mentioned has been reported in Victor Ivan's book.
Shani: What he reported was the truth.
Ranjan: Our point is that even summons cannot be issued.  Even the judges are giving information. I have also mentioned that there are judges who can be worshipped. I have told their names. I mentioned the names you gave.  I thought you watched TV.
Shani:  I am in office till about 10 or 11 in the night and I am unable to watch..
Ranjan:  I can't tell your name.
Shani: Don't tell my name.
Ranjan: Is it ok to tell your name.
Shani:  Not an issue to mention the name.
Ranjan:  In general, you can mention.
Shani: Now take the former Navy spokesman (name is mentioned). He got himself admitted to the Navy Hospital at Welisara and remained there. He was (allegedly) involved in abduction of students. (Names a former Navy Commander) is also there, but the President (Sirisena) did not allow him to be taken in.
Ranjan: Is it out of fear that he was not allowed to be taken.
Shani: There are certain things done through the armed forces.  Now see the IGP, the work what he does is not fit for the IGP post. Not even a PC will be kept in his post.  There is also a picture with his hands around Karaoke Wasantha (an alleged drug baron). (Names the spokesman) was arrested in the Navy hospital and until today he never got into the dock. He comes in an ambulance and the Magistrate has to go to the Ambulance.  Under the Prisons Ordinance the Navy hospital is not identified as a place for detention.
Ranjan: Is he so unfit.
Shani: They are still holding him at the Navy Hospital.
Ranjan: On whose order?
Shani: May be our bigshots. If he is a normal person action will be taken.
Ranjan:  Who is hearing the case?
Shani: Names a lady Magistrate
Ranjan: Madam is usually good.
Shani:  May be some unknown influence. I can't understand.
Ranjan:  I mentioned her name among the good judges.
Shani:  She is good.  This is because of the pressure.
Ranjan:  Is she married?
Shani: No, not married – she is a tough judge
Ranjan: Nobody can influence her.
Shani: No
Ranjan:  That's how it should be
Shani: That should be the case.
Ranjan: How is (names two Supreme Court judges)
Shani:  Names one and says he is straight forward.
Ranjan: Anything more?
Shani: I will speak to you later.
Another conversation between Ramanayake and Shani Abeysekera, lasting just over one hour cannot be published due to serious legal implications. In that Abeysekera gives advice to Ramanayake on the impending contempt case in the Supreme Court against Ramanayake. He cites precedents. Then he goes on to criticise some judges and praise a handful. He blames then Chief Justice Sarath N. Silva for a ruling which allowed then President Mahinda Rajapaksa to govern "for a long time." In another conversation with a film actress, Ramanayake engages in a lewd exchange of words about his personal sexual preferences. The actress offers to send a girl to him and says, "you will have to work out the rest." Both Ramanayake and Shani Abyesekera are also involved in criticising the former head of Military Intelligence (MI), Brigaider Suresh Sallay (now Director of the State Intelligence Service). In another conversation, Abeysekera also pooh poohs the Police raid on the MI Safe House in Athurugiriya in 2003. He says that such safe houses are found only in war areas, a fact which is furthest from the truth. The safe house was used by the Army's Long Range Reconnaissance Patrols (LRRP) which successfully attacked several Tiger guerrilla targets. So much so, it was one of the factors for prompting them to come for peace talks.
Here is the transcript of a conversation Ramanayake had with Chief Inspector Nishantha de Silva:
Ranjan: You must be busy.
Nishantha: No, I attended a conference with the Director. The goods are ready for delivery, what should I do?
Ranjan:  Shall I send someone?
Nishantha:  Yes, send him.
Ranjan:  Can you give me another telephone number in case one didn't work.
Nishantha:  Okay wait. Shouts to a PC (who is named). Could you please tell me your mobile number? The number is given.
Nishantha: Please write down my land number as well.
Ranjan: Okay.
Nishantha: 011- 2393621. Sir, you can call (the name of the PC is mentioned) that is his number and also, he is in charge if the land number as well.  The package is already sealed.  You send the vehicle. I'll hand over.
Ranjan:  My driver will come. So, what's in it?
Nishantha: It has the case of the chopping a person into 62 pieces incident with the "B" report. Recommendation of the IGP regarding to me the Police Commission.
Nishantha:  You mean his recommendation?
Nishantha: Yes, his one.  They accused me of being an LTTE supporter. The investigations I did against LTTE all are in it. My family background too.
Ranjan: That's where I fought for you. Nobody told you that.
Nishantha:  No sir!
Ranjan: Shani thanked me for that.
Nishantha: Is it so. I will look into that.
Ranjan: You are doing the 11 persons abduction case.
Nishantha: Yes, the case of abduction of 11 youth and the incident of chopping a person into 62 pieces incident.
Ranjan:  Are you doing the (names a former Navy Commander) case?
Nishantha: Yes.
Ranjan:  Did Felix Perera (a former Minister) give a letter to (names the former Navy Commander).
Nishantha:  Yes, he did.
Ranjan: Do you have a copy of that?
Nishantha: If you want, I can send a copy of that.
Ranjan:  Names former Navy Commander mentioning about his assistance and about his Gym Instructor going missing.
Nishantha: Okay I will send them.
Ranjan: What else do you have to telecast?
Nishantha: I will send the rest to another programme.
Ranjan: Send all the details.
Nishantha: I will give. Don't worry.
Ranjan: Now it's 1.30 p.m. The driver will arrive by 2.00 p. m.
Nishantha:  Okay I will send them.
Ranjan: Shall I give the mobile to talk to him?
Nishantha: Yeah, sure!
Driver: Tell me sir!
Nishantha:  You come to the CID. Call any of the numbers. There is a police officer called (name given) and he will assist you.  You collect a sealed document from him and hand it over to the MP.
Driver: Okay Sir, I'll come.
Disastrous blow to UNP
An important question that begs answer is how much the former President Maithripala Sirisena knew about the goings on. He was in charge of the Police Department for most of the time when these conversations have been tape recorded by Ramanayake. The UNP parliamentarian has revealed that he was taking up issues with then President Sirisena. If by any means, he was kept in the dark altogether, the issue becomes much more serious. Here is a case where an MP from outside is manipulating the CID and sections of the judiciary thus subverting the criminal justice system and the judiciary. The national security implications of such a move are deadly serious. Another important question is whether the Senior DIG then in charge of the CID, Ravi Seneviratne, knew what was going on. If he did, he has not been able to rectify the serious damage done to the CID and consequently to the country. If indeed he was unaware, it raises many issues over his service as the head of the CID.
The Sri Lanka Podujana Peramuna (SLPP) led alliance is literally sitting on a volcano. With only a few weeks to go for the UN Human Rights Council (UNHRC) sessions, the news that all is not well with the country's judiciary is in the public domain. The US-backed resolution on Sri Lanka has a major component with references to the Sri Lankan judiciary and a call for foreign judges to try alleged war crimes. The "Colombo-gate tapes" will be grist to the mill for Sri Lanka bashers to argue their case. In this regard, by not giving the public a steady flow of information over what it is doing, the government has also continued to shoot itself in the foot. Spokespersons are oblivious to what has been going on. Some are ignorant about the finer intricacies of the issues involved in the "Colombo-gate scandal."
For some, the showman and egoist that is Ramanayake may be a hero like in the films that he acts. True but by his unethical and illegal acts, he has brought to light realities Sri Lankans were unaware of. Yet, he has done the country great harm and even greater harm to his United National Party (UNP).
With an ever-growing crisis within the party, it is no secret that the party is set to lose the upcoming parliamentary elections. Ramanayake has made sure it would be an ignominious one.  That is how a hefty hero in films has turned into a vulgar villain in politics. More and more will unfold in the weeks to come. That is no doubt yearend bonus to the SLPP-led alliance from an unexpected quarter.