Loving the beat
By Joshua Surendraraj
Rap artiste Costa who topped the iTunes charts, chats with the Mirror Magazine about his success in the music industry
View(s):
From being booed on stage and getting hit with tomatoes, to reaching number one on the Sri Lanka iTunes chart with no radio or television exposure, Costa's musical journey has certainly been an inspiring and eventful one.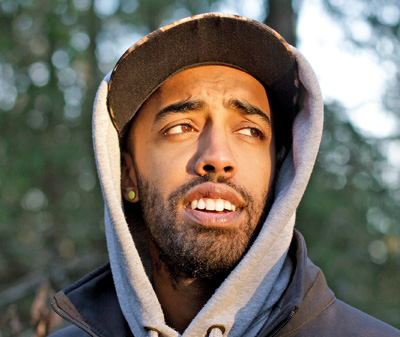 This week the Mirror Magazine sits down with the Sinhala rap artist, who gives us an insight into his plans for  2020, and his new album 'Paata'.
Costa was born and raised in Dangolla, Kandy and has been making music since he was a kid, though at the time it leaned more towards alternative rock and punk rather than hip hop.
During his school days, Costa was also part of a band and with a chuckle, he recalls a memory of his friend trying to impress his girlfriend at a school girl
carnival.  Though Costa felt they weren't ready to perform at the time, his friend insisted. So they quickly gathered a few other friends and got on stage. No sooner, the girls started booing them and throwing stuff. "I left the guitar and ran upstairs and hid, only to find my friend next to me."
After he left school, although Costa always wanted to pursue a career in music he did not have the knowledge on how to go about it. After doing a "normal" job for a while, he got an opportunity to go to Finland, and it was here that the change happened. Despite starting out with no friends or family to support him in Finland, he continued living there and has since spent six years in the country.
We talk about his transformation to a solo artist, to which he explains that his role in a band was mostly on the creative side rather than the technical. "I'm not the most talented guitarist or drummer," he admits. And back in Finland, though he wanted to make music, his skill set did not allow him to play in a band. While looking for other alternatives, he started making his own beats.
"When I made my first beat, I actually recorded a song called 'Paavi Paavi' and that song was pretty good. It got around 20,000 views on Youtube," he shares. This was the moment Costa realized he could do this.
He talks to us about his process of creating an album. Costa would make several beats at a time, without any intention of making a song.
He would also mumble along with the tune and if he found it to be going somewhere good, he'd stop instantly and grab a microphone and record the idea. He would repeat this process till he reached the point of having enough material for an album. Then, he'd proceed to finish the song.
Costa never recorded in a studio, instead sticking to his bed room. "My rooms aren't acoustically treated either. So sometimes I'd record inside a closet with a towel over my head," he recalls with a laugh. Interestingly, his albums were created in three different apartments, where he lived over the years.
Hating to wait, Costa believes the same vibe doesn't come around a  second time around. So he'd carry his equipment with him and when inspiration strikes, he'd put it down. He tells us the beauty about his music is that each song is diverse. He does not stick to a particular genre. On this note, an album would include old school hip hop tracks, new school rap and dancehall tracks.
Presently into his third album, Costa finds 'Paata' to be his most successful one. He never paid too much attention to boosts in terms of exposure, since he simply loves creating music. However, when 'Paata' reached the number one spot in less than three days after its release, he certainly felt a sense of achievement. "Sometimes you need that big pat on the back," he says.
Come 2020 his biggest focus is improving his YouTube channel with his new production team and also perform at more shows in Sri Lanka and tours. He also hopes to release new music videos (which have already stacked up).  Costa will also perform in Sri Lanka this April.
As we close he thanks those who helped him along the way. Including his parents for not stopping him, his friend Janak Eshan who edited his videos, David Luchow, threeway.lk, Croos who helps him with his artwork, his wife, his massina and the artists who collaborated with him along the way to make great music.
For more updates on Costa and his music log onto
His website at- https://costamaarley.com/
Instagram- https://www.instagram.com/costa_maarley/