amanté and Aviraté launch first partnership store
View(s):

The first partnership store by leading lingerie brand, amanté, and international fashion brand, Aviraté was launched at the Marino  Mall, Colombo 3. This is the first time two  home grown global fashion brands have fused their distinctive strengths to launch a partnership of this nature for their clientele in Sri Lanka. Both are premium, well-loved brands with a strong overseas presence.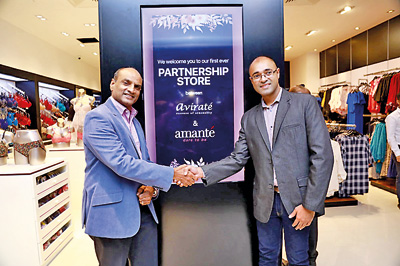 The store in Marino Mall features clothing from Aviraté spanning all the wardrobe essentials for the modern, lifestyle-driven customer – from day and evening wear to coordinate, accessories and footwear. Customers will also be able to browse lingerie, sports bras, swimwear and sleepwear from amanté's latest collections.The new partnership store provides an opportunity for customers to avail of a seamless, all-inclusive shopping experience between two fashion worlds. Marino Mall was selected to cater effectively to Colombo's diverse clientele and to expand the brands' consumer reach within new urban spaces in the city. The launch event was attended by media, customers and dignitaries while Darshi Keerthisena graced the event as Chief Guest.
'The crux of the partnership lies in the amalgamation of similar brand values, principles and synergies. The partnership store is the first step to creating a lasting and sustainable retail model both in Sri Lanka and India, offering a complementary and comprehensive portfolio of products to our clientele. The future of retail is changing, and it is up to businesses to navigate these changes and offer invigorating shopping experiences for modern consumers' noted Vivek Mehta, CEO of MAS Brands.
Commenting  on the launch of their first partnership store in Sri Lanka, AsimYounoos, CEO, Aviraté emphasized that this was the first of  more to come.  'This is a pivotal point for both the brands as they bring unique strengths into the mix, have a global footprint and are truly Sri Lankan in identity and world-class in quality. This is the inauguralchapter of what we hope will be a long lasting and fruitful business partnership, replete with exciting opportunitiesto explore thepotential for fashion and retail' said Younoos.
Aviraté is an international fashion brand owned by leading Sri Lankan apparel manufacturer, Timex and Fergasam Group.