Hidden humanism: A moving story by a bystander
Reviewed by Mahinda Hattaka
View(s):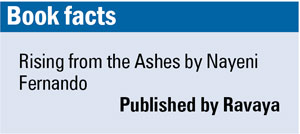 We have read epic stories of war heroes (Kamal Gunaratne et al) who fought the Ealam war and they are still a part of our living memory. We have also read stories of girls and boys (Kamalini et al) who fought on the other side of battlefield (wrongly) believing that they were making the ultimate sacrifice for a course that would bring freedom and dignity to their people. But this booklet of 87 pages by Nayeni Fernando is a different story of the same tragedy that we witnessed for three decades as it ruined the country and also the humanity of our people.
Nayeni Fernando, a retired IT expert of the Central Bank of Sri Lanka (CBSL), wanted to tell her life journey from a humble beginning as a computer programmer at the Department of Census and Statistics to the CBSL's Information Technology Department chief.  Aptly, she has subtitled her book as a Twenty Year Journey with the Central Bank of Sri Lanka.  But her story is appealing to us not only because she as a woman waded through the unfathomed waters of information technology but also because of the way she narrates the story behind the tragedy of the Central bank bomb blast in January 1996.
In the first few chapters, she outlines how she, as a physical science graduate from the Colombo University, entered the nascent world of computing which was relatively new and a foreign field to most of Sri Lankan of her age and academic training. In a simple and easy-to-understand style, she describes the manner in which the Central Bank took the initiative to implement the function of a clearing house for interbank transactions, which in itself an achievement, given the limited resources and personnel at the time. When the idea of an automated cheque clearing house for interbank transactions was first mooted, the Bank's top decision makers were hesitant to handle such a big job and instead wanted to engage the private sector. But Nayeni with her colleagues proved that with dedication and hard work they could meet the challenge despite the limited resources at their disposal.
The most interesting and illuminating part of her story is Chapter II — The Bomb Blast and Human Tragedy — where she tells us how the tragedy struck them. Though she and two of her colleagues were physically unharmed, they were thoroughly devastated. On hearing some gun shots they went outside through the fire escape to see what was happening on the street below. In a second, with a deafening blast, two columns of dust and smoke rose.  She managed to somehow get to the Chaitya Road and was escorted by a friend to a nearby office.
'' …….. and when I got there, they gave me a glass of water and many of my colleagues  came round me and that was when I broke down and cried''. Though she saw the injured and badly mauled people creeping out of the inferno, she had the courage to withstand all this in the belief that not only colleagues near and dear to her but also others were saved. But then she realized she could no longer withstand her emotions suppressed within her. She had to cry aloud to get relief from the throbbing feelings for the victims and the devastation that had happened.
She had no way of reaching her husband or children to inform them that she was not harmed; her mobile phone and money were in the burning building. The friend who took her to safety fetched a three wheeler and gave money to the driver to take her home. But the driver refused to take money and took the responsibility to drop her at her home, displaying a deep understanding of the scale of the tragedy. ''When I got home more than three hours after the explosion, I saw my two daughters standing at the door. Suhadini, the younger one, still in her school uniform. They both hugged me, expressing relief ….. No one, including me, was dry eyed. Even the three wheeler driver who had known me just for one hour was wiping his tears.''
And there are stories of how those who escaped unhurt took the wounded to hospital and contacted their kith and kin to give them the news that their loved ones were safe.
Nayeni is telling the story of one such a man with a big heart. He visited her at home to be assured of her safety. When Nayeni asked him about his
wife who was working in a nearby office, he called home and found out that she had not come home yet.
"Justin called home and realised that his wife had not come home. He panicked and tried to use his son's small bicycle, which was in his vehicle to cycle to the Central Bank. (By the time all roads leading to that area had been closed for security reasons.) He was not allowed to go in by the police. Later, he learnt his wife had come home and she was unhurt.''
There were others — 41 Central Bank employees lost their lives and some were blinded or maimed. The outpouring of unbridled sympathy and the willingness in people to help others at times of crisis are vividly described in this booklet.
However, the unanswered question is: why had the prime institution, the heart of the economy, been left unprotected and vulnerable? As a victim of the tragedy she had to say this: ''We found out later the exact events leading to the blast. The LTTE which was waging a war with the Sri Lanka Government targeted key government institutions. The Central Bank was a high priority target and the government intelligence was aware of the threat.'' Nearly 23 years later, the story reminds us of the Easter Sunday bombing which was also blamed on security lapses.
The survivors of the cruel attack on the Central Bank had no time to mourn the deaths of their friends and colleagues. ''Amidst all the gloom we had to concentrate on rebuilding. Mr. G M P de Silva, Executive Director in charge of DPD and EPF departments wanted details about what was available and what had to be done to get the systems up and running at the earliest. I informed him that as we did not have online real time archiving what we had done was to store the data tapes at the Rajagiriya training centre.''
She describes how they, as a team, worked tirelessly and with unprecedented dedication to restore the system up and running. They had to cut through bureaucracy and various departmental rules and regulation to achieve this monumental task at the shortest time possible. And they did it honourably.
To give a meaningful message, Nayeni did not fail to record how this tragedy had affected her offspring. She included an addendum well written by her elder daughter on the anxiety and the trauma they suffered waiting for her mother to come home safe. This part of the book explains the pain suffered by the younger generation during this tragic period of our history. I would like to quote a few sentences to illustrate the mental trauma faced by parents in bringing up a generation abhorring violence.
''The day I started writing this article, I went home after work to pick up my children and take them to visit my aunt. There was a special service taking place at the church in front of our house…. While returning, a couple of hours later, I told Soma (her maid) that I hope the Air Force service was over and our road was clear. My daughter asked me ''What is the Air Force?'' I told her that the Air Force flew planes when there was a war. She thought briefly and asked, "Is it a good thing?'' I replied yes. Then she asked, ''Will it ever happen to us?''
Nayeni Fernando in this book traces meticulously her professional journey with the Central Bank, but it speaks volumes on human kindness and above all humanism latent in society at large. The tragedy is that at times it gets eclipsed by greed and ignorance. Rising from the ashes of violence is truly a gigantic task, but this book shows it is possible.