School sex book whisked out of sight but monk explodes in fury
By Sandun Jayawardana
No sex, please, we're Lankan
View(s):
The Hathe Ape Potha, a sex education book for Grade 7 students, this week became one of the most shared PDF files on Sri Lankan social media after critics panned the publication as corrupting the minds of children.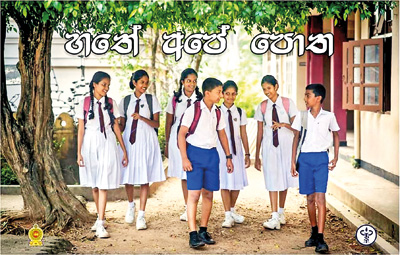 The book is a joint project of the Health Promotion Bureau of the Ministry of Health and the Ministry of Education. Screenshots of the whole text as well as PDF copies were shared on Facebook, Twitter and YouTube after a group of Buddhist monks led by Prof Ven Medagoda
Abayatissa Thera called a press conference to condemn its contents as promoting "vulgarity" and corrupting minds of children.
Some social media users who shared the book humorously invited people to read it and become "corrupted" before it was banned. But on sites such as Mums in Colombo there was widespread consensus that the publication had no problematic content and was not only suitable but contained essential education.
In the wake of the furore, Ven Prof Abayatissa Thera claimed his comments had been deliberately misrepresented to imply monks were against the teaching of sex education in schools.
"This is a total lie," he told the Sunday Times. "We have no objection to it. But what is included in this book is far too much for young children. What's more, it seems to be an organised attempt by certain elements to corrupt our young."
Asked what he found objectionable about the book, the academic said that, for example, it went into great detail about masturbation. He claimed the book taught young children that it was completely normal, even for girls, and "that it was fine to do it every day".
Contrary to the Thera's comments, however, the book – while asserting that masturbation was normal and caused no bodily harm – also warned against becoming addicted to masturbation in such a way that it interfered with studies.
While Ven Prof Abayatissa Thera does not advocate punishing anyone involved in compiling the book, he insisted: "But we want an inquiry to find out who was behind it, whether any external parties funded it. These are things that we shouldn't be teaching 12-year-old children. If necessary, we think disciplinary action should be taken."
Ven Prof Abayatissa Thera claimed the previous government had initiated projects to introduce alien influences and corrupt the young and suggested there was a connection between the drinking of beer and homosexuality. 
"We even saw [the previous government] take steps aimed at reducing the prices of beer," he said.
"We know that there is a direct connection between beer and homosexuality.
"They also made attempts to relax the laws allowing females to buy liquor. All of these were part of this attempt to destroy our culture and corrupt young people."
Ironically, the controversial sex education book was recalled by the Educational Publications Department last month – well before the monks held their press conference.
A letter signed by Education Publications Department Commissioner General W.M.Jayantha Wickramanayake and addressed to heads of all school textbook distribution centres and school principals stated a decision had been taken to withdraw the book. Schools were asked to send back all copies in their possession and to collect and send back any already in the  hands of students.
This was done in view of the presidential election scheduled for November 16, the former education minister, Akila Viraj Kariyawasam, said. "We didn't want someone to make that a political issue, too. So, instructions were given to recall them."
The United National Front government had always advocated teaching sex education in schools, he said, strongly defending the book's contents which had been compiled with by a team comprising Health Ministry doctors and educationists from the Education Ministry.
Incumbent Education Minister Dullas Alahapperuma tried to distance his government from the controversy, pointing to the book's recall by the previous administration.
"I have, however, called for a report into this book," he said. "I expect it in the next few days and will be able to comment more about it then."
This government, too, supports the teaching of sex education, Mr Alahapperuma said, but will have to look into the "limits" under which it can be done. Any advanced country should introduce the subject at school level. Nevertheless, considerations on what is appropriate for  which age should be taken into account.
"We are not opposed to sex education in schools," he reiterated. "That much I can stress."
"Age-appropriate, comprehensive sexuality education was a must, not just for teenagers and adolescents but for children," insisted Kumuduni Samuel, Founder of the Women and Media Collective and its Director (Programmes and Research).  Sri Lanka was a signatory to the Programme of Action on Population and Development adopted at the 1994 International Conference on Population and Development (ICPD) in Cairo, Eqypt and had thus made international commitments over sexual and reproductive rights, she said.
"I don't think that any institution or personality, particularly religious sects that are all male, should be talking about sexual and reproductive rights as they are a civilian need which civilians alone must decide upon," she maintained.
"How can religious clerics talk about what is appropriate as regards to those rights and what is not? They have no knowledge about them anyway."
Ms Samuel was disturbed to know that the book, which had been approved by both the health and education ministries, had been recalled. "It says that we're actually regressing and becoming more conservative and narrow minded," she reflected.