Rains ruin vegetable crops; ginger farmers hit hard
Text and pix by Kanchana Kumara Ariyadasa
View(s):
Torrential rains have destroyed hordes of vegetable crops, leading to a severe shortage and sending prices skyrocketing.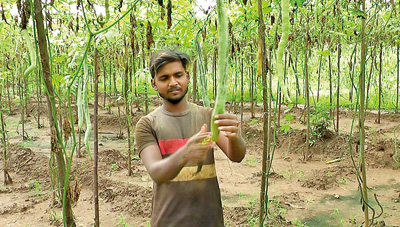 Rains that have been lashing Dambulla, Matale, Naula, Galewela and Sigiriya for many days have ruined vegetable and raw ginger crops in these areas, farmers say.
Among those badly affected were raw ginger farmers in Dandubendiruppa and Dewahuwa. They were hit particularly hard as the rains came as they prepared to harvest their crops, on which they spent a lot of money.
They say that after suffering huge financial losses, it is difficult for them to return to raw ginger cultivation again.
Rains have also destroyed many vegetable crops such as tomato, brinjal, snake gourd and long beans in areas such as Dambulla, Naula, Galewela, Kekirawa and Kandalama. These areas account for the largest supply of vegetables to the Dambulla Economic Centre. In many fields in these areas, farmers showed us crops that were ready for harvest but were now rotting away in the rain.
Farmers complain that agriculture officials are yet to look into their plight.