'Barbaric killings' in churches temper Christmas joy
By Jayani Madawala
View(s):
While Christmas is a time of great joy and celebration, festivities were subdued and security was tight this year as a result of the terrorist attacks on Catholic and Christian churches on Easter Sunday when 250 innocents, including 45 children, perished.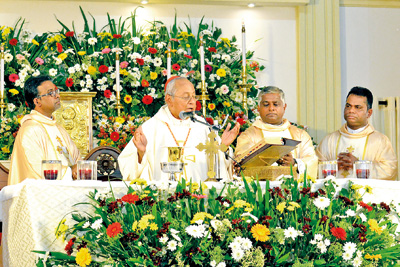 Foreign nationals were among the dead at hotels in Colombo that were bombed by extremist suicide killers on April 21.
The armed forces and police were deployed at the gate of every church before each Christmas Day service and access was monitored by civilians who were familiar with the faces of regular worshippers.
Christmas services were held in the churches that were attacked.
The midnight mass at St Sebastian's Church in Katuwapitiya was presided over by Malcolm Cardinal Ranjith.
"If we didn't endure the pain with patience, the whole country would have been a bloodbath because of the barbaric killings," he said.
St Sebastian's suffered the most, where 113 out of the total 250 people perished.
The church was guarded by the Sri Lanka Air Force whose main camp is located nearby in Katunayake.
The bombing was an act of misguided youth who had been brainwashed, the Cardinal said. "We should not hate the Muslims for what these extremists have done."
The mass was well attended. Some of the wounded were brought to church in their beds and wheel chairs.
Security was tight also at St Anthony's Shrine in Kochchikade for the midnight mass which attracted the faithful in large numbers. The religious ceremony was modest compared with previous years.
Tearful congregations remembered the horrors and prayed for the departed and the survivors.
In keeping with a plea from the Cardinal to avoid revelry, setting off of firecrackers was kept to a minimum on Christmas Day.
St Sebastian's Church, Katuwapitiya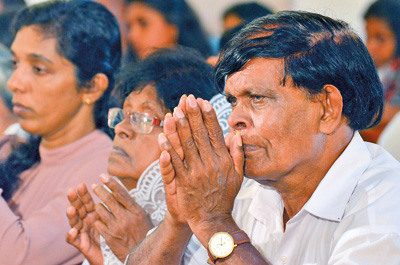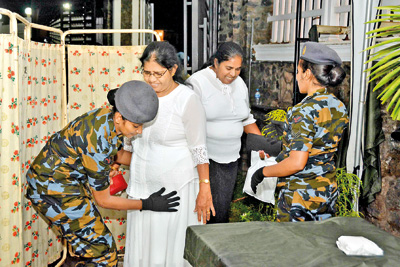 St Anthony's Shrine, Kochchikade