Bringing back those retro vibes with Vinyl Revival
Pix and text by Paramie Jayakody
View(s):
Old school music has a very unique vibe that makes it timeless, and there will always be fans who treasure those more than modern music.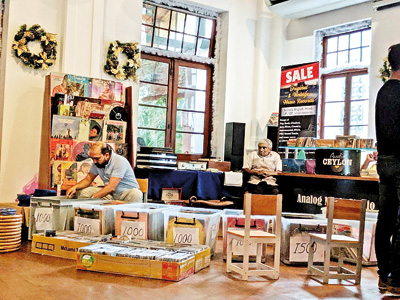 Vinyl Revival 2019 was hosted by vinyl revival Sri Lanka and organized by hype events, was held recently at the Dutch Burgher Union (DBU) and had multiple vendors= selling and exchanging their vinyl collections.
Vinyl is still known for its audio clarity, and the intricate process that goes into making them. As such, there's a good demand for vinyl music, and even newer music has been converted into vinyl for the sake of the old school vinyl crowd.
A huge collection of vinyl albums, ranging from bands such as Queen to Spice girls to Metallica were on display. While some were more modern and sold for around Rs 6500-8000 range (Ed Sheeran, Linkin Park) others were old and second hand and sold for Rs1,000-Rs.2,500 range (Blues, Beethoven). There was also a collection of Sinhala music! They also had DJs playing vinyl soundtracks. Vinyl revival is an annual event, and the first of it's kind to take place in Sri Lanka. This year, they also had a demo set and guest mix by Tareeq, who is the only person who produces vinyl at the moment.