Let creativity begin with AOD's Design Foundation programme
View(s):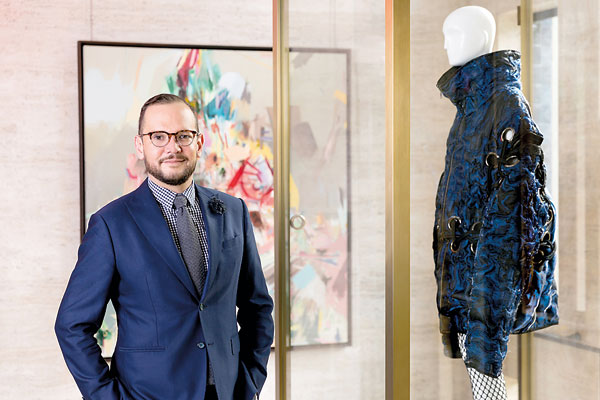 After O/L students with a knack for creativity will have a unique opportunity to explore their talent through AOD's Design Foundation programme commencing in January 2020 leading to Bachelor's Degrees and powerful careers.
Presenting an early pathway to get into one of the most dynamic career options of the future, AOD invites after O/Ls students to its Design Foundation Programme which is a special course with an all-encompassing curriculum that walks students through several design disciplines leading to in-demand careers—such as fashion design, fashion marketing, interior design, visual communication design and animation design—with the help of an expert international faculty. After completing the programme, the students have a guaranteed place in a 100% internal Northumbria UK design degree of their choice, which can be completed at AOD.
The programme is delivered by an experienced international faculty led by the Programme Leader of Design Foundation at AOD, Scottish designer Kat Scott hailing from her studies and training in Edinburgh. Kat spoke about the importance of following a design foundation course for any student who is serious about qualifying as a designer with a globally-recognised qualification. "Foundation studies in design are really important because it helps you understand how to begin to apply your creativity through different media. Even if you are an inherently creative person with natural talent, this still applies because foundation studies are where you discover what design stream resonates with you best and uses your talent the best way possible—like fashion, animation or interior design? And of course, for the students who have no previous experience in art and creativity, it is an absolute must if you want to be a professional designer. It's the best place to begin your life as a design student."
Most students leaving middle school or even high school have limited knowledge about contemporary creative arts and their modern applications such as film, cutting-edge fashion, illustration, branding design or digital app design etc. This means that often, students looking to enter design degrees do not have the fundamental studies required to harness and apply their creativity in commercially applicable ways—which is what design essentially stands for. AOD Design Foundation Programme bridges this initial knowledge gap and prepares students for higher education in design through preliminary studies in all creative essentials from ideation, brainstorming and the processes of communicating your ideas through different media from drawing, basic photography, painting, illustration, sculpture, collage etc. Similarly, the programme also familiarises students with digital channels of creative expression which are an essential aspect of contemporary design.
The AOD Design Foundation programme also offers a secure pathway into bachelor's degree level studies in design with guaranteed placement in a Northumbria UK design degree at AOD. Students can enroll for the programme in both Colombo and Kandy and then get direct entry to the Degree programmes offered in Colombo. These degrees which are available in Fashion Design, Visual Communication Design, Interior Design, Fashion Marketing or Animation Design at AOD, annually accept the students filtered through the Design Foundation Programme as qualified to join the undergraduate studies and from there, successful careers or even postgraduate studies at Masters level and beyond. Due to the comprehensiveness of the programme and because it allows early access to younger students, AOD graduates who started with this programme have gone on to do great things at a very young age. The success of the graduates who started their design journey with the AOD Design Foundation Programme bears testimony to this.
AOD CEO, Robert Meeder had this to add, "It is a course that sets the foundation for students to find great success wherever they go in design. With introductions to major design disciplines and hands-on experiments that allow the students to get a taste of working in each creative sector, the AOD Design Foundation Programme serves as a practical and easy-to-understand pre-university course".
The AOD Design Foundation Programmeis delivered at AOD's newest space, the Colombo Innovation Towerwith unlimited access to Sri Lanka's largest dedicated design libraryand industry standard computer laboratories situated at the campus.
For free design career counselling, or to understand more about the Design Foundation programme and studying Fashion, Fashion Marketing, Interior Design Studies, Visual Communication Design and Motion Graphics & Animation Design with 100% internal design degrees from Northumbria University UK, reach AOD Colombo on 0775727772, email: info@aod.lk or walk in between 9am and 5pm Monday to Friday – Colombo Innovation Tower, No 58, Lauries Road, Colombo 04.
Visit www.aod.lk