IIHS announces re-launch eyeing regional educator status going beyond health education
View(s):

International Institute of Health Science (IIHS), Sri Lanka's premier healthcare education institute, is set to take the logical next step with the anticipated regional expansion of its operations, vying to become an international player in the educational landscape going beyond the healthcare services sector.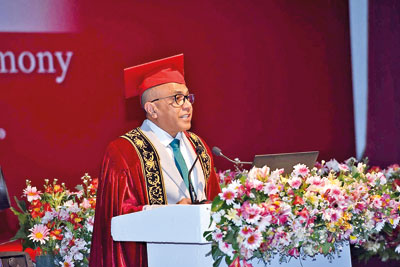 To this end, IIHS is announcing a re-launch of its operations with new values and focus to make the IIHS Global Multiversity an international education hub for higher education for students in the entire Asian region with the support of several reputed international universities.
Following the re-launch, IIHS will widen its focus beyond the healthcare services sector with its clusters now being Nursing, Health Sciences, Arts and Design, Technical and Humanities and Social Sciences.
Apart from being a one-stop-shop for healthcare services sector education in Sri Lanka, IIHS will now offer courses on niche technical areas such as Aircraft Engineering, Disaster Management, Arts, Design & Fashion courses etc. by partnering with a few internationally recognized foreign universities.
"This will mark another milestone for us as we are now getting ready to engage in the export of education. This will boost Sri Lanka's image as a thriving educational hub and also will earn much-needed foreign currency for the development of the country.
We take world class education to the grassroot level, that is to the youth of South Asia and the region," said Dr. Kithsiri Edirisinghe (MBBS, MSc, MD (Medical Administration), Founder/ CEO/ Director Academics, Strategy and International Affairs, IIHS.
The key values that will be embedded in IIHS's re-launch will provide a choice for students, inclusivity, accessibility, quality, affordability and sustainability.
IIHS is offering choice and flexibility to its students by conducting courses through several international universities and even better—allowing the students to follow the programmes at their own pace.
Inclusivity is a hallmark of IIHS where they will ensure the highly-regarded educational concept "no one is left behind" by removing barriers to education that may stem from disability, gender, age, religious, social, economic and academic backgrounds.
Accessibility at IIHS is ensured with its online platform where if a student cannot take part in lectures physically he or she could do that through a method.
IIHS is synonymous for the quality education it provides as they have partnered with a number of internationally recognized foreign universities such as University of Aberdeen (United Kingdom), Coventry University (United Kingdom), Open University of Malaysia (Malaysia), Deakin University, Australia, Helsinki Metropolia University of Applied Sciences and Edith Cowan University (Australia) to offer new programmes. The programmes are offered through two models.
One is where students can complete foreign programmes in Sri Lanka for an affordable fee. The other model is where students can complete pathway programmes in Nursing, Bio Med and Physiotherapy to Australia, Europe and United Kingdom. The second model would allow students to gain registration following graduation and be employed in the said countries.
IIHS is making sure that the courses offered by them are extremely affordable to foreign students, which is obviously helped by Sri Lanka's exchange rate against the US dollar and the relatively benign cost of living.
Last but no least, sustainability plays a big part in IIHS' re-launch as everything from the educational programmes to how they are taught are aligned with the UN Sustainability Goals. While producing world-class professionals with internationally recognized qualifications, IIHS is extremely conscious of its responsibilities towards the environment as a leader in education.
As Sri Lanka's premier International University Learning Center (IULC), IIHS for over 18 years has offered programmes ranging from Certificates to PhDs. The programmes are offered in partnership with leading global universities securing pathways and opportunities for students to realize their international dreams at an affordable price.
IIHS is a front-runner in adopting new trends in education providing a multitude of choices and opportunities to its student community aligning with the current Sri Lankan government policies of making SL a regional hub for education.