Connect Ahead app links researchers with commercial partners
View(s):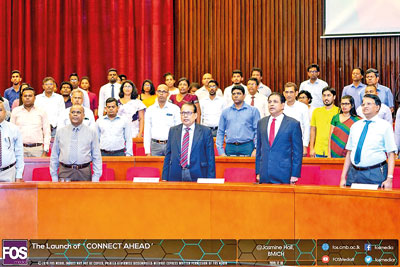 With connecting researchers to industries with modern technology being a vital need to bridge the gap between academic institutions and the private sector, the app 'Connect Ahead' was launched marking another milestone in the higher education sector in Sri Lanka.
The app was developed under the Accelerating Higher Education Expansion and Development (AHEAD) Programme funded by the World Bank. The programme was coordinated by Prof. Thusitha Abeytunga, the Lead Academic Expert/AHEAD Operation at the Ministry of Higher Education, Technology & Innovation. This app can act as a platform to link academic inventors in universities with commercial partners.
The ceremonial launch was held on December 10 at the BMICH with the participation of academics, scholars and many distinguished invitees representing both government organisations and the private sector. The app was officially launched by Higher Education, Technology and Innovation Ministry Secretary Anura Dissanayake, World Bank's Lead Economist Dr. Harsha Aturupane and AHEAD project director Prof. P.S.M. Gunaratne. The app's trial version was introduced before the launch and it had a considerable demand. There were close to 150 registered members in the app with most of the registrations coming from universities. Some inventors say they made fruitful connections with the industry via the app even during the trial period.
AHEAD is funded by the World Bank under a financial instrument called Programme for Results (P for R). This operation is to improve three results areas — increasing enrollment of undergraduates in priority disciplines, improving the quality of higher education and promoting research, development, innovation and commercialisation.
The app launch was followed by a panel discussion. It was one of the fundamental segments of the event. The audience was interactive to bring in several important suggestions for the future improvement of the app.
AHEAD expects the research teams to utilise the funds effectively and efficiently to generate knowledge new to the world not just new to Sri Lanka. It expresses hope that it will soon witness the improvement of research, development, innovation and commercialisation activities for the betterment of the country.
Pix by Lakshan Pramodya, FOS Media – Ramalka Kasige