The arrests that tell us where we are heading
View(s):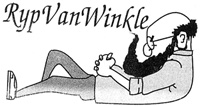 My dear Champika and Rajitha,
I am writing to you because both of you have been charged and arrested, although for different reasons. People in Paradise are watching these events unfold with great interest. Champika, you were bailed after being denied bail at first. Rajitha, you are in hospital after being 'missing' for two days.
Many were taken aback at the speed at which the wheels of justice have suddenly started turning but few are surprised. After all, now the man in charge is Gota mama — and not Cheerio Sirisena. They are like chalk and cheese: one has a reputation for ruthless efficiency, the other for pathetic inconsistency.
Champika, I think more people feel sorry for you than they do for Rajitha. You have been charged with an offence related to a traffic accident that was heard to a conclusion a few years ago. Now they are claiming that you used your influence at that time to fabricate evidence and get acquitted by court.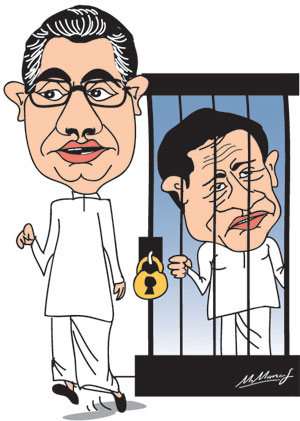 Champika, most people have their own opinion about what really happened in that accident but you alone know the truth. If the charges against you are indeed true, then it is a serious matter. As you well know, the law is equal to everyone and you should be dealt with as anybody else would be.
Nevertheless, Champika, the timing of your arrest so soon after the election, the manner in which you were hunted down and dragged out of home at night time and the denial of bail in the first instance has left a bad taste and many are asking whether you are being treated differently to everyone else.
Champika, some feel you have become a target because you are one of the very few people in the Green camp who could speak to the majority community. They think your strong support for Sajith in the big race has not gone unnoticed. Of course, the authorities say the law is merely taking its course.
If you want to look at this positively, Champika, you have become a person important enough to become a target. No one disagrees that the law should be allowed to take its course, but if you do emerge unscathed from this eventually, you will be seen as a hero by many and your stock will rise.
Rajitha, I'm afraid you don't have the amount of support that Champika does. That is partly because of what you have been accused of. Just a few days before the big race, you paraded two people before us at a media briefing as if they were telling the gospel truth. They claimed to be 'white van' drivers.
Rajitha, they are now saying that you paid them to say so and it turns out that these chaps also have criminal records. Adding insult to injury, some in your party are saying you were only facilitating a press briefing, conveniently forgetting that you were a senior minister and the Cabinet spokesman!
If what those chaps said was indeed true, Rajitha, we would have expected you — being the publicity hungry chap that you are — to call another press briefing and tell us exactly what happened. Instead, first you seek bail anticipating your arrest and when that is refused, you simply disappear!
That you were able to disappear for two days, Rajitha, and then get admitted to a private hospital in the city without the cops being none the wiser doesn't enhance the reputation of the CID chaps looking for you, but that is another story. The fact that you went in to 'hiding' isn't impressive either.
Rajitha, you achieved a great deal as Health Minister but at the same time we heard you making sweeping statements as Cabinet spokesman — only find out later that they were not true. Over the years, you became the Weerawansa of the Green camp. That is why fewer people have sympathy for you.
Apparently, they tell us that you are now being treated in the Intensive Care Unit. Isn't it strange, Rajitha, that politicians fall seriously ill whenever they are faced with court cases and jail time? It reminds me of young Duminda and many others. Anyway, we do hope that you will get well soon.
Rajitha, the law will take its course for you too, as it must for anyone. While you are in hospital trying to recover from your serious illness just make sure the doctors who treat you are not from the GMOA. If they get to lay their hands on you, the outcome may be worse than the court case you are facing!
The Greens are saying this is a political witch hunt. That may or may not be the case. However, the Greens forget that they got a mandate four years ago to 'catch the thieves' and put them behind bars. If they did so properly, they would probably still be in power. So, they shouldn't be complaining now.
No one is above the law. Anyone who has offended should be punished. Still, there are questions as to whether your cases are more important than, for example, those who robbed the big bank. Rajitha and Champika, we are watching what happens to you — because it will tell us where we are heading.
Yours truly,
Punchi Putha
PS: The ruling party claims this is all Dappula's doing and that he was appointed by the Greens when they were in power. The honourable gentleman that he is, Dappula may next wish to revisit the hit-and-run case of the Policeman involving Mahindananda's son — or maybe even the Thajudeen murder?