Murder trial that freed the masterminds
View(s):

When a state is under authoritarian rule, whether by a majoritarian clique, a jack-booted junta or a decadent monarchy, justice as the world's religions, renowned thinkers and philosophers teach us, is usually buried deep and forgotten.

It is doubly damnable when a pliant, subservient or frightened judiciary dispenses that which it calls justice under a veneer of integrity packed in the trappings of courtroom procedures.

It is worse when the oath of office is consciously violated through bribery, corruption and self-interest as we know happens even without the constant pressures on judicial officers and law enforcers by the ruling class and its hangers on.

The judgment of a Saudi Arabian Court a few days back on the murder of a dissident Saudi journalist, Jamal Khashoggi, is a prime illustration of justice being up-ended and buried in the desert sands.

The Khashoggi murder trial and verdict serve as classic examples of a bent or willfully bending judiciary ready to serve the personal and political interests of the ruling clan, in this case the country's monarchy that has run its kingdom in the sand with an iron fist and in barbaric ways that unbelievably exist in these modern times.

It was in October last year that Khashoggi, living and working in the US, was lured into the Saudi consulate in Istanbul after he had sought some documents that were necessary for him to go ahead with his marriage to his Turkish fiancée.

The fact that Khashoggi, a columnist for the Washington Post and a critic of the Saudi Royal family and its prehistoric laws and uncivilised ways of treating its people and migrant workers, was proving to be a constant irritant to some who were anxious to silence him was what brought his premature demise with unbelievable brutality.

Agnes Callamard, the UN's special rapporteur for extrajudicial, summary and arbitrary executions who investigated the Khashoggi murder in a report submitted in February this year called the trial a "mockery of justice".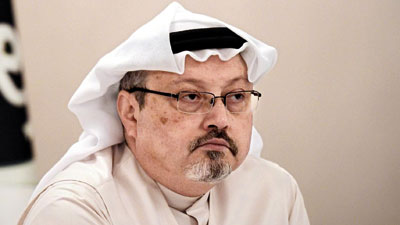 It was more than that. What led to the trial is the manner in which Khashoggi was brutally killed and his body dismembered and disposed of. To date the Saudi authorities, their killer-squad and others present at the time of his murder have not disclosed how and where the body was got rid of.
Ms Callamard was privy to an audio recording made by Turkish intelligence of the happenings at the Saudi Consulate in Istanbul that day. Her 101-page report included details from that audio which Turkish officials made available to the investigation that she led.
As they waited for Khashoggi to arrive at the consulate, one agent of the 15-member team that had flown in from Saudi Arabia to Istanbul, had inquired how they would carry away the body.
Do not worry, the forensic doctor who was in the team, was heard to say. "Joints will be separated. It is not a problem. If we take plastic bags and cut into pieces it will be finished. We will wrap each of them."
The murder and gruesome dismemberment of a body is being detailed by the doctor as if he was the head of a surgical team talking to his assistants at a pre-op meeting.
This audio clip raises a number of questions and they collectively amount to more than a mockery of justice however much that description condemns the Saudi justice system and its judiciary.
The Saudi government and its prosecutors had claimed that the killing of Khashoggi was not premeditated, that it happened on the "spur of the moment."

If one believes that rubbish, one might as well believe in desert mirages. If it was not premeditated why was the special team from Saudi Arabia raising the issue of the disposal of the body even before the targeted journalist arrived at the consulate? Why discuss the disposal of the body of a person still alive unless one intended to eliminate that person?
Why did the special Saudi team flown to Istanbul referred in the UN report as "hit men" include a forensic doctor? Was it just to drug Khashoggi and take him alive to the kingdom as the Saudis try to make out, or for a far more sinister purpose that ultimately required the use of a bone saw?
If one be permitted to sidetrack for a moment, in years gone by a doctor would be called a "saw bones" particularly in the American west, if I recall. Now you can see why. The Saudi forensic doctor had to use a bone saw to do his gory job after Khashoggi was killed.
The point is that this whole Saudi story was cooked up to make the world believe that what happened that day at the Saudi consulate in Istanbul was a misadventure. It was to allow such political poltroons such as Trump to sing the praises of an outdated and atavistic regime for bringing the killers to justice.
The Saudi narrative would make one believe that the Saudis never intended to do what they did to Khashoggi except perhaps to ask him a few questions, pat him on the head and clear up misunderstandings.
In this whole narrative one man who does not figure, and if he does it is only as an 'extra' as they say in the film world, is Mohammed bin Salman, the son of the king who is now de facto ruler of the country.
His principal aide Saud al-Qahtani was one of three officials cleared of wrongdoing for lack of evidence which was indeed a convenient way of covering up their involvement in this brutal killing.
But the CIA — which has this well-known habit of spying on enemies as well as friends, and Saudi royalty just happens to be good friends of Donald Trump because they buy his war weapons — concluded that it was Prince Salman (called MBS for short) who had ordered the killing.
But here is a modern 'Hamlet' staged without the Prince. And if Donald Trump and his transatlantic stooge with his traditional tonsorial dishevelment have much business to do exchanging petro-dollars for weapons of destruction, they will not point a tainted finger at the Prince.
The Saudi defence that this was a "rogue" operation conducted without approval from the top seems preposterous to those better acquainted with how the tightly-controlled Saudi system, with its close surveillance, functions.
What is abundantly clear is that this trial was closed to the public and independent media. Such an opaque trial where even the names of those who were tried and sentenced have not been disclosed leaves gaping holes in the statements of the prosecutors.
It makes one wonder whether a trial was ever held and whether the story released to the world is bogus, a concoction intended to deceive the gullible that justice had been done and the guilty have been punished. Where is the incontrovertible evidence of a trial except the words of a prosecutor speaking to the public?
Those sentenced to death have a right of appeal. Will we hear some day that they went before the Court of Appeal and their sentences were commuted? Or will we be told that their appeals have been dismissed and the death sentence carried out?
The lack of transparency in the justice system makes this all a farce. Had Sri Lanka or some other country from the Global South acted with greater transparency and accountability they would have been damned by Washington, London and other western cohorts whose interest is not genuine justice which they themselves often deny their people but to drown the world with a cacophony of mendacity.