Sharing the joy of Christmas with 'The Christ Child Is Born'
The Colombo Law Society will present an evening of carols at the All Saints' Church Hulftsdorp
View(s):
A midst the hustle and bustle at Hulftsdorp stands the 153 year old All Saints' Church. It is here where a group of lawyers meet every year to share the joy of the Christmas season with the general public.
Presented by the Colombo Law Society,  'The Christ Child Is Born' will take place on December 6 at 6.45 pm at the All Saints' Church Hulftsdorp.
The music is directed by Vasanthkumar Niles, assisted by Ayendra Wickremesekera.
Nearly seven years ago, Dilhan de Silva the founding member of the Lawyer's Choir, met up with a group of Attorneys of the Colombo Law Society to organise a carol service where the legal community could get in the festive mood and celebrate the end of another hectic year. Since then, the service has grown into a tradition that Attorneys and non Attorneys alike look forward to, just before the Court vacation kicks in.
Owing to the demanding nature of the profession, singing carols together not only gives those in the legal fraternity an opportunity to relax, but it also uplifts the spirits and gives them a chance to refocus on what is good and wholesome in life.
Choir member Mokshini Jayamanne tells us that committing to the ensemble is a challenging task, especially with their professional and personal commitments. But, "this is the only time we get to do what we love, during our favourite time of the year with like-minded brothers and sisters of the Bar," she says.
What makes things more special, is that the service is held at one of the oldest churches in Sri Lanka, and one can expect to hear carols ranging from traditional favourites to the modern hits. The service will also include readings that reflect on the message of Christmas.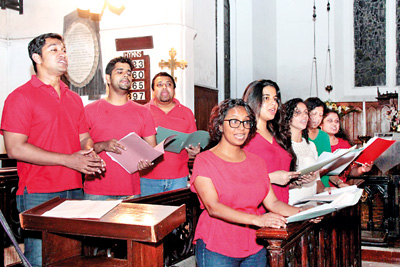 Lawyer or not, the service is loved by many who attend it, with friends and family getting together in the spirit of Christmas, with conversation, carols, wine and cake aplenty.
Above all, as the choristers note, it's easy to get distracted by the local news that meet us at every turn. But, the beauty of Christmas is in its ability to make you forget the negativity and celebrate all that is good in life.
Get into the Christmas spirit on December 6 at 6.45 pm at the All Saints' Church Hulftsdorp.