'Night of Silence': Christmas time with Sebs
View(s):

Night of Silence', annual Christmas Carol Service  by the Choir of St. Sebastian's College, Moratuwa, will be held at the College's main Auditorium on – 8th December 2019 from 6.30pm onwards.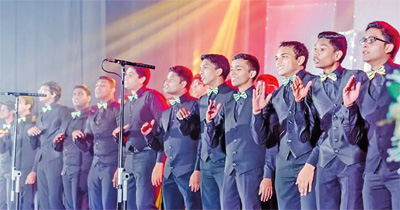 The history of the Carol services of St. Sebastian's College are dated back to 2003 and this will be its 17th consecutive year organised by the College Choir.
The Choir of St. Sebastian's College began with just a handful of dedicated students who were musically inclined and under the guidance of Rev. Fr. Prasad Niranjan who was a talented musician. Father Prasad had developed and transformed the Choir of St. Sebastian's College to be accepted at national level competitions and concerts. Presently, under the guidance of Rev. Fr. Samesh Anthony, the team is trained by Shihan Chamba and Sanjeeva E. Silva two proud products of the college choir. The current Choir is conducted by Angelo Perera and Akila Silva and led by Thilina Fernando, Nithila Dilshika, Rushen Perera and Sandaru Dias.
The Festival of Nine Lessons and Carols is a service of Christian Worship celebrating the birth of Jesus that is traditionally followed at Christmas. The story of the fall of humanity, the promise of the Messiah, and the birth of Jesus is told in nine short Bible readings from Genesis, the prophetic books and the Gospels, interspersed with the Singing of Christmas carols, hymns and choir music.
The format was based on an Order drawn up by Edward Benson, late Archbishop of Canterbury but at that time Bishop of Truro, in Cornwall, for use on Christmas Eve (24 December) in 1880.
The first session of 2019 Christmas Carols by the Choir of St. Sebastian's College, Moratuwa consists of Traditional Christmas Hymns(English/Latin), Classical compositions of great composers such as Handel, David Willcocks, Franz Schubert etc and traditional Sinhala Hymns.
The second session consists of modern classical compositions and modern songs based on Christmas by Elvis Presley, Dean Martin, Michael Buble, Bing Crosby, Nat King Cole, Frank Sinatra, Harry Belafonte, Andy Williams, Shaking Stevens, Mariah Carey, George Michael, Jackson Five and Barbra Streisand.
This year's theme 'Night of Silence' is selected from a famous Christmas Carol which was composed by Daniel Kantor and was arranged by John Ferguson. 'Night of Silence' is unlike any other composition, is a tale of longing and belonging' said Nithila Dilshika, who is one of the conductors of the Choir.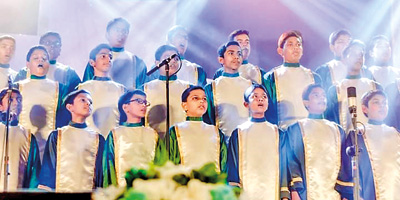 'This is a composition that continues to evoke questions all over the world. As the composer quoted, composing 'Night of Silence' was a healing, integrative act. It was a way of dealing with anxiety of a difficult time. Beginning in the darkness it guides us to that moment when dawn breaks and a morning of endless possibility waits' he added.
Since 2003 up to date, the annual carol service was developed tremendously year by year due to the dedication and hard work of its interested parties.
St Sebastian's College Carol service is the main Christmas Carol Service in Moratuwa now. The choir of Our Lady of Victories Convent is also performing for the last 14 long years.
'This year too, the carols will be held with the aim of spreading the Christmas cheer among the Moratuwa music loving public. The annual carol service is one of the most important and one of the most alluring events in the school calendar. Currently there are around 100 school choristers from the grades 5 to 13 on different level' explained Nithila Dilshika.
'To keep that huge step the foundation was laid back in 2003 with the guidance of late Rev. Fr. Bonnie Fernandopulle and our former trainer, founder of modern choir, Rev. Fr. Prasad Niranjan. If these two greats were not there it would have been different picture and a difficult task to continue good work for the present trainers' he added.
'Special thanks go to Rev. Fr. Anton Ranjith, Rector and Rev. Father Samesh Anthony, Priest in charge of the choir, Rev. Fr. Vincent Ashley and Rev.Fr. Ranjith Andradi, the former Rector of the College.
No tickets for the event. 'Night of Silence' is free for all music lovers and young and old Sebs.