'Knives Out'
Taking the moviegoers to mystery murder thrillers
View(s):
American mystery movie directed by Rian Johnson 'Knives Out' is now being screened at several theatres in Colombo.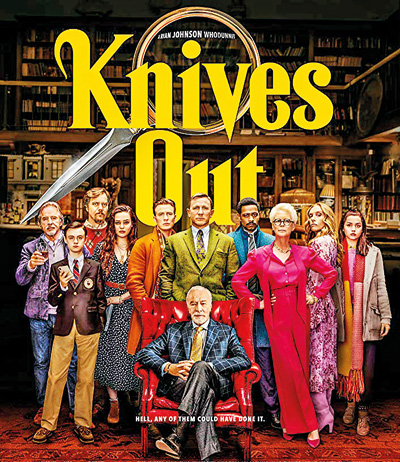 Starring an ensemble cast, including Daniel Craig, Chris Evans, Ana de Armas, Jamie Lee Curtis, Michael Shannon, Don Johnson, Toni Collette, Lakeith Stanfield, Katherine Langford, Jaeden Martell, and Christopher Plummer, the film follows a family gathering gone horribly awry, after the family patriarch's death leads a master detective to investigate.
Wealthy crime novelist Harlan Thrombey invites his extended family to his remote mansion on his 85th birthday in hopes of reuniting them all due to the family's dysfunctional history. The next morning, however, Harlan's housekeeper Fran finds him dead in his study.
The police, along with experienced private eye Benoit Blanc, are called in to investigate. Throughout a series of interviews with members of the family, secrets are revealed as well as possible motives for murder. Richard, Harlan's son-in-law, was discovered to have cheated on his wife Linda, Harlan's daughter, with Harlan threatening to expose him. Joni, Harlan's daughter-in-law and wife of his deceased son Neil, was exposed by Harlan after she stole US$400,000 from him by sourcing duplicate cheque meant for her daughter, Megan, to a private bank account.
Walter, Harlan's youngest son, was fired from his father's publishing company during the birthday party. Ransom, Linda and Richard's son, had discovered he'd been cut out of the will entirely.
It is then revealed that after the party, Harlan's caretaker, Marta Cabrera, took Harlan upstairs to give him his nightly medication. After beginning to play a game of Go, Harlan jokingly knocked the board off of the table before Marta could give him his medication. Marta picked up the bottles and injected him, but realised that she accidentally gave him 100 milligrams of morphine. To protect his  friend, Harlan gave her strict instructions on how to avoid suspicion before slitting his own throat, leaving Marta shocked. Marta then drove away, parked her car, and returned to the house through the gate entrance, before climbing up the trellis on the side of the house and wearing Harlan's coat and hat to confuse Walter in his peripheral vision, who had seen Marta leave, ruling her out as a suspect. The police question Marta, as she is a trustworthy source due to her inability to lie without vomiting, but she makes it through her interrogation without fail. Suspecting foul play, Blanc is determined to find the true cause of death.
Had its world premiere at the Toronto International Film Festival in September, 'Knives out' theatrically released on November 27, by Lionsgate.
The film is now being screened at Liberty by Scope Cinemas, Colombo City Centre, Majestic Cinemas, Empire Cinema and PVR Cinemas.