Jarful of salads from around the world
By Tera Jayewardene
View(s):
With jars of salads so full that unscrewing the lids has the food literally spilling out, Salad Maps has ingeniously created deconstructed salads from countries around the world. There are  salads from Japan, Mexico, Italy, South Korea, Portugal, Thailand, Greece and India, and more salads will be coming out in the future.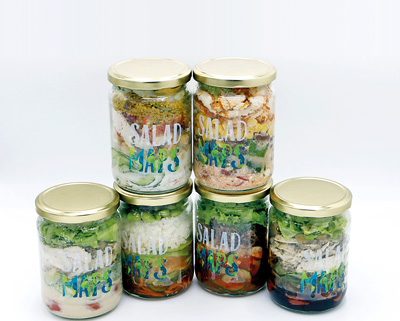 The salads have  to be taken out of the jar and mixed in a bowl before eating.
"The idea behind Salad Maps was to make healthy food that is tasty, innovative and affordable," says founder Rishan Thambinayagam. Each salad costs Rs 690 except the salad map of Japan which costs Rs 750.
"After studying different kinds of popular salad recipes around the world, I found that the Italian Caesar salad and the Greek salads were by far the most popular. I thought wouldn't it be interesting to have salads that are based on different cuisines around the world," he explains.
However, he gives it his own twist by deconstructing some of the popular dishes and  creating his own salads. For Japanese salad, he deconstructed sushi, the country's trademark food using seaweed strips, toasted sesame seeds, edamame beans, sushi rice, avocado, salmon/tuna, cucumber, carrot and a special soy sauce.
"We use only the highest quality ingredients and are able to do so by adapting a cloud based kitchen model. Our rent and overheads are substantially lower than the normal restaurant and therefore we are able to invest more in the products," Rishan explains. Salad Maps is the first brand and trial for the company Cloud Kitchen Pvt. Ltd., so look forward to seeing more innovative brands in the future.
Based on a deconstructed Taco, the Salad Map of Mexico is made with tortilla chips, three types of cheese, lettuce, peri-peri chicken, sweet corn, beans, red peppers, cherry tomatoes and Mexican dressing. One of their most popular is the Italian salad made with croutons, parmesan, lettuce, olives, chicken, cucumber, cherry tomatoes and Caesar dressing.
While studying for his BSc Honours degree at the University of Manchester UK, Rishan learnt to cook and it's now a hobby he loves. Salad Maps started off in his mother's kitchen and now has moved to a more centralized location, giving his mother back her kitchen, which had been used to make between 30 to 40 salads a day.
Coming from a business family, Rishan always had a feel for business. While in school he would sell customized music CDs to his classmates. During his school holidays in his later teen years he did internships in stock trading companies, and a tea company.
In 2016 he started a digital printing and stationery company called Hello Print in Nawala, with one photocopy machine, which has grown significantly to cater to banks, hospitals and hotels today. Rishan is also a partner at HUB9, a  co-working space that has three branches around Sri Lanka with 200 co-workers.
One of the most interesting aspects of Salad Maps, is the graphic that Rishan's friend Shahdia Jamaldeen created that shows each individual layer of what's in the jar so that you can really tell what the salad is comprised of. Salad Maps also has 100% ecofriendly packaging, with glass jars for the salads, brown paper bags to hold them and a wooden fork. Though it began with Rishan experimenting with different salads and food, Salad Maps now has a dedicated Chef.
Salad Maps has also started making cold pressed juices, and currently has four different flavours. There's 24 Karrot (carrot, orange, ginger, turmeric and king coconut), Skinny Genes (apple, kale, cucumber, celery and king coconut), Heart Beet (beetroot, apple, carrot, celery and king coconut) and One in a Melon (watermelon, strawberry, lime and king coconut).
You can get Salad Maps on Uber Eats and Pick Me Food, and with their website launching soon you will be able to order directly. Visit their Instagram page: https://www.instagram.com/salad_maps/for more information.