Foodie's guide to the One Galle Face food court
By Paramie Jayakody
Since its opening, One Galle Face has been flooded with people and for at least half of them, the food court is the main reason. Considering the plethora of venues, this week we feature a foodie's guide to some of the popular eateries which are a must to explore for your taste buds. Choose wisely!
View(s):
Food studio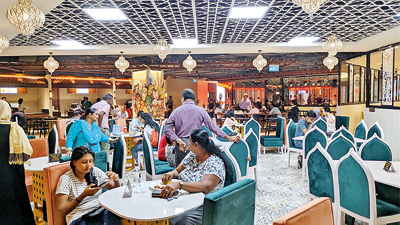 The food studio takes up a significant space of the One Galle Face basement, offering a variety of cuisines. Here are some of the eateries you'll find.
Chinese food - We were presented with a variety of dishes from rice and curries from which we could choose. The prices were quite decent, with seafood at Rs 700, chicken/beef Rs. Rs600 and vegetable dishes at Rs. 350. There were also set menus around Rs. 900.
Tokyo Shokudo – Menu ranges from vegetarian to egg or beef at prices ranging from  Rs 700 to Rs.1300.
Western Fusion - Some of the more traditional burgers and submarines can be found, but grilled cheese sandwiches and soup, as well as some Mac and Cheese options. Mac n cheese and grilled cheese sandwiches started off at Rs. 700, with the chicken and beef burgers going up to Rs. 800 and Rs.900. Add-ons like fried onions, extra cheese, chicken or beef go for an additional Rs.100-200.
Shiok! – This Singaporean outlet specialises in chicken dishes. They offer fried rice and noodles offered with soy sauce chicken, fried chicken and Hainanese chicken all at the same price of Rs.770. Soy sauce eggs could be added for an additional Rs.90. The Singapore Laksa at Shiok! to Rs.640
Twister (wrap and roll) - This Arabian outlet offers a unique 'make your own' meal concept. Customers are given the option of deciding between chicken and beef doners, chicken sausage, or vegetarian, and then deciding between lavash, submarine, salad or pilau rice. They also offer three different varieties of fries and hummus on their menu. Prices ranged from Rs.650-950
Sumartan Spice by Far East Indonesia – the Expected Nasi goreng and Mie goreng as well as a longton sayur lodeh (mixed vegetables in coconut broth). Prices were Rs. 645 for the vegetarian options, Rs. 720 for chicken, and Rs. 805 for beef.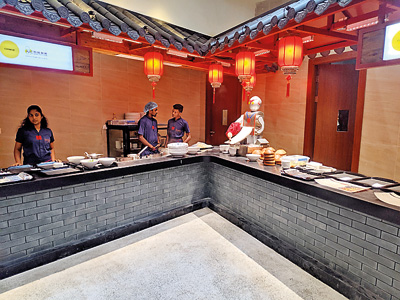 Mango Tree – Offers a very tempting selection of tandoori combos of chicken, mutton and paneer with naan, as well as mutton, chicken and vegetable biryani. Prices range from Rs. 650 for a paneer tikka to Rs. 2150 for a full tandoori chicken with naan.
Jeewas  – Offers a refreshing change of pace with Sri Lankan food. As well as short eats, also on the menu is roast paan with pol sambol and a rice and curry menu with a selection of curries.
Thalappakatti - The final outlet in the food studio was difficult to even make out because of the scores of people in front of it. With the biggest menu in the food studio, the range of options they had was massive.
Desserts, coffee and other snacks
Whight and Co – The outlet is classy and smack dab in the middle of the basement. While their prices are a little on the expensive side, the aroma of coffee surrounding the area makes it very hard to resist.
Frosties – Shining in pink with rolled ice cream made on the spot for those craving ice cream, Frosties offers various different flavours from milo to oreo to caramel. Prices range from Rs.400 – 600.
The English Cake Company -  With a reputation for a mouthwatering selection of cookies and cakes, the outlet offers a variety of cakes, doughnuts, gateaux, brownies and cookies, and don't forget to look for the samples on the counter. Cake slices range from Rs. 500-Rs.700 range, brownies Rs 300 and cookies Rs 180.
Be.k -the Korean shaved ice outlet, has already generated a following. With a range of different ingredients, it truly is very different to the traditional shaved ice. They offer 6 different flavour sets, at Rs 550-700, and frappes for Rs. 550 or Rs.650
Beard Papa's  – With a choice between 3 creams (vanilla custard, chocolate and matcha) and around 5 different puffs (cookie cream, pie, kaze kaze, mini and eclair) the puffs are a steal at Rs 280.
Fresh Intentions – the only dedicated fruit juice stand in the entire food court (not counting the keells juices). With a very eye catching colourful display of fresh fruits, they have a selection that is prepared upon request. Their selection ranges from fruit juices to smoothies, detox juices, milkshakes and faluda.
Familiar favourites
David's Dangerously Delicious (DDD) – With a nice country vibe, their menu easily explains the reasoning behind the dangerously delicious tag. With pork and chicken buns, submarines and rice (rice and submarines range between Rs.750-800). Pork lovers should definitely consider try them out.
WAFL – Offering a range of sweet and savoury waffles along with a beverage menu to compliment. The prices vary wildly upon size and filling, but they also have a promo pack that will fill you up for Rs. 1000.