A time for Children's Theatre
Theatre Festival for Young Audiences
View(s):
The much awaited children's annual theatre festival presented by Somalatha Subasinghe Play House will go on the boards from December 6 to 8 at the Lionel Wendt Theatre.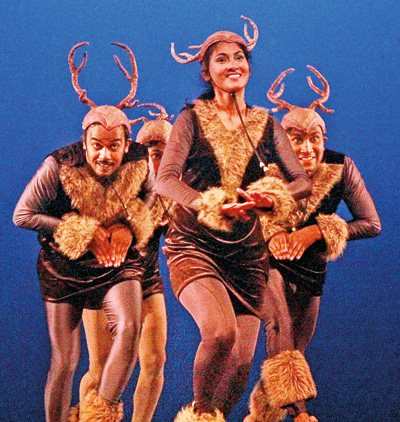 This year's Somalatha Subasinghe Theater Festival will feature
'Punchi Apata Dan Therei' (We know it now) and 'Thoppi Velenda' (The Hat Seller) written and directed by Somalatha Subasinghe at 3.30 pm and 6.45 pm on December 6.
'Walas Pawula' (The Three Bears and Goldilocks) written by Somalatha Subasinghe and directed by Chandana Aluthge will be staged at 3.30 pm and 6.45 pm on December 7th and 8th.
Based on international folk and fairy tales, these musical productions are produced with the intention of instilling in children, a sense of basic art forms and pride in our own culture. They also encourage them to understand the importance of family and its values. In addition, the lessons of love, humanity, responsibility, hard work and world awareness are refreshingly presented in these plays.
In the adaptations, new characters and situations have been incorporated to facilitate an intellectual discourse with the Sri Lankan child and action and humour on stage are subtly mixed to provide the audiences with an aesthetic journey of entertainment.
Thoppi Velenda (The Hat Seller) is a prescribed text for Grade seven Sinhala Language and literature of the national curriculum. Thoppi Velenda has been performed in many a number of children's threatre festivals in France, India, Bangladesh, Australia and South Korea.  Punchi Apata Dan Therei is a prescribed text for drama and Theatre for Grade six and Sinhala Language and Literature for Grade 9 of the National curriculum.
Somalatha Subasinghe Play House (SSPH) was established in 1981 by the Late Mrs. Somalatha Subasinghe as a voluntary organisation to further course of theatre for Children and Youth in Sri Lanka. Over the years, it has produced a repertoire of internationally acclaimed theatre for Children and Youth and award-winning mainstream theatre productions. The professional theatre group has showcased Sri Lankan culture at a number of international Children's theatre festivals in Europe and Asia. This institution was incorporated in the parliament in January 2007 under the Act of Lanka Children's and Youth Theatre Foundation (LCYTF), No. 3 of 2007 to further its quest for the young audiences in Sri Lanka.
LCYTF is the national representative of ASSITEJ International, a global network for theatre for children and youth that spans across continents. Through ASSITEJ International LCYTF promotes artistes engaged in children's and youth theatre to take part in international seminars, workshops, festivals, etc.
LYCTF was conferred the "Bunka Award" presented by the Embassy of Japan for the Best Achievement in Performing Arts in 1997. In 2005, Ms. Kaushalya Fernando, an Artistic Director of LCYTF was conferred the "Bunka Award" for her outstanding contribution to theatre arts and acting.