Nawaloka College Student honoured with Global Golden Key Award
View(s):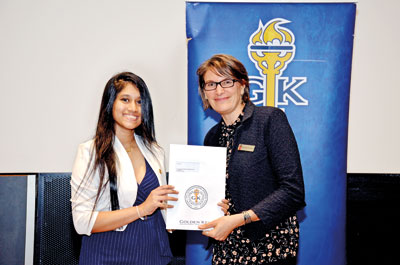 Imashi Senanayake, a shining star from Nawaloka College was the proud recipient of a scholarship at the Swinburne University of Technology, Australia.
Receiving the scholarship was the start of an incredible journey. While excelling in her studies, a Bachelor of Business (Professional) at Swinburne University, she also has a prestigious job as an accountant at Syracuse. The company is an expert team of Melbourne accountants offering innovative business advice and quality accounting services to help its clients succeed financially. As an accountant, she currently assists the Team in preparing Financial Statements, Tax Returns, Business Activity Statements and other related matters.
Golden Key Award Winner
A proud winner of the Golden Key Award, Imashi made history for NCHS students at Swinburne.
The Golden Key International Honour Society, founded in1977, is an academic honour society which recognises and encourages scholastic achievement and excellence among college and university students from all academic disciplines. Golden Key is an invitation only honours society for the top 15% of university graduates.
The Society awards its members over $1,000,000 (USD) annually through numerous scholarship and award programmes. Members are connected to exclusive career opportunities and assistance through Golden Key's partnerships with major corporations and graduate programs. The Society provides campus and community service opportunities enabling personal growth and leadership development as well as collaborating with university faculty and administrators to develop and maintain high standards of education.
In her time away from work and study, Imashi loves to spend time with her family and friends.  She is also a Certified level three barista.
Be like Imashi!
If you are interested in the broad spectrums of IT, Engineering or Business, or even if you wish to study in America, Australia or Malaysia, look no further.
Offering you the very best from the world, NCHS is proud to offer various scholarship programmes to prospective students. On gaining one of the prestigious NCHS scholarships, students can complete their transfer programs in Sri Lanka. Thereafter they have the opportunity to gain scholarships from the partner universities too!
Nawaloka College of Higher Studies
NCHS is a provider of globally recognised higher education qualifications. Located in the heart of Colombo, the NCHS campus consists of modern facilities, providing students with an international learning environment.  With a strong commitment to provide high quality education, NCHS offers distinctive benefits that are tailor made to suit the needs of each individual student.
Global Education at Your Fingertips
NCHS is a guaranteed pathway to Swinburne University of Technology. The pathway programmes are specially designed to prepare students for success in their further studies. On completion of a pathway programme at NCHS, students can select the degree that they wish to embark on in the Swinburne campuses in Hawthorne, Australia or Malaysia.
NCHS has also partnered with the global leaders in education, Ulster University, UK the California State University Monterey Bay, California State University San Marcos, California State University Bakersfield, California State University Sacramento, California State University Northridge, California State University Fresno, California State University Humboldt and the State University of New York at Albany.
The scholarships on offer are valid for transfer programmes at any of the above universities.
Grooming students to be the Best
At NCHS, students enjoy smaller classes, focused learning and one-on-one time with the teachers, giving every opportunity to succeed in studies. This will equip students to 'be the best', and even be eligible for further scholarships.
The study programmes conducted at NCHS are identical to that of Swinburne, Australia, as well as the American universities, and follow the same curriculum, methods of teaching and evaluations, ensuring high quality and international standards. These identical industry-informed and industry-engaged study programmes at NCHS are specially designed to combine rigorous academic studies with practical knowledge essential for the academic and career success of the students.
International Standards in Sri Lanka
The students have the advantage of being able to access the best of the partner university from the comfort of their own homes. Access to the library and the blackboard system give students the advantage of listening in and contacting the international lecture panel directly if they wish to.
Student loan facilities at special interest rates are also on offer to help students pursue their higher education at NCHS from reputed banking partners.
Academic Excellence Scholarships
Academic Excellence Scholarships, ranging from 25% to 100% are awarded for the Swinburne University of Technology Pathway Programmes offered at NCHS to selected candidates.