Country of millionaires
View(s):
My first visit to Vietnam was in 2012 to deliver a couple of lectures at a Master's degree programme conducted by the University of Economics. The university was in Ho Chi Minh City (HCMC) – the capital of Southern Vietnam, which was formerly known as Saigon.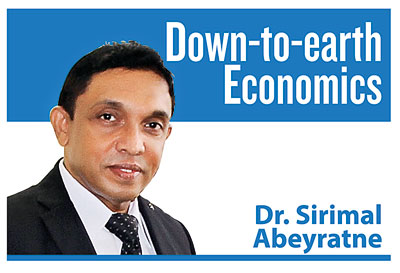 Every visitor to Vietnam has a common difficulty especially during their first visit – handling the local currency, the Vietnamese dong. When you change a few US dollars, you will receive a big bundle of Vietnamese dong notes denominated in 1000s, 10,000s, 100,000s, and 500,000s. And you will also have to spend them in the same way so that suddenly you might wonder if it is reasonable to pay in 100,000s and 500,000s for a taxi fare. Even when you buy simple things like a sandwich or a cup of coffee, you need to pay in 10,000s and 20,000s in local currency. Until you get used to it, handling money will be complex and a little surprise in Vietnam.
One day I told my students in the class: "I believe all the people in Vietnam are millionaires!" They started laughing and said, "Yes, in our country everybody gets their salaries in millions".
According to the exchange rate of Vietnam, one US dollar equals 20,000 Vietnamese dong. Once I asked the students: "Isn't it easy to cut down the last three digits and say that one US dollar equals 20 Vietnamese dong?" The students clarified to me that they actually do something similar when they have to deal with big prices like the price of a scooter or a motor car.
Universities for "Economics"
The name of the university – the University of Economics, was another thing that impressed me. The universities generally have an identity of their own. The University of Economics in HCMC teaches all Economics-related subject areas including Public Administration and Business Administration. Vietnam has another university specialising in Economics, which is located in its northern capital Hanoi.
I knew that universities with specialisation in Economics have been a well-recognised timely trend in higher education in most of the high-performing countries in East and Southeast Asia. China is another country which has established many universities to specialise in Economics.
I remembered that Economics teaching in our Sri Lankan universities never moved beyond the traditional "departmental" setting. Besides, students learning Economics even in schools in Sri Lanka appear to have dropped over the years, causing a corresponding decline in demand for Economics in the universities. The University of Economics in HCMC has over 50,000 students, all learning Economics at both undergraduate and postgraduate levels. It is a government-owned university. While there is financial support of the government for needy students, generally the students have to pay for university education.
At a meeting with the Deputy President of the University, Prof. Nguyen Trong Hoai, I asked "How much of the university budget is financed by the government?" He replied: "Only 2 per cent of it comes from the government. We earn the balance 98 per cent from teaching and research income."
Export growth
Anyone who visits Vietnam frequently might be able to notice one important thing: The speed of change! The Vietnam economy has been rapidly progressing, while that progress can be easily recognised from a bird's eye view.
With US$ 2,560 per capita GDP (2018), Vietnam is still poorer than Sri Lanka which has over $4,000 per capita GDP. But at its high speed of economic growth, Vietnam is bound to overtake Sri Lanka sooner than we think. Vietnam, which began its market-oriented policy reforms in the late 1980s, has been maintaining a steady higher growth momentum with around 7 per cent rate of real GDP growth for many years. Strong export growth fuelled by increased foreign direct investment inflow has been the underlying drivers of high growth.
Interestingly, 25 years ago both Sri Lanka and Vietnam had almost the same level of exports of goods and services worth $4 billion a year. By 2018, while Sri Lanka's exports accounted for $20 billion, Vietnam had $233 billion worth exports.
About 20 years ago, Vietnam's manufactured exports accounted for only 40 per cent of total exports. Now more than 80 per cent of exports of Vietnam are manufactured goods. The largest manufactured export commodity is electrical machinery and equipment, which account for over 40 per cent of total exports. In addition, computers, clothing, footwear, and leather products are also important in the manufactured-exports mix.
Foreign investment
The miraculous export growth started to thrive with foreign multinational companies which began to invest in Vietnam. Foreign investment was virtually non-existent until 1990, but then it started to grow rapidly. Just within the past 10 years, Vietnam has attracted more than $100 billion foreign investment.
Most of the international brand names are now operating in Vietnam. They include even some of the big companies in the world such as Intel, Foxconn, Samsung, Cannon, Nissan, Bridgestone, Nike, Adidas, Compal, Hanes Brand, Hewlett-Packard, IBM, Nokia, and Panasonic.
The success stories are not necessarily related to foreign investment. To the surprise of the world, Vietnam unveiled its first home-made national motorcar – VinFast, at the Paris Auto Show last year. The modern car factory established in Hanoi has already produced three models, while they seem to have attracted much attention due to their exclusive design, modern technology, and competitive price.
Doing business
As far as the market-oriented policy reform process is concerned, Vietnam still has a long way to go. Even in terms of international ranking, Vietnam's position is not that impressive. According to the latest report, Vietnam's Doing Business Index ranking is 70 out of 190 countries, compared to 31 in China and 63 in India. By the way, Sri Lanka is at 99th position, while countries like India and Nepal which were far behind have now surpassed Sri Lanka.
The question is what attracts foreign investors to Vietnam. Among a couple of attractive points, investors find the most important thing for them is a clear policy direction and political stability. Investors are convinced that Vietnam is committed to continuing with its market-oriented policy reform process. Long term political stability is important to maintain the clear policy direction without wavering.
Vietnam also has the other common factors such as a big domestic market with a 95 million population and a disciplined workforce. And Vietnam is also investing heavily on preparing a globally competitive educated and skilled labour force to support its future economic progress.
Vietnam has also been an attractive investment location for the expanding global supply chains. In global supply chains, countries have become specialised in producing parts and components rather than finished products and assembling points of the final products. As a result, Vietnam has become a country that is integrated with other countries in the region through "network trade" which depends mainly on more liberal free trade environment.
Looking at afar
The southern capital HCMC and the northern capital Hanoi are far from each other by about 1,500 km. A train journey between the two cities takes about one and half days. Vietnam has recognised that it has to overcome the distance barrier between the south and the north.
Last year, Vietnam started getting ready to launch a 25-year, long-term project in order to connect the two cities by building a high-speed electric train track at a cost of $59 billion.
The bullet train is expected to run on this track at more than 300 km per hour, reducing the travel time between the two cities to about five hours. The railway track is expected to unite the South and the North and the people living there so that it would be a further boost to the country's long-term economic progress.
(The writer is a Professor of Economics at the University of Colombo and can be reached at sirimal@econ.cmb.ac.lk)