A "Shall-win" way of life
Dayadari Devendra (neé Dantanarayana) recalls childhood holidays at her uncle's estate in the south
View(s):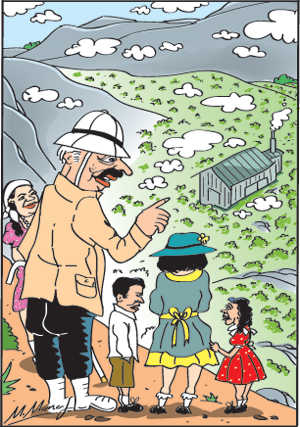 I was seven (maybe eight) when we had the first of our holidays in the Deniyaya hills, and the memories – however vague – live on in a haze of happiness, although I have not visited Panilkanda Estate in Deniyaya, since I was married over 55 years ago. That first visit led to several more and the memories tend to all run together as one long holiday.
At that time there were four of us – Deema, Savi, Duleep, me – and a new-born, Buddhie. I was a horrible traveller: so my most vivid memory of those trips to Deniyaya – up nine (of eleven) hairpin bends on the Hayes-Lauderdale road till we (thankfully!) turned in to the plantation – is of acute discomfort. While the others enjoyed the scenery my head was buried in my elder sister, Deema's lap, in between emptying my breakfast into brown paper bags (we carried a stock!) which were thrown out of the car at each bend in a most environmentally-friendly fashion!
My ordeal ended when we got off to the welcoming smiles of Uncle Shall-win (as he always wrote his name) and Aunty Diana at their lovely home on Panilkanda Estate in Deniyaya. Owned by Donald Ranaweera, a prominent Sinhalese planter of the south, it was a beautiful place. The approach road to the bungalow was lined with banks of Anthurium plants, and Aunty would send a thousand flowers to Colombo on the estate lorry's daily trip!  We were spoiled by Uncle and Aunty, and by any other adults who may have been holidaying there and our feelings of happiness remain vivid although the actual details are vague.
Every morning we would have our "gotukola" drink and then go up the hills for our walk. At times we would be engulfed in the mist, through which we emerged and were excited to see the clouds below us.  Aunty would have breakfast ready on our return.  Other strange details that are embedded in memory are of the flowers, a gardener tending the bees' hives and cleaning the gardens of all 'things' using only his fingers!
During the years that followed, we children grew up and started facing examinations. Holidays took second place. Uncle and Aunty's family (as ours, too!) grew in number but, since all of us were "Galle people" we were constantly in touch. Uncle bought a hundred acres of bare land and started planting on his own property while continuing to work at Panilkanda. My father followed, in a more modest manner, and later, and it was his pupils from Mahinda College who helped him change from schoolmaster to part-time planter: Shall-win Abhayawardena (Panilkanda), Sirisena Hettige (Deddenipotha) and 'Abey' Abeywardena (Watawala). In time, Deema and I got married and started our own families: Aunty Diana had her last child the same year I had mine! And, after that, they left Panilkanda and moved into their own property, the by-now functioning 100-acre "Kapila Estate", close to Ensalwatte and Sinharaja adaviya.
I never had the joy of holidaying there, though our families always remained very close. But we thought of it often. Decades later, when my son, Nalaka, had finished his A' Levels, we thought that this city-bred boy should be more bonded to Mother Earth and asked Uncle and Aunty whether they would  help him. Uncle and Aunty, like many of the Sinhala tea planters of the South, were very professional planters,  and hospitality was important to them– their home was always a magnet for hordes of visitors. Hosting Nalaka was a minor chore for them. Not only were they willing to have him, but they also gave him a fabulous time. I am quoting his own notes on the experience as a tribute to Uncle and Aunty and Kapila Estate.
"Soon after my A/Ls (which I failed, miserably), I was sent to a Tea Estate in Deniyaya, Kapila Estate. This estate was owned by a family friend and pupil of my maternal grandfather. The 'objective', I suspect, was that if I could not find employment, I could at least help with the family 'estate'.
This privately owned estate was named after their only son. Thanks to the SLFP and Mrs. B, the estate was 'broken up' to several pieces under the names of their children, but run as one by the parents.
It was a great tea plantation – where three waterfalls converged giving much needed water. Uncle had selected this property because of them. It was not 'flat' but on very hilly terrain. As a result, there were many innovative means of sending the tea (freshly plucked) from the upper regions to the lower areas for collection along cables. Something I had never seen in my whole life.
My day started at 5 a.m. I did my ablutions, got dressed and went to the kitchen and had a very large glass of "Kenda". The contents were different each day. Uncle and I would walk to the muster shed and oversee the SDs giving orders for the day. He made comments from time to time, too.
In many estates (both state owned & private) the norm was "gang plucking", where the pluckers were assigned areas to pluck, daily. However, Uncle had an alternative method – 'cluster plucking'. This was a method in which certain workers (and their families) were given 'exclusive' rights (to pluck and to maintain) a certain area. It was their responsibility. This way, they knew not to over-pluck and to protect their assigned areas. A very good strategy.
After muster, Uncle and I would join Aunty for breakfast – a very wholesome meal. After a short rest, one of the SDs would come and take me on a motorcycle on various rounds and explain the process. I have cut myself many a time 'pruning' tea bushes – I had my own very Sharpe Knife. I think I still have it (…not sure).
Then came the time for weighing the tea (green) at the muster shed: another very interesting process. One had to check the moisture content and then record the weight of the leaf plucked. All of which was recorded in a book. This was the main source which was used to pay the labourers. Once this was done, the owner and I would go back to the house for lunch and a snooze. Often I would join a SD and go with him to see the rest of the plantation and also see how each of them maintained their respective books for the different divisions. It was educational to say the very least.
During the late evenings, Uncle asked me questions, giving me more books to read, etc.,
On some days ( I think it was on Wednesdays) it was the 'Club night' where Uncle, Aunty and I (along with some food made at home) would visit the Deniyaya Planters' Club for a booze (not me) and dinner with other planters.
I finished my 'education' and got back to Colombo. However, after getting my IT diploma (- no degrees at that time in Sri Lanka), I joined the State Plantations Corporation to start their IT Dept. I visited many a plantation and learnt a lot. My short stint as a 'Creeper' (with privileges) came in very handy. I made many friends who are still friends. But I never got a chance to help with our own estate.
Last but not least, Uncle and Aunty had two highly pedigreed German Shepherd dogs (male & female), who were big-boned and extremely fierce. Their offspring were in high demand. One night we got a call from Aunty asking me to visit their home in Colombo. When we went there, she gave me (as a present) the female "runt of the litter".
I promptly named her SHEBHA and she lived a full life. I got her trained by the Police Kennels and she was a great and kind dog who loved us – unconditionally. She was intelligent and a beauty. She was my (very own) FIRST DOG……               When she died, she died in my room, and I had to bury her in our own garden."
All good things must come to an end, and both my father and Uncle Shall-win passed away. Uncle died "in harness", as they say, managing Kapila Estate to the very end. All the children were employed in Colombo but Aunty refused to join them. She opted for the only life she knew: estate life. She took over the management of the plantation and ran it like a professional, with an iron fist. Maybe she was our first woman PD! She was fearless and demanding and maintained the highest standards for the plantation. But, in Sri Lanka, a woman is considered a soft target and, one day, her bungalow was broken into when the pay-roll was with her and she came in for some rough handling. That was an unmistakable sign that times had changed, for the worse. Aunty bowed to the inevitable. She relocated to Colombo.
In Colombo, Aunty "chaffed at the bit", but called upon her reserves of energy and drive to carve out other areas of work. She was adept at all kinds of crafts, something she shared with my mother. My mother had picked up – in Australia – a method of weaving cast-off polythene bags into durable baskets: Aunty took the work to another level. She made her pilgrimages to India as long as she was able and, when it was no longer possible, she would turn out quantities of little bundles of incense-soaked bits of copra to be given to anyone travelling on pilgrimage to be lit at Buddhist shrines. Being increasingly confined to the house, and room, she lived her life without complaining, beaming at us with her beautiful smile when we visited her.
She passed away earlier this year – her birthday would have been this month – but our memories of an intrepid woman will remain with us as long as we will.