After peaceful poll, it's free for all for some victors and vanquished
By Chris Kamalendran
View(s):
Attacks on rival party supporters, houses and business premises and throwing fire crackers at political opponents were among a string of violent incidents reported in the aftermath of the presidential election, in contrast to the relative calm on presidential polling day and during the run-up to the election.
One of the serious incidents was last Sunday night's attacks on seven houses and its occupants at the Ganepalla rubber estate in Yatiyantota, according to police and polls observers.
They said that soon after the election results were announced, a mob had entered the estate and wanted to know whom the estate residents voted for. When some of them said they voted for the New Democratic Front candidate Sajith Premadasa, the mob broke into their houses and damaged their TV sets, refrigerators, fans and other household goods before leaving.
But the mob had returned to the estate to threaten the residents after they learned that the Yatiyantota police had arrived at the scene to probe the attack.
The victims in their complaint claimed that the gang had also attempted to harass their women and young girls.
The following day the police arrested seven Sri Lanka Podujana Peramuna supporters. The Sunday Times learns that they have agreed to pay for the damage they caused.
A European Union polls observer group visited the estate on Thursday and spoke to the affected people.
In another post-election violent incident, three houses were completely destroyed and their occupants attacked by a mob at an estate in Panwila off Kandy. An injured man was admitted to the Madulkele Hospital.
Three suspects arrested in this connection were released on bail after they were produced before a magistrate. In Bingiriya in the Kurunegala district, police said a female supporter of Mr. Premadasa was attacked with a Manna knife by an SLPP supporter. The woman is warded at the Colombo National hospital
In Vavuniya, UNP district organiser R.A. Karunadasa was admitted to hospital after he was assaulted by SLPP supporters after they forcibly entered his house.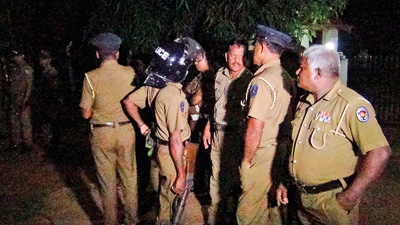 No arrests have been made over the attack.
On Monday night in Matale, a mob arrived at the residence of former Pradeshiya Sabha member Prasanna Aluvihare and threatened his family members with death. His wife, Udayangani Ariyawansha, said her husband was not in the house at the time of the incident and she had lodged a complaint with the Matale police.
In Sooriyawewa, armed SLPP supporters stormed a model housing scheme cite and caused damaged the houses being built by the Housing Ministry which was under Mr. Premadasa.
Police said people carrying swords threatened the villages and demanded that they disclose the whereabouts of a youth who reportedly posted social media comments supporting Mr. Premadasa.
Residents said they did not complain to the police in fear of repercussions. However, the police arrived at the scene after the mob had fled. No arrests have been made.
At Andiambalama in Katunayake, three people suffered injuries when an NDF propaganda office was attacked. The mob prevented the injured from being taken to hospital. But police and residents intervened and brought the situation under control.
Six suspects were arrested and released on bail.
In Galle town and at Nivithigala in Ratnapura, two mosques were stoned by SLPP supporters who claimed the worshippers were Premadasa supporters.
In Medigriya, five SLPP supporters suffered injuries when NDF supporters attacked them. Two suspects were arrested and granted bail.
Police said that in Bandarawela on Sunday, an SLPP supporter was admitted to hospital after he was attacked with a bottle by an unknown person and in another incident in Mahiyanganaya on Tuesday, an SLPP supporter was attacked by a NDF supporter and was hospitalised.
There were a string of other incidents where crackers had been thrown into houses of rival party supporters.
To quell the post-poll violence, the newly appointed Defence Secretary Major General (Retd) Kamal Gunarante has instructed the Acting Inspector General of Police to take necessary action to prevent any further violence.
In a statement, he said that in view of the political changes in the country people should not fear that there would be revenge attacks, abductions and unnecessary disturbances.
He said that senior DIGs, SSPs, SP and station OICs should be responsible in ensuring security in their areas.